February 21, 2018
Birdboy: The Forgotten Children
Birdboy: The Forgotten Children will probably be the last animated film I see from 2017. That is, unless some anime film I missed comes out in April or Summer, all late in the United States.
This too was a foreign animated film, based on a graphic novel. It was originally released in Spain (and Spanish), but the version I watched was dubbed.
I knew nothing about the film going in, except that it might be weird. And unfortunately, that too was an understatement.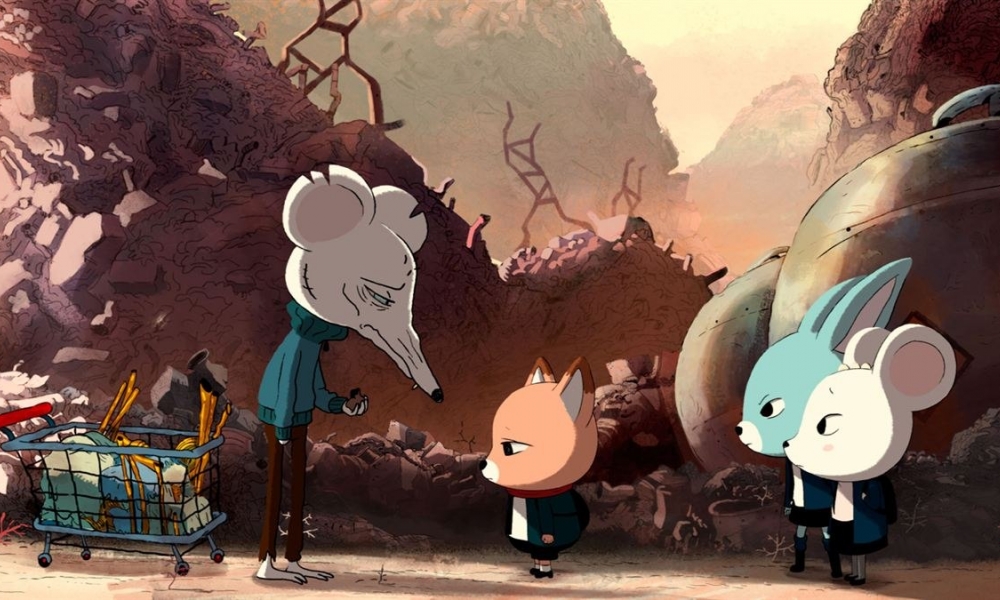 Yay animals! Time for a cute film!
This film takes place on an Island, far away from other lands. It had a peaceful animal community, that could talk, sure. Things were good, until factories joined their island. Eventually, the factories have an accident and a big blast rips through their island, killing hundreds, destroying the buildings in that area, creating rubble. No good at all.
This leads the land changed. It makes it sad. It makes it just feel, dead.
The families are now bitter. Kids are being non conformists, animals are fighting, animals are killing. And everyone is just rude.
Poor Birdboy, lost his dad, and can´t even get back to his lighthouse home. There are demons in there, and he hasn´t yet mastered how to fly.
He has friends, namely Dinky, a female mouse, are the only ones who care about him. She cares about him a lot. With the help of a fox and a rabbit, the gang plan to escape off of the island in a boat, to get away from this place of dissidence and sadness. But the island does not want them to leave. Its citizens are too bitter to allow a thing such as hope help anyone.
The four are going to struggle and face their fears, which is unfortunate, because in this case their fears are very real and dangerous parts of society.
Featuring the voices of Barbara Goodson, Jon Avner, Sofia Bryant, Dean Flanagan, Marc Diraison, Wayne Grayson, Yuri Lowenthal, Jake Paque, and Alyson Leigh Rosenfeld.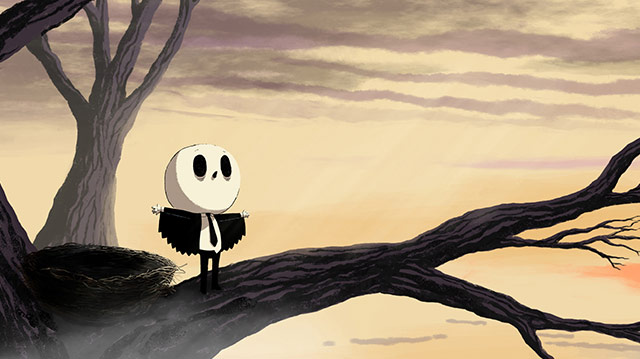 Learning to fly is also, unfortunately, a dangerous and very consequence heavy fear.
Yeah, Birdboy was weird. It was also terrifying. It was gruesome. It was nothing like I expected.
The only thing I know to compare it to is Heavy Metal, but that is based on my incredibly limited knowledge on this sort of animated film. And Heavy Metal was more sexy. We also had Nerdland recently, that was graphic in its own ways. This one is graphic in that it involves kid animals, in a disgusting world, dealing with entities trying to kill them and kill each other. We have bulging eyes, red veins, abuse, drugs, everything that would negatively affect a society, rolled into one tiny island.
It is definitely not for the light of heart.
It is a sad movie, with not really a happy ending either. Sure, maybe some hope is derived from it, but it is just a movie that will tear at your heart. Not like a romance, but like a horror, tearing at your heart.
And also, it is very, very confusing. I assumed the graphic novel tells the story a bit better. But there are sequences in this movie out of order, not a lot of exposition, and when I left I just felt confused. I did Wikipedia the plot outline, which is thankfully very detailed. I recognized some events and some scenes and could imagine them all working together, but it is not very easy to do that on your first viewing.
I appreciate that Birdboy is incredibly dark. I appreciate that the artistic style really draws you in and spits you out. I also appreciate that it tried to do something new. But in the end, it was not a very coherent plot, hard to follow, and left me feeling more empty than anything at the end.
2 out of 4.