Best Man Down
I can't remember which movie it was, but I only know about Best Man Down by watching some other shitty indie movie.
It was a trailer before it (because some times I am too lazy to skip them) and the plot just seemed really intriguing to me. I was even more surprised to find that it wasn't yet out on DVD and I'd have to wait to see a movie. Those dicks.
Either way, it has been awhile since I have loved a random indie straight to DVD movie, so the odds are not forever in its favor.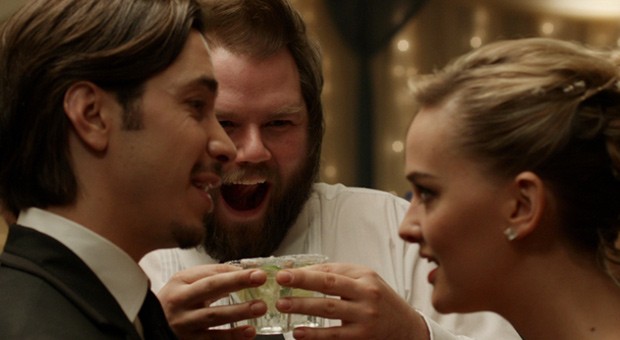 This would be an example of Best Man Up.
Hooray weddings!
We are gathered here today to celebrate the matrimony of Scott (Justin Long) and Kristin (Jess Weixler). About time, amirite?
Lumpy (Tyler Labine), good friend of Scott, is his best man and very very excited about the whole thing. He goes crazy all night, drinking booze, living it up, being a bit annoying. Well, next morning, he dies. What the fuck? Didn't see that coming I bet.
See, now Scott and Kristin have a huge problem. (Technically, Lumpy has the biggest problem). Now their happy day will forever be remembered as also the day Lumpy died. They will have to cancel their honeymoon, and put on a funeral. They aren't selfish people, these are just facts. But it turns out that Scott might not have been keeping up to date with what exactly Lumpy had been up to. He lost his job, and dropped out of school, but no one is actually sure why.
He also has a strange relationship with a high school student, Ramsey (Addison Timlin) up north, who no one knew about. She has her own problems, with a whore-ish mother (Frances O'Connor) who is dating a junkie.
Ohhh, secrets, what fun!

Well shit, now the Best Man is neither up nor down, he's just fucking missing.
Yeah, so, strangely enough, I really liked this movie. I had a bigger emotional attachment to it than I would have expected. Shit. Having someone die at your wedding? That is all sorts of fucked up.
The movie felt pretty real too, both in Lumpy's side story, learning about the last year of his life, and the newly married couple's reaction to the events. A lot of powerful lines when I think back to them, I was going to type some quotes but A) out of direct context, they lose their power and B) no one probably gives a shit.
It wasn't a long look into the lives of the main characters, but it was enough to really know how they valued friendships and how their lives would change from the event.
It had some humerous moments too, but it is definitely far more on the drama sides of things. I will say the funeral uppercutted me emotionally as well, if you know what I mean, where a nice speech was given by Addison Timlin's character, and I really like how it wrapped up everything at the end.
So yeah, surprisingly nice indie movie. Yay.
3 out of 4.