Check out my interview with Martin Owen, the director, here!
What would you do if your son was at home, crying all alone on the bedroom floor because he's hungry? And the the only way to feed him is to escape from a video game you got sucked into playing the part of one of the weaker side characters and really hoping you don't die?
Alright, only some of that is relevant to Max Cloud. Max Cloud is a space hero. But he is also a video game character. And someone does get sucked into the video game. But don't worry, no sons will be hungry tonight.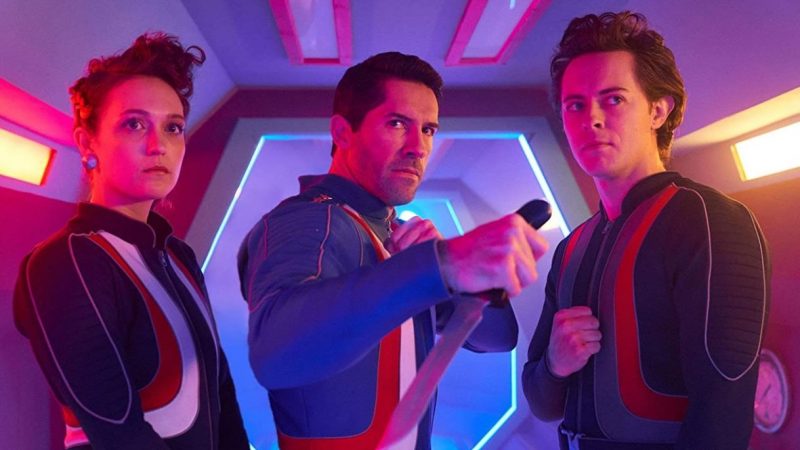 Ah yes, heroes, ready to fight, and to eliminate evil.
Sarah (Isabelle Allen) is just a teenage girl living at home with her dad in the 1980's. She loves video games and he (Sam Hazeldine) doesn't love her spending too much time on them. He constantly has to tell her to get off of them to do something else. Sarah would rather play the space game all day, and try to win. She wishes should could play it all day! Enter game based space witch (Jason Maza). And sure enough, Sarah gets whisked away into the game! But she doesn't get to be Max Cloud (Scott Adkins). She has to play Jake (Elliot James Langridge), the cook, one of the few survivors at the start of the game, with no skill set.
Being placed in a game is cool, but how is she eventually going to get out? The space witch was like an Easter Egg and she has no idea how to activate it. And what if she dies in the game?!
Sarah has some help in the game, with other NPCs, and her best friend (Franz Drameh) in her room to navigate her character closer and closer to the end game. But what happens if they win? Would it just reset?
Too much afoot for Sarah to figure out. Just have to hope that Max Cloud is as good as his box says he is!
Also starring John Hannah, Lashana Lynch, and Tommy Flanagan.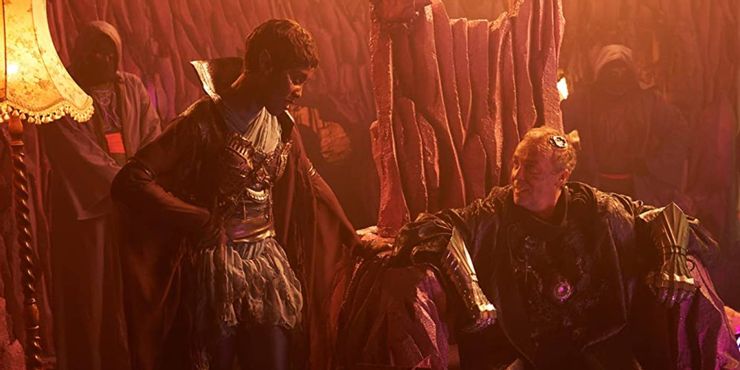 You know you are a bad guy if you sit and laugh in the dark.
Max Cloud isn't the first movie or book about being sucked into a video game and having to deal with the consequences, and it certainly won't be the last. It is, however, a film that is incredibly uninspired and doesn't offer much new into the "getting sucked into games" genre.
It takes place in the UK, and in the late 80's, so maybe that is supposed to be enough of a reason to differentiate it? Not really. Most of Allen in this movie is just her voice, speaking through the TV to her her friend and dad. The scenes inside the game don't feel like a game, just like a sci-fi broken ship. It was going for realism for the characters inside the game, but it also never felt really like a game at all, which is what I as a viewer would hope for. Outside of a few jokes or occasional reference, she could have also just been sucked into a campy sci-fi show and there wouldn't be much difference.
The real world plot is simple, they are hoping to beat the game for her so that maybe she can escape. The plot of the Max Cloud video game is very bad though, and technically, most of the plot in the video game. If it was intentionally bad on purpose, for a campy reason, they should have made it more obvious, but it just drags the whole film down with it since it maintains a slightly serious tone for a comedy film.
I guess one of the biggest problems with the movie is it isn't clear what it wants to be. It is a "Getting sucked into a game" movie that really would probably rather just be a straight sci-fi movie. It isn't sure if it would rather be serious or a comedy, so it tries for both, giving the viewer not much of either. It had the potential to do more with its side characters and villains to make them interesting, but everything felt two-dimensional (heh). That could be the goal, if it was going for the bad video game vibe, but that goal can't be achieved if the main real characters only talk about how awesome the game is. The bad video game plot just becomes bad movie plot, and the whole film suffers from it.
Max Cloud is messy, but not in a good way, and forgettable, in the worst way.
0 out of 4.