Transformers. Michael Bay. Cash Money.
That is some of the reviews in a nutshell. I didn't check up on what people said about Transformers: Age of Extinction ahead of time, because I knew I would probably agree with them. I figured the film might be full of inaccuracies that I would find painful, but I'd rather go in and see what I can find on my own without researching afterwards. Like the cringe worthy Washington, D.C. desert in Transformers 2.
But this is a start of a new "trilogy" because we can't have things not in trilogies anymore. Not when they print so much money for the companies. Our lead human has an upgrade, no longer Shia LaBeouf who is doing some sort of joke on public with his awkward break downs. I mean, no Shia? That is great news on its own. This movie can't be that bad for that reason.
It should be noted that I am not a Bay hater. In fact, his movie last year Pain & Gain I gave a 4 out of 4. But with some of the advertisement material, I can say that it looks like the Transformers franchise might be running out of gas.
Heh. Hehehe.
This film takes place let's say, I dunno, five-ish years after the last Transformers. The Autobots are now on the run, because public opinion has somehow turned against them. Sure they fought with our military and helped us defeat people, but the government says they are bad now, so, they are bad now. After all, they fucked over Chicago completely, taking out about half the city and millions. Millions? Did I say millions? Well, just kidding. The media said (I think) 1300 died at the end of Transformers 3, which we know to be ridiculous.
Either way, Cade Yaeger (Mark Wahlberg) is a tinkerer, who invents gadgets in his garage. He is behind on all bills, but who cares, he will make it one day. His daughter Tessa (Nicola Peltz), the 17 year old sex symbol for this movie, is graduating soon and they need college money. As luck would have it, Cade finds a Transformer (Prime) who they could sell to the government for lots of cash.
Needless to say, government is corrupt. The hired assassin (Titus Welliver) tries to kill them too, so they escape and a man hunt begins. This man hunt involves at least three or four different plot lines that are wrapped up in the very short 2 hour and 45 minute movie. But trying to explain them all would just take up time and energy that isn't necessary. But Kelsey Grammer plays a high up in the CIA, Jack Reynor as Tessa's secret Irish boyfriend, T.J. Miller as a guy who works with Cade, and Stanley Tucci as the head of a science corporation in Chicago.
Chicago? Yes. Because apparently despite its huge widespread destruction, they basically rebuilt it all up very quickly exactly the same way it was before. We only know that because we go back to Chicago and the bots fuck up a lot of it again.
We still have more characters though. More women, like Sophia Myles, a "geologist" who doesn't do any exciting geology, and Bingbing Li, a scientists from China who allow the film to end in China so that this movie can make a lot more money over there. Which is what a lot of films are trying to do now, including Iron Man 3 which literally had extra scenes in the Chinese version to get more cash. Blah.
Let's not forget our voice actors. We have Optimus Prime (Peter Cullen), a man made Transformer Galvatron (Frank Welker), a Samurai-bot? (Ken Watanabe), some evil bad guy Lockdown (Mark Ryan), a Trenchcoat-bot (John DiMaggio), and literally a Transformer that just appears to be John Goodman (John Goodman).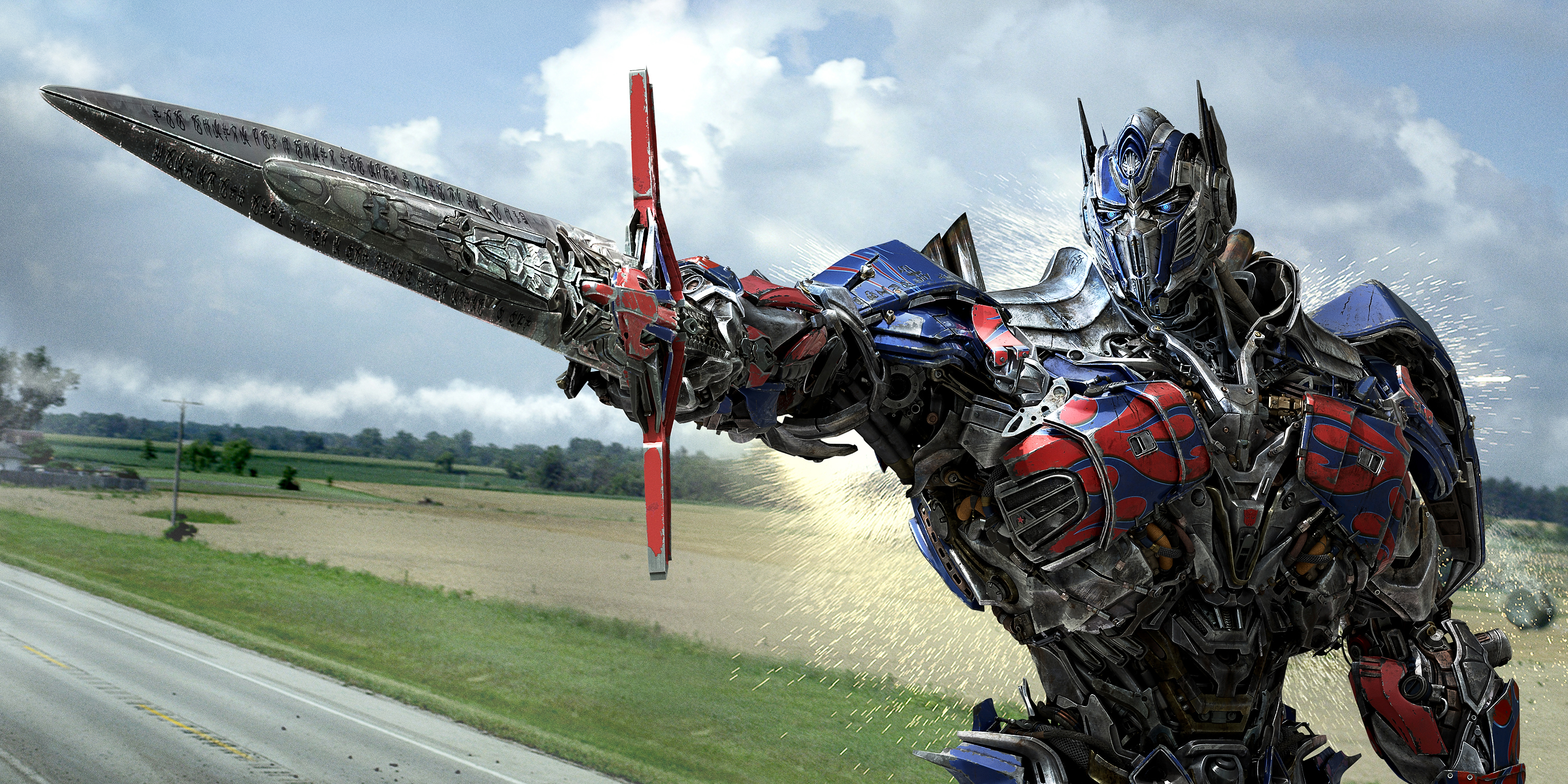 Optimus Prime's sword is voiced my Sir Swoosh-A-Lot.
Did you notice I didn't mention a specific Transformers based entity that was heavily featured in all of the advertisements? The Dino-Bots? Yeah, they are in this movie I guess. They don't talk, their plot lines are questionable, and they are in at the end to help fight bad guys. So, they do exist, albeit for twenty or so minutes. And to be fair, their action scenes are pretty bad ass. They are just grossly underused based on the advertisements and felt like a let down.
Speaking of annoying. More technicalities. A plot point puts them in Beijing. A big bad bot wants to blow up a bomb in the biggest city on Earth. Beijing is 2, so that is close enough. One of our characters knowing this goes on the run with the bomb. To Hong Kong. What in the fuck? First they make it seem like Hong Kong is a few hours away, and its really fucking far. But Hong Kong itself is a giant ass city with millions of people too. How is that better? There is literally thousands of miles of empty space all around China and they do the riskier thing?
This movie, like the third one, features tons of human casualties that they decide to brush aside and ignore. Early on it also does its best to ignore the Transformers completely. Like during a chase scene and a battle, they show mostly the humans running away from humans, than Prime fighting Lockdown. One of the biggest complaints of the franchise is too many humans (and too many women just around for their looks) and this film has that going on too. It is hard to understand why this keeps happening. It is of course also a giant advertisement for GM and other sponsors, such as Beats and Victoria Secret, which have moments that stand out in the worst way.
Some parts of the movie are delightful. Some of the fights are kind of cool. But the dialogue is terrible, acting is whatever, and there is just far too much going on for not enough payout in this movie.
1 out of 4.