You gotta pay the Troll Toll, if you wanna get into that boy's soul. Or something like that. I could have also went with the pop culture reference of, A toll is a toll, and a roll is a roll, and if we don't get no tolls, then we don't eat no rolls. Not sure if any other iconic toll related quotes.
The Toll is an upcoming horror movie that deals with the scariness of having to pay a fine to cross a bridge or use a highway. (That is also a joke). In reality, a toll can be anything. A price you have to pay for hopefully a safe journey is the goal really.
In this movie, the toll won't be be a monetary thing though. No, it will involve some death instead.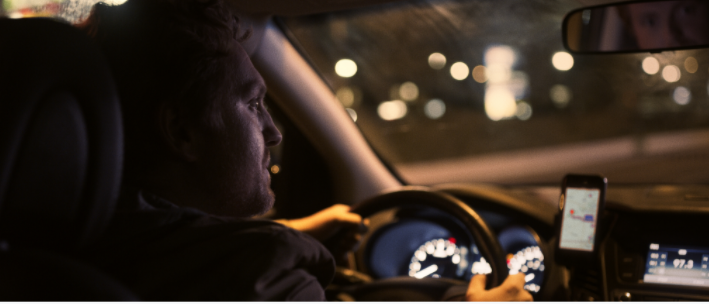 Death by Uber? That is a real thing though!
Cami (
Jordan Hayes
) is just flying in to her hometown, a late night flight. She hasn't been here in a good long time. And because it is the modern age, she is just going to get an Uber or some similar service to take her to her home so that she doesn't have to wake her parents. She didn't put the destination in the app, so she has to do it when in the vehicle and it sure is a long way away.
The driver, Spencer (Max Topplin) agrees to do it, because hey, even though it is late, it is going to be a fat payday, and better to take the guarantee. He is a bit awkward, tries to make the small talk, but Cami doesn't really want to. She thinks he is creepy, and he thinks she is creepy too.
Eventually, once they get more to the boonies, the GPS has him take a path that she is not used to, but she agrees that he can just follow it, should be no big deal. And then eventually, after some weird moments, they find themselves stranded. Cami doesn't trust her driver, and thinks this is all a ruse to "get her" and her driver is annoyed at all of this and isn't sure how to handle the situation either.
But eventually, there are going to be people or things in the dark, and if they want to get out of it, there will be a price to pay.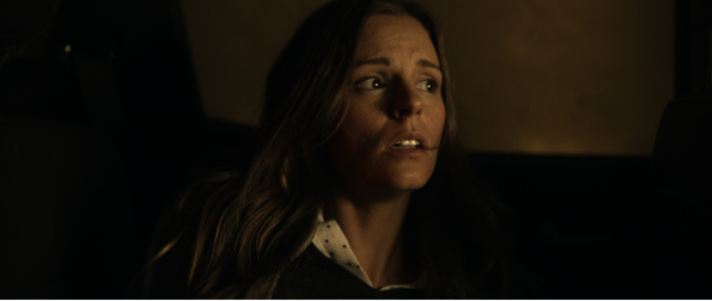 "I would give this trip zero stars if it would let me."
Without knowing the plot of the movie as I went into it, the intro to the film was very interesting to me. It felt like a normal intro to a horror movie. One that would be 5 to 10 minutes top, then the scary bad guy or entity would get the kill, and then we would switch to the main characters to continue with the plot. A lot of films do something similar.
And this one didn't. The intro the movie was the intro to our main characters and we just hop immediately into their story. It was a gradual realization, one that really finally hit me about 30 minutes in.
This is a film that really takes its time to build up the initial scares and weirdness. We get regular creepy Uber driver vibes early on, but when it transforms into something else, it is a good transformation for us to make.
The main two leads did a good job of really selling the situation they were in. I enjoyed it for at least two-thirds of the movie. I think it was very messy by the end of the movie. It didn't make as much sense to me, although it did save a final twist when I was no longer expecting twists. So that is fun. That little bit saved the film for me, because the ending wasn't pacing out to be that great of a movie. I disliked a lot of the parts of the movie when they left the vehicle and the mythos actually unfolded, but there was enough at the  end to keep things interesting.
Overall, the film is okay, but could have easily been terrible. It is thanks to the two leads, and the slow build up to really set the atmosphere right.
2 out of 4.