What is the deal with this surge of tennis movies? This year we have Borg vs McEnroe, at some point there is that documentary Love Means Zero, and last year had the Battle of the Sexes.
But it isn't just a two year trend. Don't you remember two years ago, that HBO miniature film? It was called 7 Days in Hell, and that one was a parody piece and about fictional rivals. Somehow that 45 minute feature led executives to put out two real tennis match movies relatively close together. Are people just running around buying out the rights to intense matches?
Then before this gets to the point of no return, then can we get someone to quickly film the Isner-Mahut match from a bit ago? That would be a marathon film if any. And don't fill it with flashbacks. Start with the match. Then give us the night time breaks to get some other characters/story/anxiety in there.
The real reason for the film is to create this hair.
Set in 1980, history in Wimbledon was about to be made. Björn Borg (Sverrir Gudnason) was the sexiest man alive, if sexiest man alive meant extremely skilled at Tennis. How can Borg, only 24, be the greatest Tennis player? Well, when he was 23, 22, 21, and 20, he won Wimbledon. That is four times in a row. And no one had ever won it five times in a row. Could he be that first person? He is young, he is strong, he is accurate. And hey, he keeps his emotions in check. He is so goddamn stoic, before, after, and during matches, he is like a robot. They went on to name the Borg hive race in Star Trek after him due to that personality.
So what is stopping him? Well, a younger up and coming athlete, John McEnroe (Shia LaBeouf), who, like all great rivalries, was basically the exact opposite. He was 22 at the time, American, and like America, he was rash, angry, and people didn't like him across the seas. He was a firecracker, he yelled at the judges, he unnerved his opponents and was a thorn in the professional tennis world.
And they would meet at Wimbledon. If Borg wins, he makes history. If McEnroe wins, it dawns a new era of primadonna shit head tennis players.
What world do we want to live in!?
Also starring Stellan Skarsgård, Tuva Novotny, and Scott Arthur.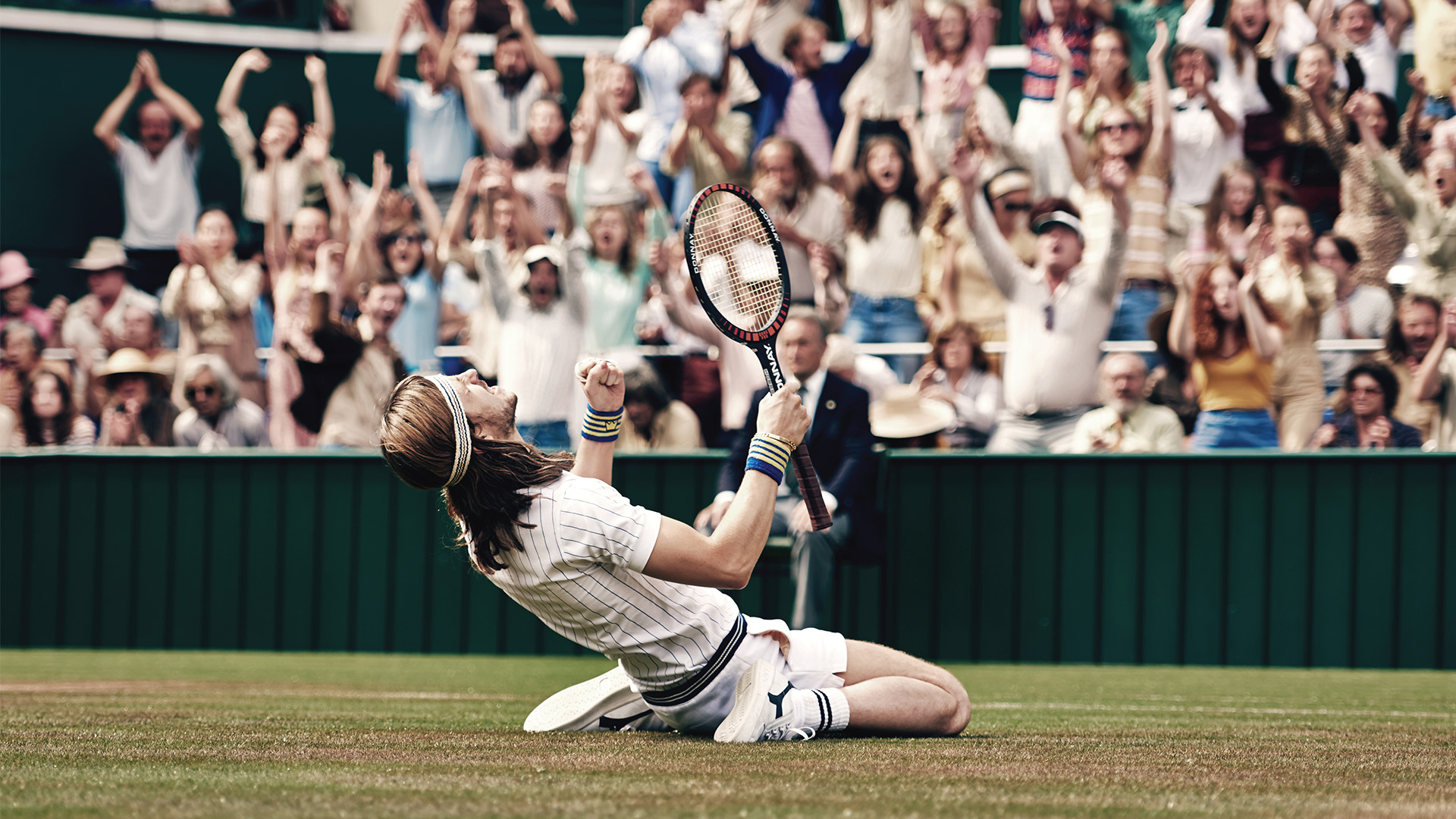 Really they are both rock stars if you think about it.
I have a general fondness for Tennis movies. I really can't imagine one I really disliked. To be fair, outside of the ones I tagged up there, the only ones I remember right now at Wimbledon itself and…that's it. And I liked Wimbledon.
It is a sport that definitely allows itself to be filmed in a way to really show the struggle between two athletic individuals. It doesn't focus on nameless team players that are just background bodies, or shenanigans. Just playing some tennis balls.
Both LaBeouf and Gudnason give very strong performances as people with their own issues to deal with. The use of flashbacks really worked in this movie. We got a lot of flash backs for Borg in particular, to see how he developed into that type of player and why (hint, some bad stuff happened). And similarly, what McEnroe had to deal with, even as one of the top players of the world, how he never seemed to get his respect.
I kept the truth of the ending a secret from myself, which paid off big time. Real stories are cool, and they are better if you don't know the final outcome.
Definitely a solid dramatic tennis movie. I'm talking acrylic court solid here.
3 out of 4.