Director Dan Gilroy did something amazing a few years back. He directed for the first time a feature length film. That film was Nightcrawler. And Nightcrawler was bananas good. I am disappointed I did not see it in theaters and I am disappointed it did not win things.
He quickly became a director to watch out for.
This last year, Roman J. Israel, Esq. came out with little fanfair. Very little advertisement, was barely on screens. I did not feel like watching it because of the mixed reviews and figured I could just wait until it was on DVD. Then it had to go and get nominated for an Oscar.
Just one Oscar mind you, an acting one. And it makes sense, because the star who was nominated has been nominated plenty of times, the Academy loves him, even on roles that do not warrant awards. That is when I found out who the director was, once again, kicking myself for not seeing it earlier in theaters.
All good now. It is out, it has been seen, and it is not as good as Nightcrawler.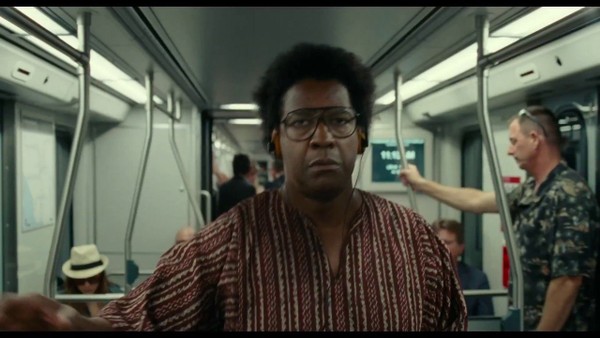 But it is certainly more funky.
Roman J. Israel, Esq (Denzel Washington), is a lawyer. He doesn´t go into the court room to grandstand and holler. He is a guy who works in the office. William Jackson is his partner. Jackson handles the courtroom drama and is a professor. Israel handles the memos, gets the ideas, writes the briefs. He is really good at that.
You see, Israel is probably autistic, has a perfect memory of law codes and knows what argument to make and what precedents exist. He just cannot deal with people for the most part. When he sees an injustice he has to comment on it and explain it, which can cause him ire with other workers and judges.
And then Jackson suffers a heart attack, has a coma, and leaves a lot in question. Israel starts to working the cases, not looking for deals and not wanting to delay things further. But Jackson´s daughter becomes the owner of his estate and is looking to liquidate everything, knowing Israel cannot do it on his own.
This brings Israel to a real firm, run by George Pierce (Colin Farrell), who is maybe a good guy, maybe not. Either way, it is change. Change is hard. Change can do a lot to man. It can even make a man go against his morals, thinking his life has lead him to the bottom. It can make a man go against everything he has fought for, just for a quick payout. It can lead to a man becoming his own worst enemy.
Also starring Carmen Ejogo and Amari Cheatom.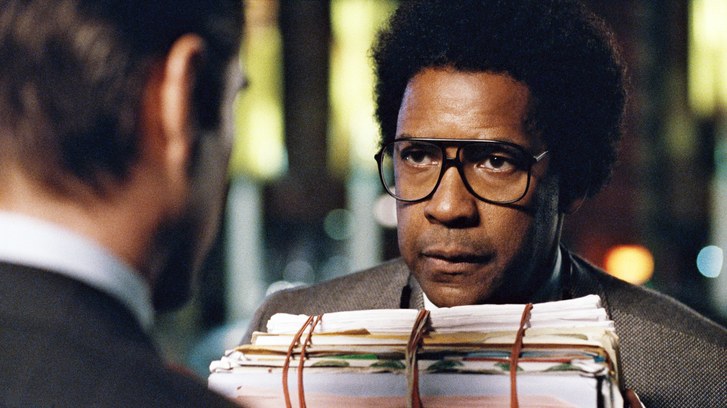 And perhaps, binders of women? Hmm?
Gilroy probably starts his movie ideas thinking of a character who is very passionate about something. In Nightcrawler, that passion is being a sociopath who will do anything to get to the top. In Roman J. Israel Esq., we have someone who has a perfect memory and is autistic who is afraid of coming out of the shadows. He wants to fight for human rights and for equality, but he always had to help other people do the talking for him. An extremely moral man who when put up against tragic events, unfortunately, turned into an immoral man.
An interesting character study and a relatively fun character. It is definitely something different for Washington, who never once felt like a badass in this film. A great surprise for all of us.
I think the biggest problems with this film come from the ending. It brought a great twist of events to us and it just did not seem to follow through. I thought it was ramping up to turn into an almost completely different genre, but instead it petered out. If this was based on true events it could be a fun movie as there is at least some conclusions after the fact that we can see. But to bring about these ground breaking ideas and then do nothing with them? The film just runs out of steam.
Again, Washington is totally find in this movie. I can see why it was nominated, while also still wanting to give nominations to several other actors above him.
The film is better than I imagined it could be, but several parts will easily turn other watchers off and possibly lower their overall opinion accordingly.
3 out of 4.