2021 has been a year of musicals for me. A front to bottom, left to right, back in time to now, year of goddamn musical joy. I have seen so many movies I haven't seen before, in anticipation of all of the musicals that were coming out this year, and tick, tick…BOOM! is one of the lasts to go.
I think from this year, out of the 11 or so new musicals that came out, I have two more to go after tick, tick…BOOM!, the end is in sight, and I am sad to see it go. I also had a goal to watch at least 100 musicals throughout the decades, focusing on many musicals that were strange or famous that I never saw before.
tick, tick…BOOM! is the type of musical that one has heard of before, and never gotten a good chance of seeing or hearing before, due to the situations around that musical. And our bae Lin-Manuel Miranda, inspired in his own life by the musical for people who create musicals, decided he needed to dust off the old director's hat and give us a theatrical version of this musical as his first go around. Musical theater nerds rejoice, everyone else? Well, hopefully they also rejoice, because rejoicing is fun.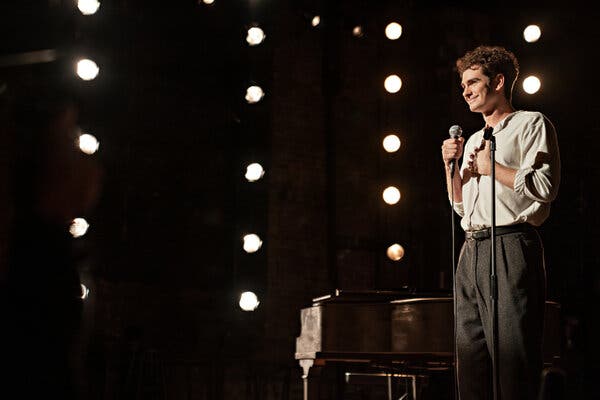 "You love me, you really love me!"
Jonathan Larson (Andrew Garfield) is a real person! A real guy. Who really wanted to write musicals. In fact, he did write some musicals. In this movie, we are going to see a few things. One, him living his life. Two, him putting on a musical he has created called Superbia, similar to 1984 the book, and set in the future, but different. Three, the actual musical of tick, tick…BOOM!, which is one he made about his life at the time, his feelings dealing with his failures and successes around the making of Superbia. And then his eventual death. Spoilers. But yeah, his last musical he made was RENT and he died suddenly the morning that it was to premier off-Broadway.
Why does he write like he is running out of time?
Narratively, the plot isn't too hard to follow, but we have musical songs both in his regular life, and in the musical he is trying to make, and the one that this movie is technically about. And we have a lot of people. Like his girlfriend (Alexandra Shipp) and a former roommate (Robin de Jesus) who wanted to be an actor, but sold out to make that cash.
We also get Bradley Whitford as Stephen Sondheim, who was someone who gave Larson a lot of inspiration early in his life, believed in his work. Sondheim also left a voicemail on Larson's real life voice mail, and he used it in his original show and it is used in this movie as well.
This is a musical of emotions, of youth, of dreams, and with the knowledge that tragedy can happen at any moment, and you should live your life like it is the only life you got.
Also starring Ben Ross, Jonathan Marc Sherman, Joshua Henry, MJ Rodriguez, Richard Kind, and Vanessa Hudgens.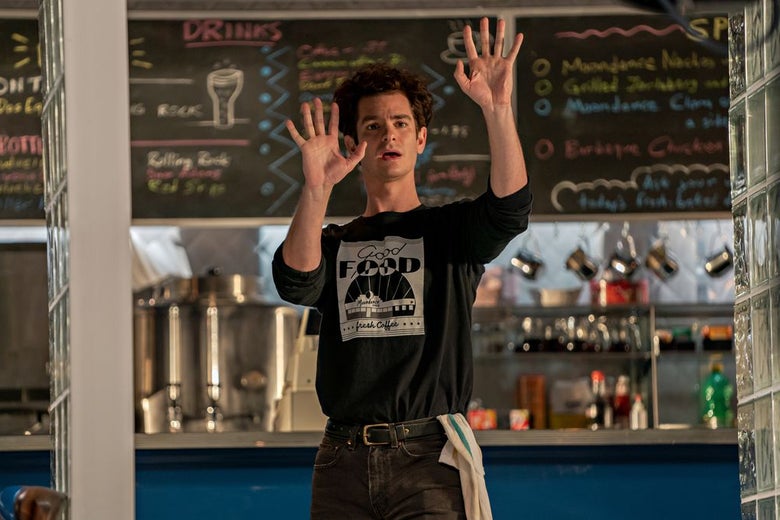 Although the song and lyrics of a musical don't pop out of his head there, you can still imagine it.
As it is hard to describe in my plot outline, tick, tick…BOOM! is clearly a very unique and different experience. The musical itself had a few name changes, and met with various amounts of success, and had a revival decades later that was nominated for awards. Larson is such a unique and clever individual, that it makes sense a movie musical about his life needed to do it in a clever and unique way.
Garfield as the lead is absolutely wonderful. So full of energy, positive and negative. You feel his angst, sorry, and happiness the rare time he gets to experience it. His face wears his expressions so wildly, that you forget that he is imitating a real person (and those who know him say it was spot on). Because you know, biopic films, how close they were to the real person matter greatly and it is harder for people to know about this being great if not many people know about Larson.
For the movie itself, it does feel like both a performance and a musical. Sometimes people break out into songs, and it feels like it is a natural sometimes for the characters to do it, and other times, hey, a musical. We get songs, sometimes across timeline scenes. We get music, and I hope you came here for music, because there is a good chunk of it, and a lot of Broadway cameos, namely in one specific song, but also sprinkled throughout.
The angst behind our film can be applied to more than just musical writing, but any sort of creative process that is purely up to the maker and the struggles they have to overcome, even if the talent is clearly there. A lot of people can relate to these struggles, and the feelings that come with it.
I didn't know this musical was coming out at all until I saw the first trailer release. And I am happy to say, that the trailer doesn't oversell the film.
4 out of 4.