When I first heard about people talking about this hip new film named Tangerine, my first thought was "Oh yeah, that foreign one!"
You remember the 2015 Academy Awards right? Well, one of the films I never saw and didn't win was named Tangerines. I didn't know what it was about, but clearly it must be the hip new movie they were all hyped on. But then I was wrong. Yes, within a year, there was a foreign film named Tangerines and an American filmed named Tangerine. Both nominated for awards. And of course, the plots have nothing to do with one another. Or tangerines for all I fucking know.
Silly me. Getting confused over something so fucking weird.
Fun fact! This movie was filmed on three iPhone 5S smartphones! I had to added the word smartphone, because I didn't know how to pluralize "5S".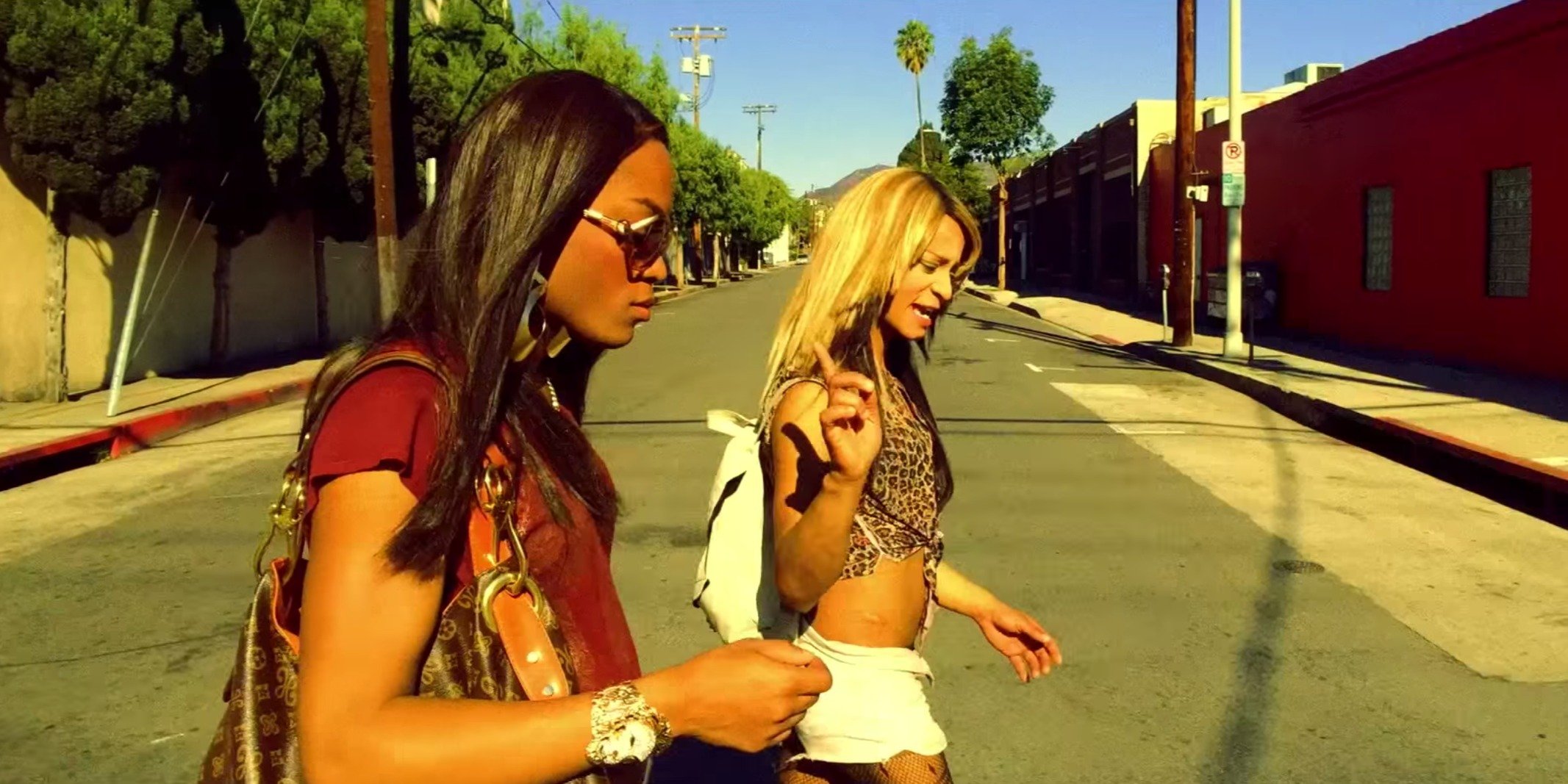 If I made an attempt, people would argue and debate it for decades.
The story is actually about Sin-Dee (Kitana Kiki Rodriguez), who yes, is a female transsexual prostitute. She just got out of jail, 28 days, for a posession charge. She is happy to be back on the streets, and more excited to see Chester (James Ransone), her pimp. She is in an exclusive relationship with him, outside of the hooking.
But according to her best friend, Alexandra (Mya Taylor), Chester has been sleeping around with another woman! Not only that, but a white woman. A "REAL" woman. Some Dinah (Mickey O'Hagan) chick.
Fuck that. Sin-Dee went to jail for Chester. And he couldn't wait four weeks. What a prick. So she goes on a campaign across LA to find Dinah and find Chester to confront them to see what the heck is their issue.
Also we have the story of Razmik (Karren Karagulian). He is an Armenian taxi cab driver, and he has a thing for prostitutes, including Sin-Dee. He loves her so much, he would leave his own Christmas Eve family dinner to find her to get his fix on. Also featuring Alla Tumanian and Luiza Nersisyan as his family.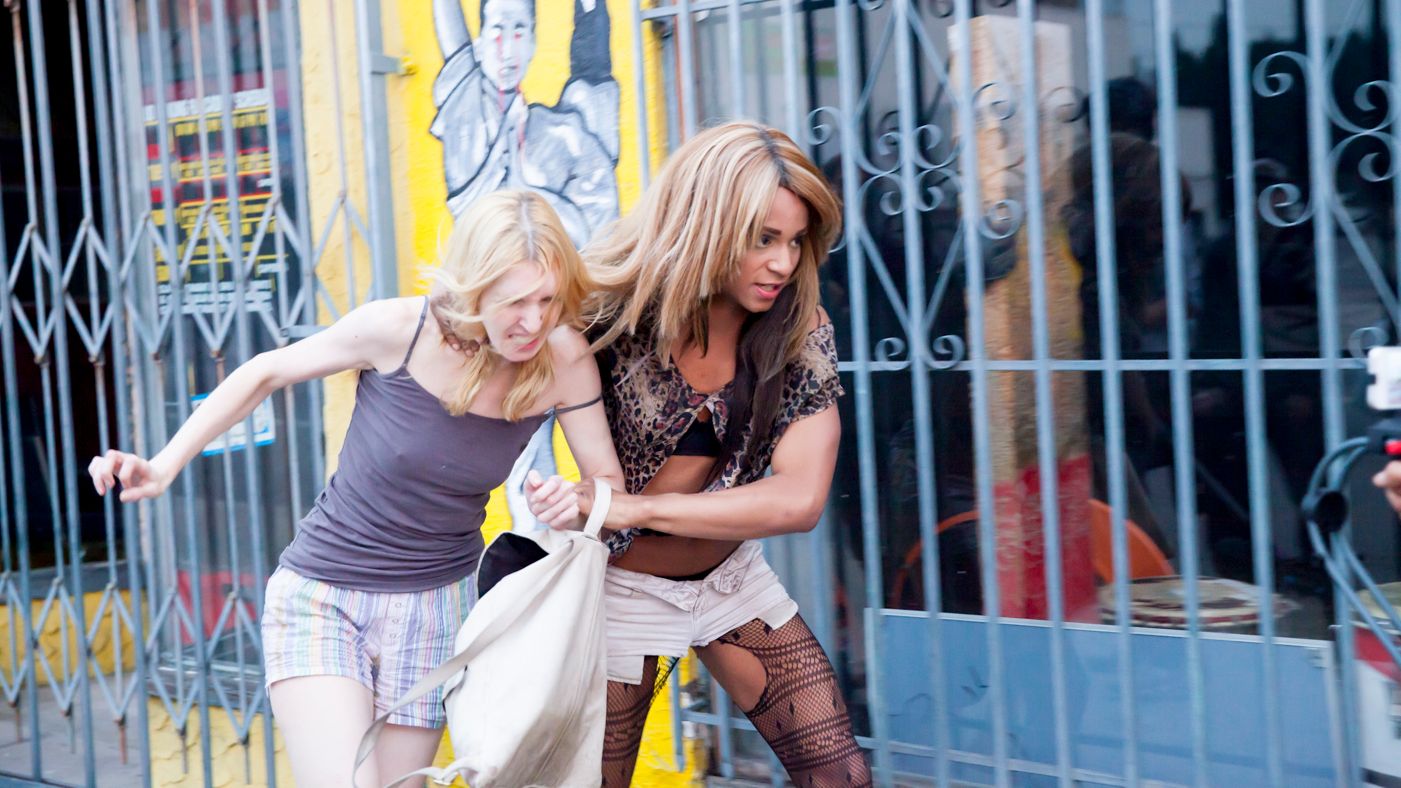 Spoilers: She finds the girl and treats her badly.
Tangerine was an in your face, realistic movie. Yes boobs and yes penis. Yes language and yes uncomfortable situations. Yes very argumentative people and constant bickering. When I say realistic, I of course only mean that everything seems natural and with the addition of drugs, I can see all of this happening in real life at some point. Not realistic in the sense that I actually know anything about this stuff. It is all foreign to me.
The most surprising aspect of this movie is that James Ransone was in it. He isn't the most famous actor by any means, but damn it, he was in Sinister and the star of Sinister 2. Everyone else in this movie are unknowns and first time movie people.
I thought the chemistry between all of the actors was pretty strong, including our two leads who knew each other in real life (I think).
Despite all of this, Tangerine is a movie I can never see watching again. It was a fine art piece, but mixed on the entertainment. The acting was decent, but I can't imagine these people playing any other role with the same passion.
Either way, it is nominated for Best Picture, Actress, and Supporting Actress for the Spirit Awards, so you should definitely check it out on your own on Netflix. Make sure the kiddos aren't around though.
3 out of 4.