54 years has to be some sort of record when it comes to having a sequel for your movie. I am talking about movies that have never been rebooted, or turned into an animated series, or given sequels decades ago but here is another one to ignore the rest, or a prequel in a different format. And you know, a sequel, done by the same company who has always owned those rights.
When they first announced Mary Poppins Returns, with the main leads, I was actually excited. Blunt killed it in Into The Woods, and her look could clearly pull off the same character. And of course Miranda is amazing in everything and could handle the goofy singing and dancing sidekick.
But I did quickly forget about it, and haven't really cared about it coming out since the announcement. The idea seems swell, but maybe the real world is too annoying and dark for me to really escape for two hours and watch British kids learn to use their imagination or whatever.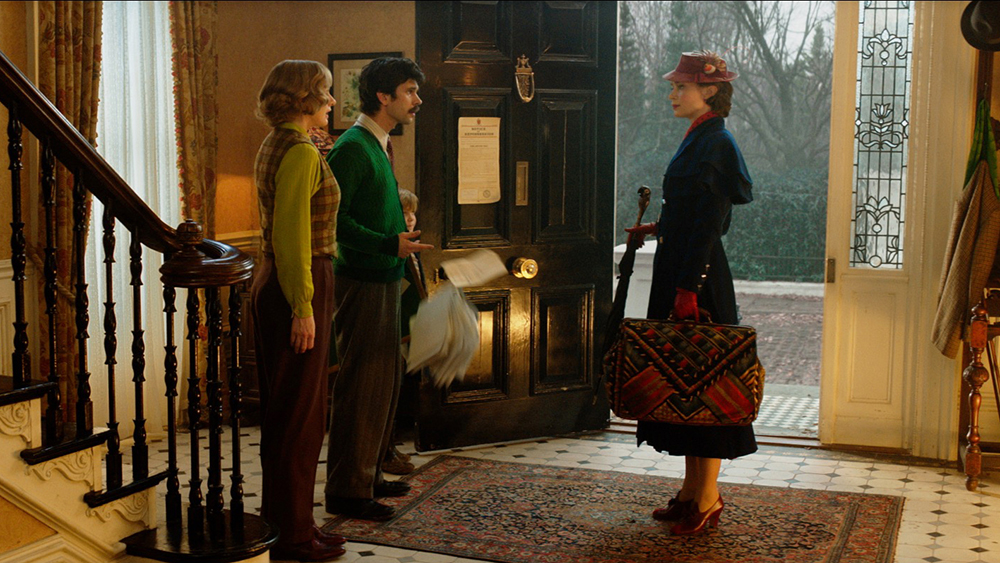 And British adults learn their imagination never really left.
Many years ago, Mary Poppins magically appeared and fixed a family, then flew off, never to be seen again.
Until now. Decades later. Same neighborhood, house, and…family? Michael Banks (Ben Whishaw) and his sister, Jane (Emily Mortimer) are now older. Ben is living in the same house, with his three kids (Pixie Davies, Nathanael Saleh, Joel Dawson) and Jane has her own flat, but she is around frequently to help out. Michael was married, but she died, and this has put a big strain on their house. Finances are bad for that reason, but also because the whole neighborhood is in a financial crisis, of which it is hard to even find work.
So things are kind of shitty, and you know what, the bank is going to reposess their home probably. That means bye bye childhood, hello sadness and stress. They need help. And the kids aren't being kids, they are just acting like tiny adults. Boo!
We need Mary Poppins (Emily Blunt) to return! And with the help of her new compadre, a fast talking lamp lighter Jack (Lin-Manuel Miranda), they will get the damn job done.
Also starring Julie Walters, Meryl Streep, Colin Firth, Jeremy Swift, Noma Dumezweni, Kobna Holdbrook-Smith, Dick Van Dyke, Angela Lansbury, Jim Norton, and David Warner.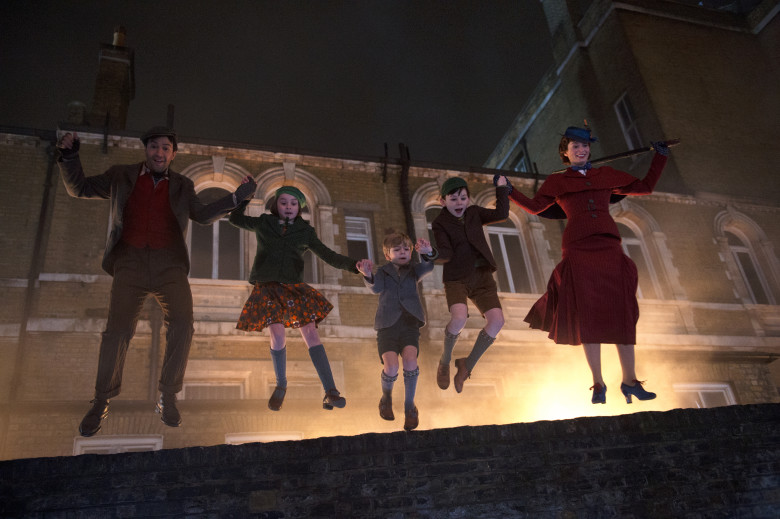 Jumping into the pits of hell is a unique twist in this film.
Mary Poppins Returns is an unrelentingly optimistic look at life, sorrow, and pulling yourself up by the goddamn bootstraps to make yourself smile.
Something sad? Fuck your sadness, let's get happy!
This movie felt a bit weirder, as there is a notable "villain" character, while the problems of the first film seemed to just deal more with priorities and not being family enough. This is a fine family in terms of love, just they have lost their way, and also, someone is out to get them. I don't think it needed to be so mean spirited for a Poppins movie.
For the songs, there is only one song I really loved, which was A Cover Is Not The Book. And it is definitely a song I like more with the video, and not just the song. Most of the other ones just feel adequate, or extra. A fair number of reprises for the songs is a good use of their time at least. I absolutely hated the Streep song and the whole scene. It was a one off just to get her in there and act silly, and clearly it is a reference to the first film, but also, it did nothing for me.
This film relies heavily on nostalgia to sell. We have various versions/scenes that are clearly just throwbacks to the first film, to have similar antics, and that is more lazy than exciting. Because of better special effects, everything is a lot more polished, and thus feels a bit more fake when it comes to the more spectacular dance scenes. When we have the lamp lighter army doing their song and dance (because the last film did it with chimney sweeps), it just felt too cut heavy and small, like you could see the size of the set and didn't pull me in.
It should be noted, that Blunt and Miranda still knocked it out of the park, and they are reason enough to see it. This is the film you want if you just need to smile and have a pick me up in these times of misery. It isn't the best film, it won't probably change any lives, but it can be a good escape, despite its issues.
3 out of 4.