I was hoping Ready or Not would fill a very specific niche I thought I needed in my life. A movie so graphic and funny and entertaining, I could look past its flaws and just have a good quick night out at the movies.
From the advertising, that is what it looked like it was going for! It had a very strong You're Next vibe, but with more ridiculous of a plot, and a slight game theme, to tingle my innards. Mostly full of lesser known roles would lead it to be something where many could shine and a lot of creative deaths!
But to be fair, I also assumed that The Belko Experiment would fulfill a similar niche. And it didn't. The plot was wasted, the deaths (a majority) were boring and just, meh.
So Ready or Not could go either way, I see it!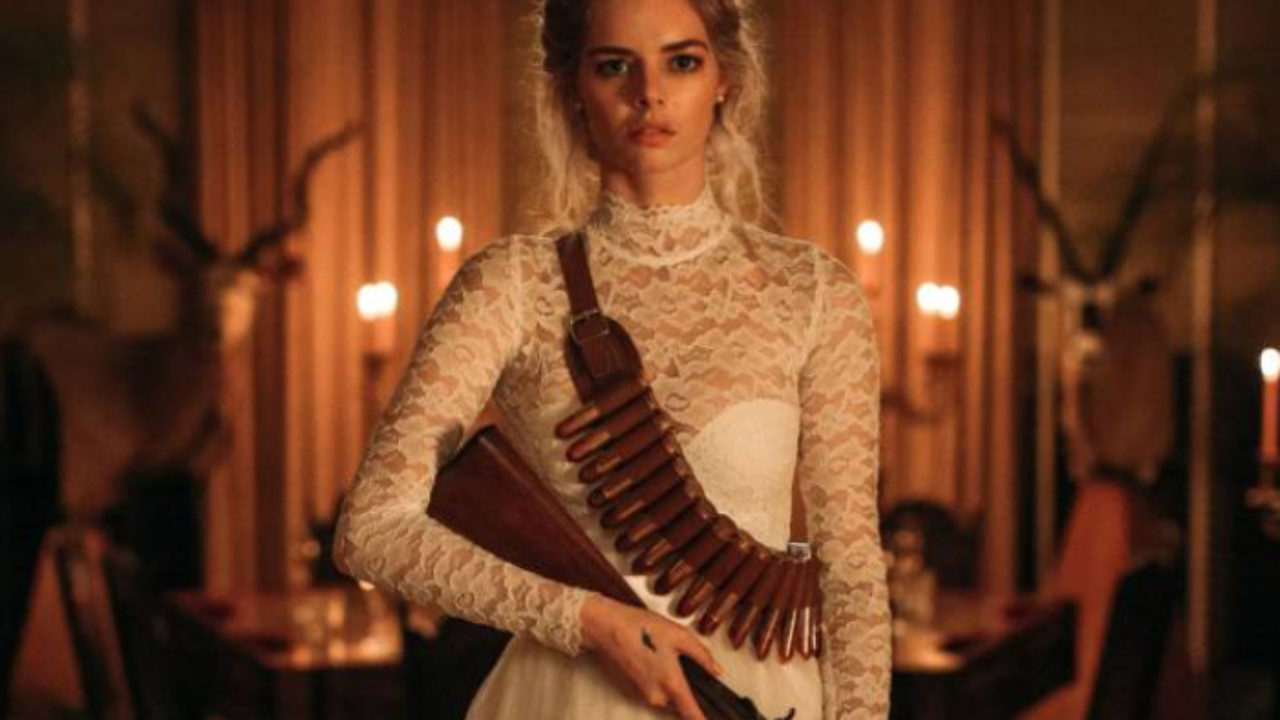 Hell, and this image has a nice Evil Dead / Ash vibe going for it.
Grace (Samara Weaving) and Alex (Mark O'Brien) are getting married! They have only known each other for 18 months, but they are in love. And it turns out Alex is from a really, really rich family. Richer than god. Board game things, for hundreds of years, and they are wealthy af.
Grace didn't know that! She is not a gold digger. And she knows that Alex is not close with his family, but hopes that this wedding and herself can maybe bring them closer together and bring Alex back into the fold. A good idea. They seem mad at her, but she they are having the wedding at their mansion so help appease things.
Well apparently there was just one more part of the deal to be made and everything would be peachy. They just had to gather at midnight on the night of the wedding, and do a ritual game play. And unfortunately for Grace, she drew Hide and Seek, which thanks to that families alleged deal with a devil, they have to hunt her and sacrifice her before dawn. Or else.
Grace thinks this is the worst wedding night ever. We here at Gorgon Reviews tend to agree.
Also starring Adam Brody, Henry Czerny, Andie MacDowell, Elyse Levesque, John Ralston, Kristian Bruun, Melanie Scrofano, and Nicky Guadagni.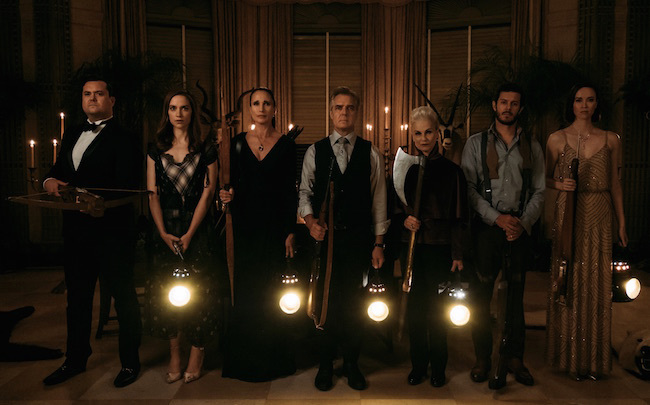 Something something something in-laws, amirite?
For a movie with a technically unique and fun concept, it really went out of its way to be as boring as possible for long stretches. Given the concept, we had plenty of points where it could have gone against the grain and it just refused.
Huge stretches in the middle have the entire extended family doing absolutely nothing (Despite starting off trying to do things) and just letting a butler attempt to fetch her. It would be one thing if that is how they started off the search, but they were all involved and then, eh, maybe he can do the impossible and find her on his own (Which should not have been doable) and save the day for them.
And it just dragged and wasn't exciting. Because we were told that there was a ritual component that she had to be alive for, it also meant that sure, eventually the ritual would happen. It might work, it might not, who knows, but it would never get to the point where she just escapes before dawn. We were guaranteed for a set back for the ritual, and sure enough, a guarantee was made.
Early on it was more exciting, with a varied cast of characters. I do wish it went more quickly into the after wedding affairs, but that wasn't too bad. The ending was relatively exciting as well, and quite eye popping at times. But then I think back to that middle, where there were so many family members, and how none apparently could be killed besides the occasional helper.
Again, wasted for a bigger climax, but ruined the thrills in the middle.
2 out of 4.