Moooooooortal Koooooombaaaaaaaaaaaaaaaaaaaat!
I could write a whole review about the non-video game medium of Mortal Kombat, but that is not what you are here for. The first film, despite its flaws, is iconic, and gave us the theme. The second film, despite its bigger cast of characters, is a train wreck and shit, and we all wish it could have been better.
There was the cartoon, that as a kid I found really cool, and as an adult, well, never saw it again besides the few random episodes. There was a 90's show that I saw a few episodes of as an adult, and didn't try to watch a lot more after that.  And then there was Mortal Kombat: Legacy, an attempt to make it cool again, focus on the fights, and focus on the Kombat. I still haven't seen that, because I suck, but I did buy the whole thing on Blu-Ray to watch eventually. Apparently the release of this film was still not the right time.
Regardless of the quality of video game movies and how they always end up disappointing, I was excited to give this new movie a chance. One rated R and ready to give us Fatalities.
I always liked picking hat-guy in the game, so I could throw his hat.
Like before, Earth is about to get fucked. There is a secret tournament that happens, and if Earth loses ten times in a row, we are all gonna die, basically. And you know what? We have lost the last NINE times already. That is some pre-movie shenanigans. So the stakes could not be higher.
Lord Raiden (Tadanobu Asano) is in charge of protecting the Earthen realm from interference, but as an Elder God, he can't just go and defeat the bad guys for them. Sad.
This movie is actually about a new character, name Cole Young (Lewis Tan), so his powers are a secret until the movie lets us know them. Secret secret secret. He is married (Laura Brent) and a father (Matilda Kimber), and he is a washed up MMA fighter, who takes on shitty fights for $200 bucks and usually loses. But he has this dragon mark, which means he eventually is going to participate in the tournament for Earth's existence, but he had no idea.
Tournament shournament though. Because Shang Tsung (Chin Han), leader of the Outworld forces, is going to make sure the next tournament is a cakewalk. Nothing permits him from going and getting his guys to kill the main fighters before the tournament even starts. Time to cause a ruckus! Oh, Shang, you rascal.
So what cast of characters do we get in the film? We have Sonya Blade (Jessica McNamee), Jax (Mehcad Brooks), Cano (Josh Lawson*), Liu Kang (Ludi Lin), Kung Lao (Max Huang), Sub-Zero (Joe Taslim), Scorpion (Hiroyuki Sanada), Mileena (Sisi Stringer), Kabal (Daniel Nelson), Nitara (Mel Jarnson), and Reiko (Nathan Jones).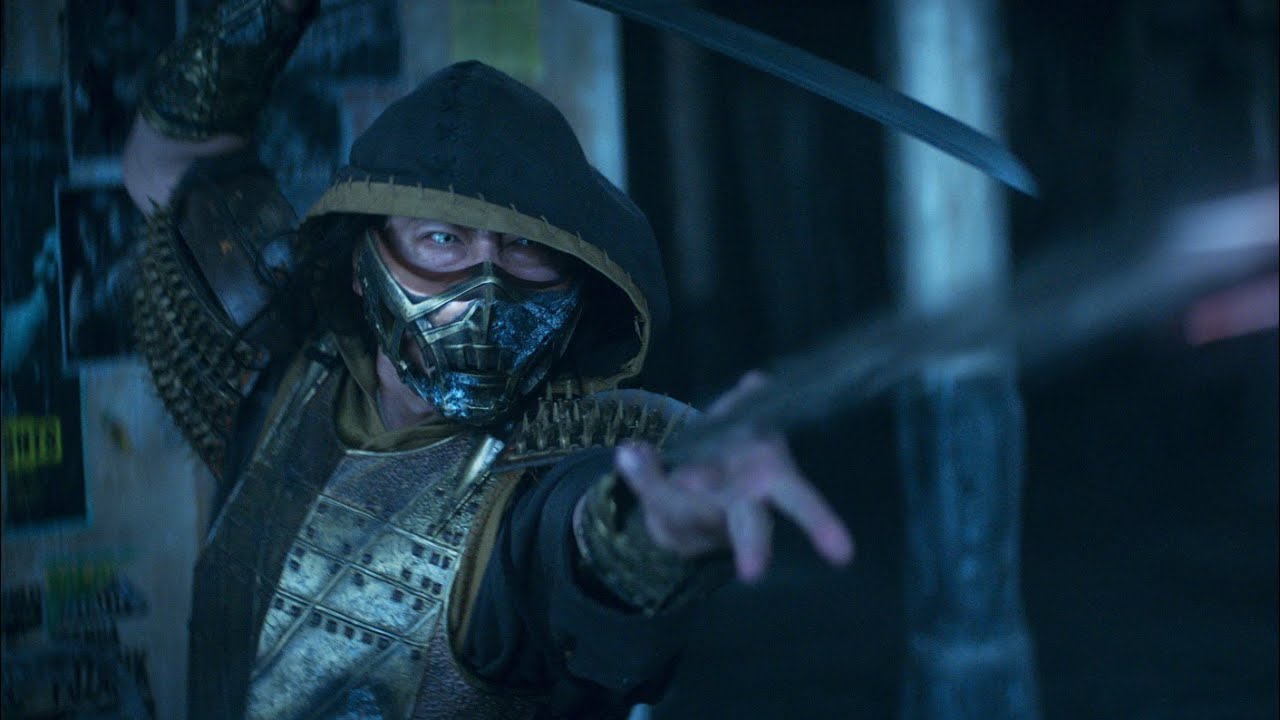 No Baraka? I demand Baraka! Gimmie those blade hands.
People who want a Mortal Kombat movie want a few things. They want a nice cast of characters. They want a lot of fights. They want their fights to be bloody, long, with moves that the characters use in the movies. They want these battles to be cool and surprise. They want goddamn fatalities. Someone has to say Finish Him. Maybe even Fight.
And at least on that front, I would say this film certainly delivers.
It was cool, we had a variety of characters, some more charismatic than others. We got to see some people start off strong and some grow into their powers. We got some magic.  We have a few fatalities and some deaths, not all of which are surprising. And it is good to finally get some bad Sub-Zero, we keep getting good Sub-Zero, and that is silly.
But I am leaving still a bit disappointed. Why is that? I don't think I got a complete story.
Obviously the plot is going to be a weak point in a movie like this (Despite the video games being steeped in their own timelines and history, I am sure there are winners in that). But when it was over, I more asked "That was it?" to myself and it left a sour taste. Technically my plot description of the movie is accurate, but I still found it awkward where  it ended. Because this is not a guaranteed film series. Most are not, unless they film it all at once. We aren't guaranteed a Mortal Kombat 2. And if we were, I don't care. I am not a franchise reviewer, I review the movie. And this movie doesn't give a complete story.
Come in for the fights, and stay for the fights. But be disappointed when the sequel never happens (And if it does, statistically, it will be a lot worse based on the history of these films).
2 out of 4.
* How in the hell did they make the nerd guy from House of Lies into an amusing and deadly Kato? Holy shit Josh, well done.