Fist Fight is an interesting term, because well, most people when they think of the word "fight" they assume fists were already involved. Fists are the default in a fight. That is why we have to specify other types of fights, like gun fights, sword fights, or cat fights. So fist fight doesn't even need to exist as a term, a little bit of an unnecessary word play here.
Although, at the same time, would you watch a movie called just Fight? Would you assume a movie called Fight is actually a comedy film? No way a film just called Fight could work. After all, we already had the movie Fighting and it didn't work either.
Either way, in this movie we get two main things. We get Charlie Day getting some leading man role time, which just…never happens. And we have Ice Cube, trying to get rid of the family friendly nature that has come upon him and turn himself more into a badass again.
Oh shit, did Cube turn his fist into a gun? What kind of fight is this again? Man, what a badass.
Mr. Campbell (Day) is an English teacher at a school in Los Angeles and the students are pretty damn wild. He teaches seniors, it is the last day, and no fucks are given. The kids rarely respect their teachers in this school, especially not today. The only teacher they sort of respect is Mr. Strickland (Cube), but because they are afraid of him. But even today some kids want to mess with him.
While Campbell is in his classroom to fix an issue, Strickland ends up threatening a student with an Ax, destroying his desk, due to his prank. That is a big deal, even at this school. Turns out the school is also looking to take cuts out of every department due to low scores. Campbell has a wife and kid (JoAnna Garcia Swisher, Alexa Nisenson), and the wife is pregnant with number two. Even if his job sucks, he cannot lose it right now. So when pressured by the principal (Dean Norris), Campbell caves and admits that Strickland did the deed. This angers Strickland. So Strickland says he is going to kick Campbell's ass. He is going to challenge him to a fight after school that day, and they are going to throw down. He spreads the word. He is pissed at the world and he doesn't care about his actions.
Now Campbell has to spend the rest of his day worried. He was already panicking over his wife close to birth, and the possibility of losing his job. Now he also might get his ass kicked? I guess he has to try and fix all these issues during the course of a school day, or else he might die of a heart attack before it is through.
Also starring Tracy Morgan, Jillian Bell, Christina Hendricks, Kumail Nanjiani, and Dennis Haysbert.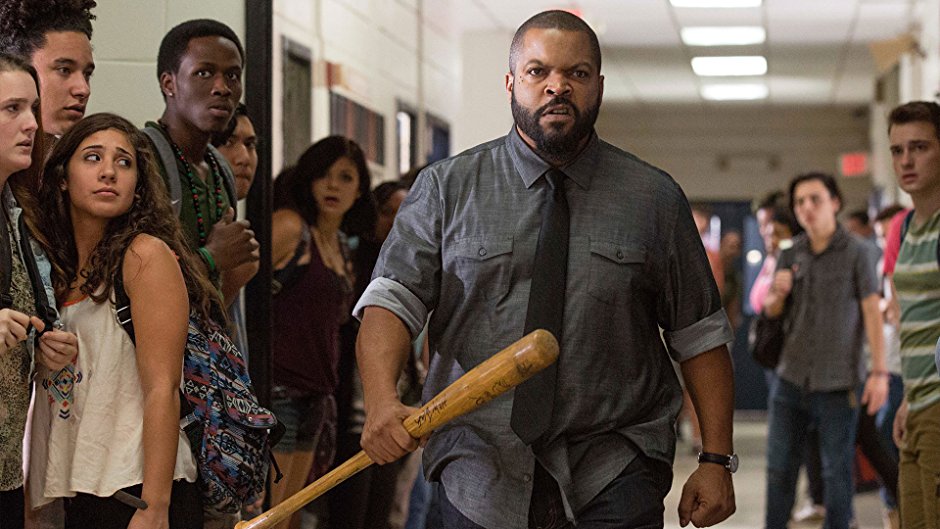 Shit. Now there is a bat involved. Just what kind of fight is this!?

Fist Fight is one of those films that doesn't make sense to have been made in this day and age. It is just so slapstick in a bad way, negative, and bland it is a wonder it got made. Well, it is obvious how it got made. It would have been cheap as fuck to make, outside of actor salaries. Probably didn't even take many days to shoot.
A quick no risk comedy film, that can earn its money back at least through the DVD sales.
The whole time I am wondering "Well, will this film end in a fight?" Because if it just ends in a fight, then it just feels childish. I hate that with animated or kids films, and there really isn't a reason for this film not really in the action genre. But on the other hand, what if there is no fist fight? Then this movie is titled poorly and it would anger people.
So there has to be a fight, but a movie psyched up over a fictional brawl in a parking lot? Hard pass. It isn't funny, it isn't original, and it isn't worthy of your time.
0 out of 4.