Hacksaw Ridge, like most movies I saw in the month of October, I went in without knowing the actual plot and without seeing a trailer. I love it.
Here is what I did know, though. I knew it was about World War II. I knew it was directed by Mel Gibson, who hasn't directed a war film in a long time. You know, Braveheart. And I naturally assumed it was at least 2.5 hours long and it would be unexpectedly graphic.
Oh and hey, it of course has Andrew Garfield. A generally solid actor, who has been solid post Spider-Man. 99 Homes was a surprising treat and I expect great things from him here.
Like I expect him to be able to take a hit from Private muscles over there.
Desmond Doss (Andrew Garfield) is a weird guy. His dad (Hugo Weaving) served in WW1 and has never been the same, making him an alcoholic abuser of both his kids and his wife (Rachel Griffiths). After an incident where he almost killed his brother (Nathaniel Buzolic) in a fight, Desmond vowed to never hurt a soul again, going full Christian.
Years later, World War II is starting and his brother had left for the war. In fact, all of Desmond's friends left for the war. It is his duty as an American Patriot to join his friends to help stop an evil threat right? But can he do that and NOT kill? Well, he has always been interested in being a doctor but didn't even graduate high school. After he meets and falls in love with a nurse, Dorothy Schutte (Teresa Palmer), he is able to gain some knowledge.
So he decides to sign up as a conscientious objector, refusing to even touch a gun, wanting to serve as an unarmed medic. And yeah, a lot of problems happen, in boot camp mostly, but he is able to metaphorically fight his way through and get sent to Japan to face horrifying conditions, with one goal: Save a few lives. Also featuring Vince Vaughn as the Drill Sergeant, Sam Worthington as their Captain, and Luke Bracey as fellow private and asshole.
You want your group of soldiers and commanders that also appear in this film? Well, hold on to your helmets. We got Michael Sheasby, Firass Dirani, Luke Pegler, Ben Mingay, Nico Cortez, Goran D. Kleut, Harry Greenwood, Damien Thomlinson, Ben O'Toole, Richard Pyros, Jacob Warner, Milo Gibson, and of course, Richard Roxburgh.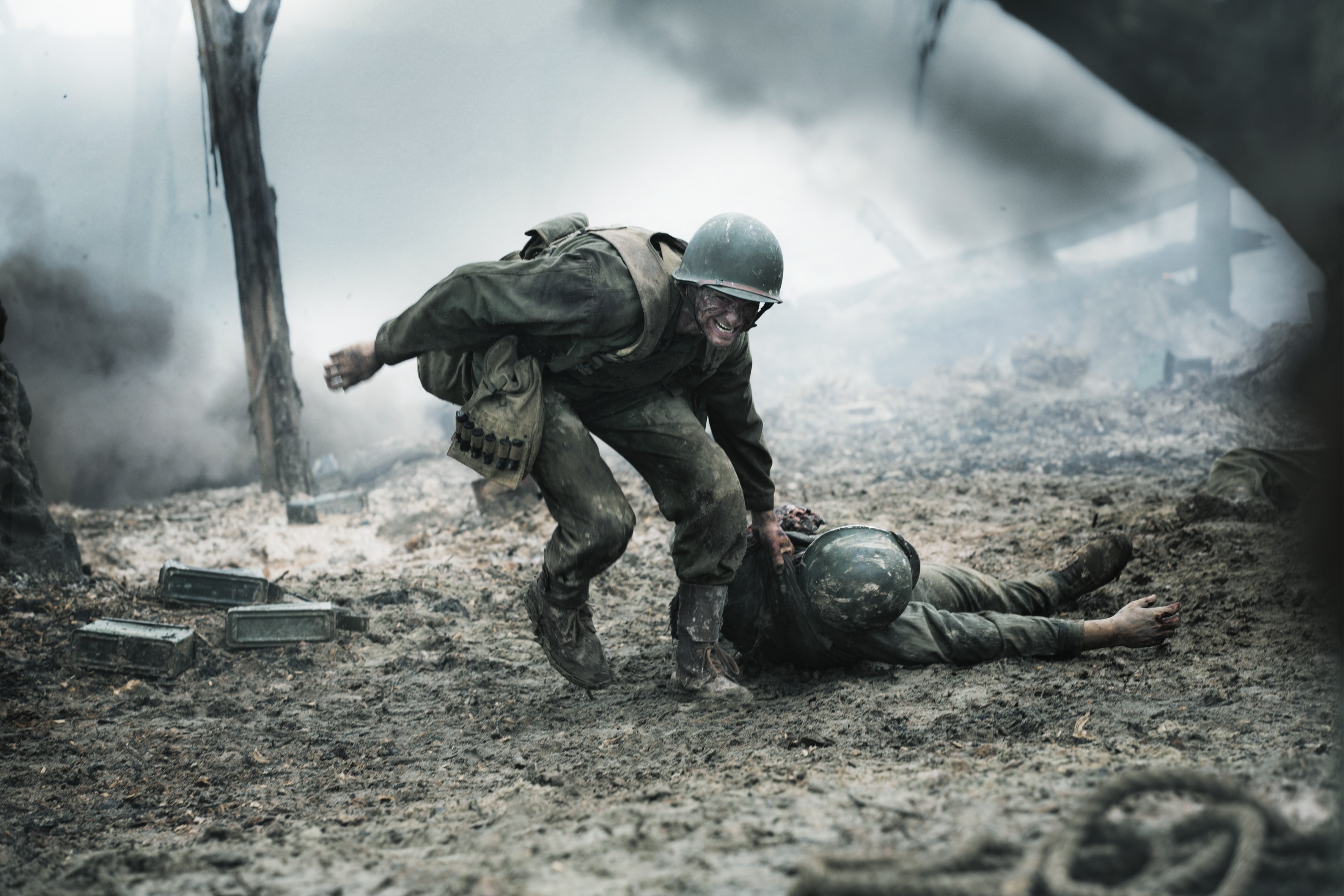 And countless more names play rag doll dying soldiers on both sides.
Gibson is a sunnova gun if there ever was one. Because Hacksaw Ridge is a movie that just seems to hit every note perfectly. It is cheesy and gory. It is loving and unforgiving. It is a few types of movies all rolled up in one.
The time just flew by as well. I was worried that the film would end right after he finished boot camp. Boot camp had so many issues and struggles for him to get through, after what felt like a very detailed introduction,
and also a courtroom scare. It had so much going on, and we didn't even get him over to Japan yet! That is the main crux of the film!
Because he has to do something in order for his story to be told. They advertise he is the only person to win a medal of honor without ever firing a weapon, so he must have saved his entire division somehow in very difficult conditions. As to how difficult and what he did, well, that is what the movie is going to show. But the things he went through are basically awe inspiring to anyone who would watch, even knowing there must be some level of fib being told.
And yes, the main character is Christian. That is an extremely vital part of the film: his faith and his beliefs. We are told them again and again, but it never gets hokey, it never gets annoying. It feels real and earnest without rubbing it in our faces. This is what a Christian film should like. Something where someone's actions speak louder than words without hearing Jesus every minute. It has been straight up probably decades since we have had an actual great movie with a strong Christian focus, and that is the most incredible fact about this film.
Desmond Doss is an amazing American hero, and Mel Gibson gave him an amazing movie for us to remember him with.
4 out of 4.