Sorkin Sorkin Sorkin Sorkin Sorkin!
WE HAVEN'T HAD A NEW SORKIN MOVIE SINCE 2017. And that was Molly's Game, and was a little weird, because it was also directed by him. BUT THE LAST ONE JUST WRITTEN BY HIM WAS IN 2015. That was Steve Jobs, and if you don't know about Steve Jobs, well, it was my favorite movie of the last decade, so I kind of love it. Hell, The Social Network, also written by him, also made the top ten list, and was a lot of people's favorite of the decade.
I am a pretty big fan, I guess you can say.
So I have been waiting patiently for The Trial of Chicago 7. And it took a lot out of me to not rush to go see it in theaters, because honestly, I am not ready for that. Thankfully it was destined for Netflix and I was given the opportunity to check it out along with the rest of the world relatively soon after theaters. This one is his second directorial attempt, and I really hope it it takes the best parts of Molly's Game and goes a bit further.
I am sure I can remain unbiased in my review.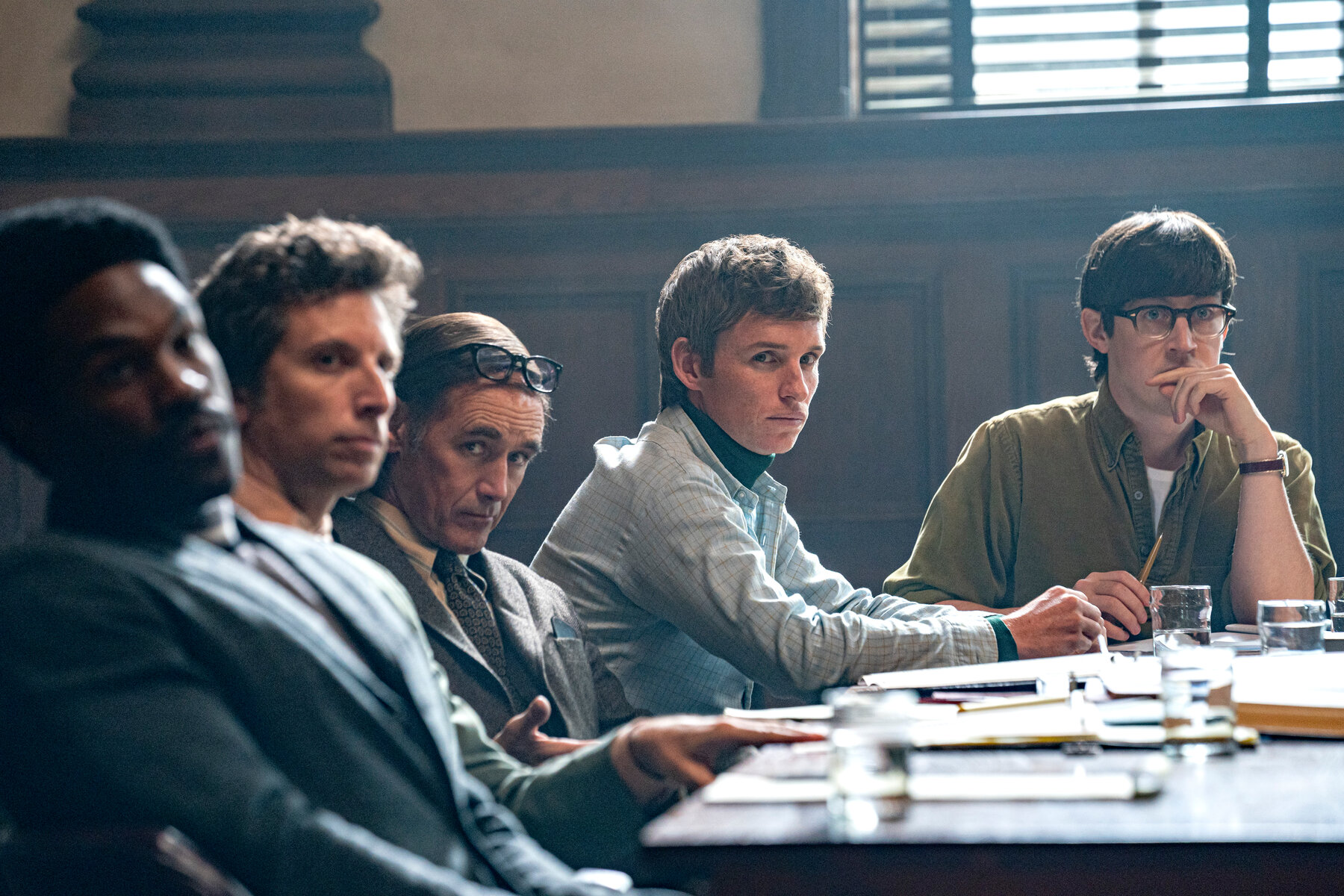 Alright there are five people here. Are they most of the Chicago 7?
In 1968, there was a presidential election. Lyndon B. Johnson had dropped out, so a new person would sit at the head of our government, and for the Republicans it was looking like Richard Nixon. The democrats were likely to elect Hubert Humphrey, a boring choice really, and one who didn't push enough values. A lot of people had problems with that, so a lot of people decided to go to Chicago during the Democratic National Convention and protest. A lot of groups, a lot of big ones, and small ones, and some shit went down.
Did the protestors star the riots? Did the police? A lot of evidence one way or another. But after Nixon won, his AG was sent to investigate and was charging several individuals with felonies to invite riots across state laws, and they were all being tried at the same time. So what kind of trial is this? Some sort of political trial? Is the right to protest on trial?
On trial we have Tom Hayden (Eddie Redmayne) and Rennie Davis (Alex Sharp) were there as part of a national organization they made to help end the war in Vietnam. Abbie Hoffman (Sacha Baron Cohen) and Jerry Rubin (Jeremy Strong) were leaders from the Yippie organization, a youth group who did not like most of the things the US government stood for. There was David Dellinger (John Carroll Lynch) was a conscientious objector during World War II and went as a protestor to encourage a lack of riots and peaceful demonstrations. Bobby Seale (Yahya Abdul-Mateen II) was a Black Panther leader and not from the Chicago area, but went there to make a speech and was there for only a little bit of the time.
And those are most of our key players, outside of judges, lawyers, other people on trial, friends, and etc.
Oh them? Here are the actors involved. Frank Langella, Danny Flaherty, Noah Robbins, Michael Keaton, Kelvin Harrison Jr., Caitlin FitzGerald, Mark Rylance, Joseph Gordon-Levitt, Ben Shenkman, and J.C. MacKenzie.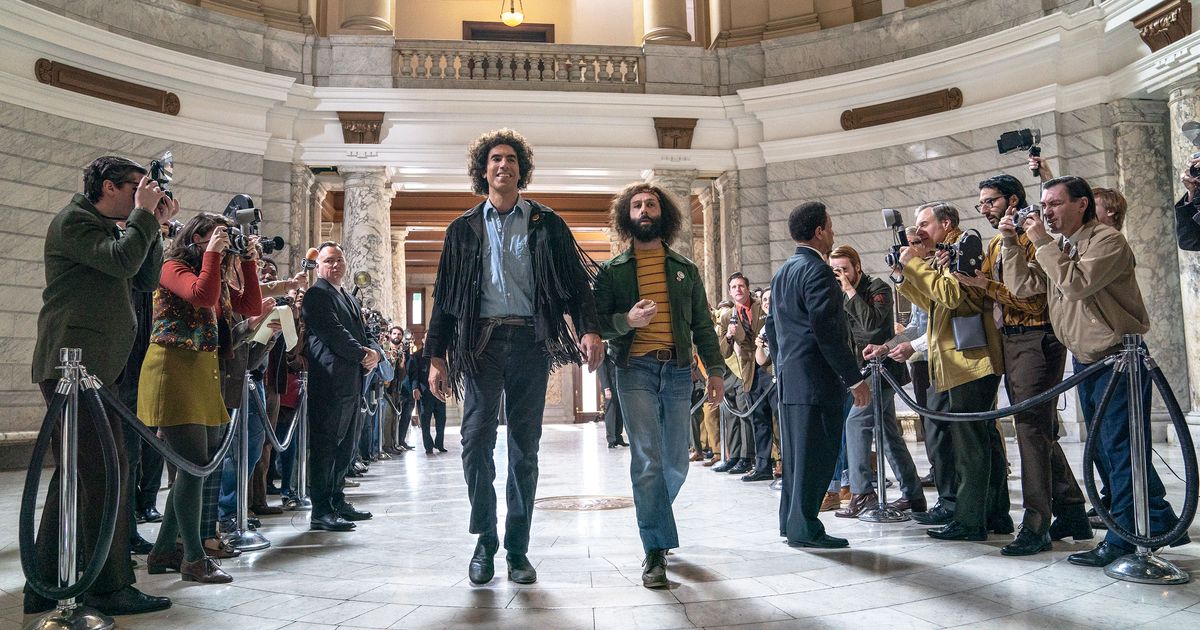 Here are two more. Let's assume this is the complete set.
It is important to note I watched this film before writing the review. I mean, that is always true, sorry. I watched this film twice before writing this review. Because I didn't see it in theaters (as I would have had this review a month ago), I waited until it was on Netflix like the plebian I was. And I will be honest, I liked it the first time, but I never got fully immersed because I kept having to stop it, or go back, due to things going on around me. You know, Netflix problems. So I declared a better time to watch it, so I could watch it again with fewer interruptions, maybe some breaks, but less overall noise around me.
And again, despite liking it the first time, the second time was even better. Normally it'd probably be frowned upon to do a second watch before reviews, because if something is nonsensical on the first watch, I'd want to be able to talk about it. And I will say the choice of a first calm scene in the DA's office is very odd given the little we know at that point, and it takes maybe too long to pay off, but it still does feel nice by the end.
The film spends a lot of time with exposition of news at the start to get us on the right track, and then does a quick job of introducing the main players, while also taking a real long time to explain the "Chicago 7" vs 8 people on trial part. Which again, when it does in its time, is satisfying and suspenseful.
The acting and writing is clearly the place where this movie would shine the most. I don't even have to talk about the writing really in a Sorkin movie, but I think he tried to be more subtle in parts when he normally would hammer it along. This is shown a lot in the conversations between Cohen and Redmayne.
Cohen, Abdul-Mateen, and Rylance are the most likely to give oscar nominated performances. Rylance has never been better (on the limited films I have seen). Abdul-Mateen has to give a physical and emotional performance with limited scene time available to him compared to the rest. And Cohen, jeez, it is likely his most normal sounding character role ever and it is just nailed out of the park.
I don't think Sorkin has mastered the art of directing just yet. But this is a step up from his directing in Molly's Game. Still some awkward moments and weird decisions here, especially when near the end some of the characters acted like background noise and cartoons during an impactful moment that took away a bit from that impact. Based on what we learned about the judge, he would have been a lot more furious.
The Trial of Chicago 7 is fucking fantastic.
4 out of 4.