Did you see Margin Call? No? Well, it had a pretty big cast of actors! I mean, Stanley Tucci was in it, so you should see it. That is why I wanted to watch all the Hunger Games movies, but he only had one damn scene in the last one, and it wasn't even good.
I ended up really enjoying it and found it informative. I didn't think I was an expert on the financial collapse that America had experienced, but I got the vibe behind it all and understood that something like that could happen.
Needless to say, I didn't expect more movies about the collapse. Then The Big Short came along. And I didn't know what to expect. But here is a hint.
Anchorman. Anchorman 2. The Other Guys. Talladega Nights. Step Brothers. Sure, all of these have Will Ferrell in common, but they are also directed by Adam McKay.
Sure, he has directed some TV shows and shorts and random things, but that list was literally every movie he has ever directed. Up til The Big Short. Can a guy who is BFF's with Ferrell, make a movie serious enough about the economic collapse, easy to understand, and good, without any Ferrell at all?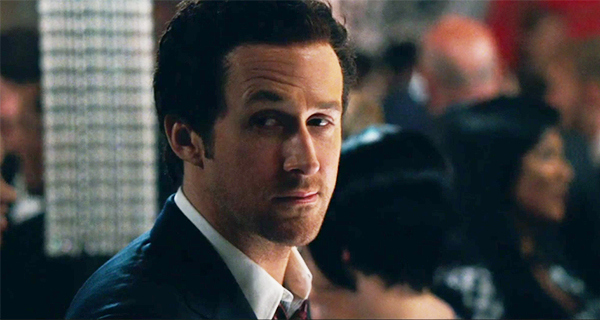 Don't worry, we have mature Gosling to make the women and men swoon instead.
Back to the crisis. Our story starts in 2005, with one man. Michael Burry (Christian Bale). He is a socially awkward guy, with a fake eye. He had a wealthy inheritance, so he took it to wall street to make his own small investment firm. And you know what he wants to put over a billion of dollars? Into the mortgage market.
Mortgages are safe, everyone pays them, and only people who can pay them end up getting them. That idea has made bankers rich since the 1970s, thanks to something called Mortgage Backed Securities, MBS. The banks loan out hundreds of mortgages in one lump sum to many homes, and when they are that big, they can make some sweet interest and that gets them rich. More or less. But banks got greedy. They started renting to riskier and riskier people. So the chance of these large funds crashing, creating very bad scenarios, is actually getting higher but no one seems to notice.
Except for Burry. He wants to "short" the MBS funds. More or less, that means he is betting against them. He is loaning money to banks, like Goldman Sachs, and paying a monthly premium on it. He is letting them have that money, until these MBS's break and he will get his money back multiplied many times over. He is the first guy to do something like this and most people think he is insane, but he looked at the numbers.
But there were more players. Jared Vennett (Ryan Gosling) is our narrator, and actually works for Deutsche Bank. He finds out about the Burry deal and tries to get more people to follow suit, believing in him and working to get some profit on the side as well. He ends up talking to Mark Baum (Steve Carell), operator of a hedge fund, who crusades against all the bull shit on wall street, and sets out to find just how corrupt this whole thing is.
Also, Charlie Geller (John Magaro) and Jamie Shipley (Finn Wittrock), two Denver boys who grew their own money to 30 million, who see this as an opportunity to finally make it to the big leagues.
We have a ton of people in this movie, including Marisa Tomei, Brad Pitt, Adepero Oduye, Hamish Linklater, Jeremy Strong, Rafe Spall, Jeffry Griffin, Max Greenfield, Margot Robbie, Selena Gomez and Anthony Bourdain.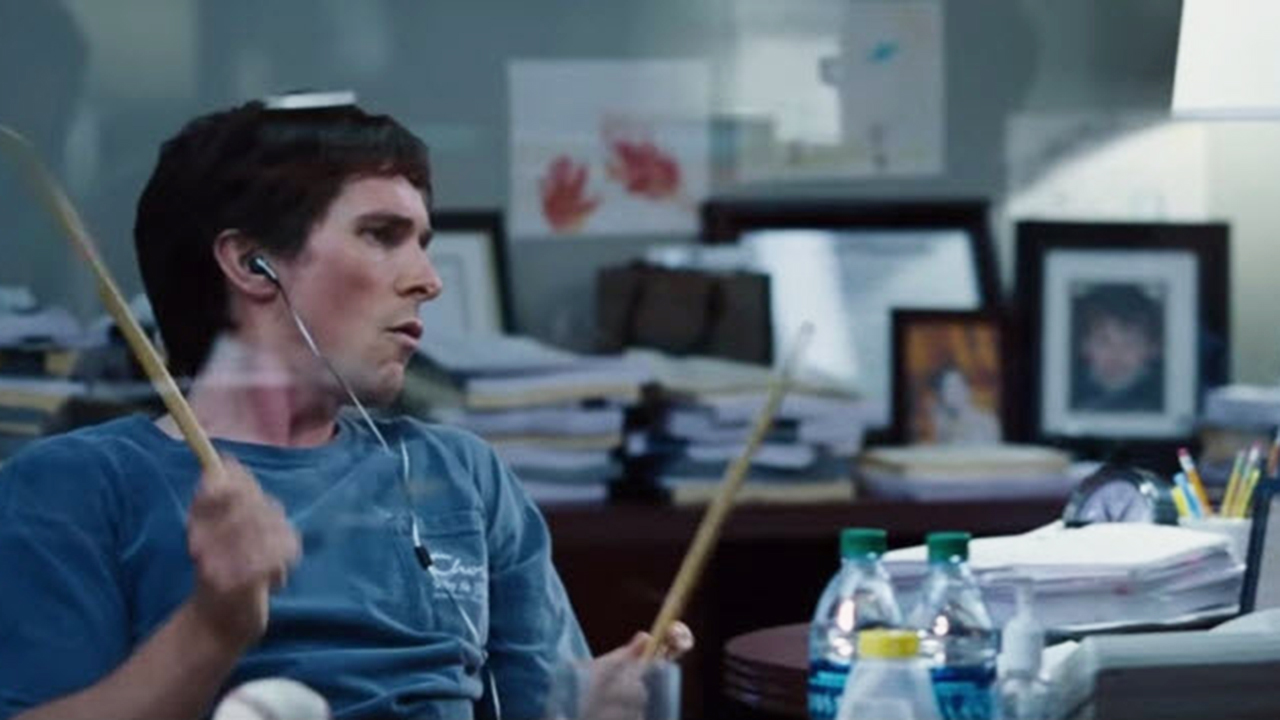 The man who drums at his desk and doesn't wear a suit, predicted the downfall of American economy.
This is why I choose to wear shorts as well.
I honestly didn't think much about this movie before seeing it. I saw the trailer once before Steve Jobs, was intrigued by the cast, but then forgot about it. And hey, I like some of McKay's films a lot. I just didn't have any faith with this topic.
Well, fuck me, I was wrong, and this movie was really fucking good. Star to finish, it captivated me about wall street fucking over America.
The acting was on point from all points, especially with Carrell and Bale as power houses. Pitt was very subtle in this film, similar to his role in 12 Years A Slave. But even better about these roles is that no single person was really the main character. The main character was the housing bubble and banks lying to America.
Were these people bad for profiting off the downfall of the World Economy? Sure, kind of. That is morally grey. Because it shows that some of them tried to tell everyone the problem with the numbers, tried to do something about the collusion, but were laughed right in their faces. Even if they wanted to warn everyone, no one would listen because the vast majority of people didn't understand how any of it worked and were lied too constantly.
This movie made me ANGRY. I felt rage at what was going on, only eight years ago. I am mad that nothing has really changed. I am mad that no one got punished for it and that so many people got fucked over. I am mad that this movie is also a comedy, and that I gained so much amusement at something that ended up being so terrible.
And that is what a great movie can do. It can make you feel things. The Big Short is funny and anger inducing, while also taking a very complicated subject and making one feel like they understand it. I feel like I totally understand everything that happened now and it was something I never really thought about before. The Big Short is good enough that I feel like I could watch it every few months and still enjoy it and still feel those same emotions.
The Big Short wants me to almost get political and start shouting at rich people. One of the years best.
4 out of 4.