When it was released, Red received pretty decent reviews from critics but didn't do amazing at the box office. It made up for it in DVD/Blu-Ray sales though, gaining a small cult following, which is why they green-lit the sequel, surprisingly named Red 2.
The main notable difference between the two is that this one doesn't have Morgan Freeman. For shame.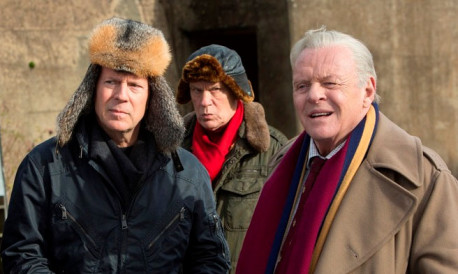 Although, as you can see from the picture, it has a lot of John Malkovich being very very John Malkovichy.
The movie begins with Frank (Bruce Willis) and Sarah (Mary-Louise Parker) trying to build a home together. Frank is retired (and still extremely dangerous) but he wants to put his past behind him. Too bad Marvin (John Malkovich) comes prancing in, warning him that he thinks someone is trying to kill them.
Well, it turns out there actually are people trying to kill them! Reports have surfaced that they are nuclear terrorists, who are trying to take out Russia. In fact, the CIA are trying to take them in, including their main man Jack Horton (Neal McDonough, who looks like the white Robert Ri'chard), who has hired the world's best assassin Han Cho Bai (Byung-hun Lee). The MI6 are sending their old friend Victoria (Helen Mirren), and Russia has Frank's former fling, Katja (Catherine Zeta-Jones). Sarah doesn't like Katja.
So Frank, Sarah, and Marvin have to work together and find Dr. Bailey (Anthony Hopkins), a brilliant war scientist who has been kept in the loony bin for over thirty years. Together, they hope to clear their name, and possibly stop a nuclear bomb from taking out a huge populatio of the world.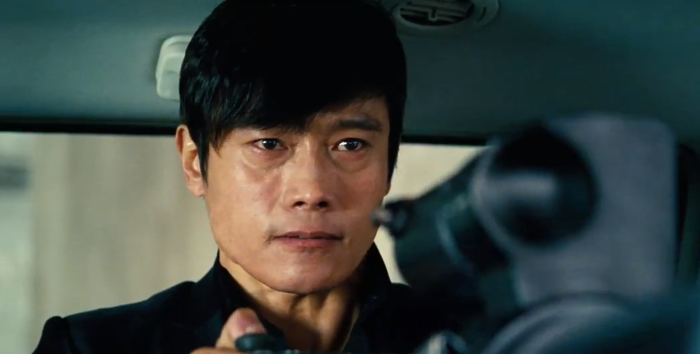 I decided to not talk about John Malkovich with my second image.
I don't think you need to see Red in order to understand Red 2. All you have to know is that Frank and Sarah met in the first film, and everyone else has a huge history with everyone else. If you had to only pick one to watch, go with the original.
Red 2 isn't bad per say, but it just doesn't seem to care too much. Sure, it is entertaining, and funny at times, but not a lot happens overall. They are framed fugitives being hunted by the top governments around the world, yet they still have time to walk around Paris and go shopping. It just seemed odd and ruined the flow of the movie for me. The ending chase scene ended up being really predictable as well.
Red 2, just like R.I.P.D. had its enjoyable moments and was entertaining, just not something I would ever recommend to see more than once. I think Red 2 is not really based on the graphic novel like the first movie. Instead it is based on whatever the writer felt like. I usually don't care how close a movie is to its source material, but I think in this case, they really didn't know what to do with their characters. Because of that, it just felt like a mess.
John Malkovich is brilliant as always, and a bit more insane than normal. Malkovich is the main reason to see Red 2, and the only real reason.
2 out of 4.