Wow, how do you introduce a tale as old as time? Something as true as it can be? You just gotta speak from the heart.
I do love the animated Beauty and the Beast film. It celebrates intelligence! It has one of my favorite introduction songs. Gaston is fascinating, with his own great song. But I have always had issues for it. So I better get it off my chest now:
The main takeaway from Beauty and the Beast is bullshit. The prince was punished for not seeing someone's true beauty, so he was turned into an ugly creature. To learn his lesson, he needs to fall in love and be loved in return, with a nice kiss too, before he turns 21. (Which of course means he was punished as a kid, joy). So how does it eventually happen? By getting the perfect person in his life. She is smart, kind, but also the hottest chick in the village. To really drive the point home, she should have been not matched the perfect standard of beauty. It is kind of crap. Shrek and Shallow Hal end up driving the point home better.
Okay, no more of that. I also appreciate that Gaston is set up as a typical old school Disney Prince, who just wants love because they are beautiful, so it sort of shows Disney going away from their older film tropes.
What I am really getting at is that I am excited for the live action version of Beauty and the Beast. I was not excited for the live action Cinderella, because the plot of Cinderella is shit and celebrates obedience to mean people and doing chores until a prince can take you away. Fuck that.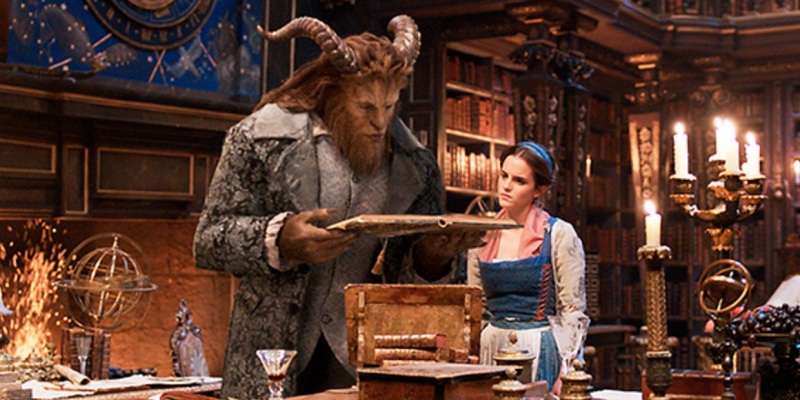 Give that bitch a book. Bitches love books.
In some nondescript village in old timey France, there was a castle. None of this is Paris, we know that for certain. There was a prince (Dan Stevens), who lived in the castle, and he was mean. He was so mean to some haggy bitch, that the haggy bitch turned him into a really hairy dude and all of his servants into utensils and shit. What in the fuck!
Now years later, they have almost given up hope at becoming human again. The Beast has to not just fall in love, but have someone love him back. They are depressed, cold, and a spell was put on the area for people to forget about their existence. So that doesn't help either.
Thankfully, there is a really freaky girl in that poor provincial nearby town. Belle (Emma Watson), a girl who was trained to use that brain of hers, an inventor, a girl who likes books and is somehow still decent looking. Some shit goes down with her dad (Kevin Kline). He finds himself locked up in this castle forever. Thankfully, their horse was also trained to use its brain and he is able to take her to the castle and HOLY FUCK, A BEAST!
Using that goddamn brain of hers, she is able to trick her dad into taking his place, planning to escape in the future. You know, because she is so youthful. But then she falls in love. Oh, way too early. A lot of strife happens. But after a good old fashioned food orgy, she starts to love the place, and thinks about calling it home. Plus, it can clean itself, with the magical slave item army and all.
Also starring Ewan McGregor as a candelabra, Gugu Mbatha-Raw as a duster, Ian McKellen as a clock, Emma Thompson as a teapot, Stanley Tucci as a piano, Audra McDonald as a dresser, Luke Evans as a tall, dark, strong, handsome brute, Josh Gad as his miniature life mate, and also Hattie Morahan as a begger.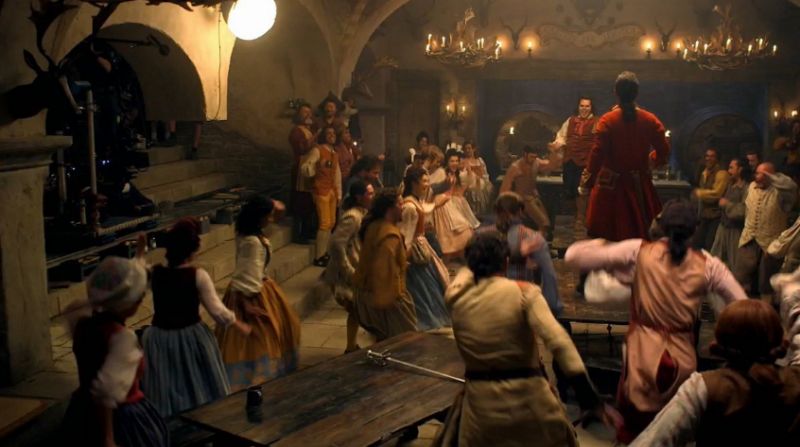 Gaston's face cannot be shown because Gorgon Reviews is not a big enough website.
Remember Cinderella? That film I already mentioned? Again, it was okay. It was colorful. Shit story. Good dresses. A terrible idea for a first run. It was like the Universal Monsters series trying to give us Dracula Untold as the start of their shared Universe. But now they gotta get The Mummy to save their asses. Yes, I recognize we have had a few other live action films since Cinderella, but this is the first one since then to be about a Disney Princess!
Beauty and the Beast delivers, and it delivers hard.
Of course, we get the best parts from the original. Bonjour is fascinating, with a village of real people, and we still get the "Please Let Me Through!" line. Be Our Guest is an explosion of extravagance. The Gaston song starts off awkward for me, but grows into its own, feels like a giant party, and has a few surprises. (Although, the chorus of that song is also almost impossible to understand)
But we also get a whole lot new! An expanded introduction, more backstory on the Beast and Belle's lives before the film and their parents, bigger connections to the castle and the village and why it is a big surprise, Belle being a stronger female character, and more. AND! Alan Goddamn Menken, the Disney musical genius, came back to rewrite some of his songs from two decades ago, plus a few new ones. Three at that. Day in the Sun and Evermore are great additions to the film and Evermore had me crying. And don't worry, the Human Again song added to the animated film does not take place in this movie.
I am annoyed that at the timing of this review, I have to wait a week to hear some of the newer songs again, just to see if I like them as much as I am writing.
Beauty and the Beast is not just a remake. It is also a re imagining. With more backstories, more lines for side yet important characters, everyone feels more fleshed out. Even Gaston and especially LeFou. We get some good call backs, and good changes to match the times. It was an incredible job done by the team, who treated their source material with respect, and really matched what made the first film great 26 years ago.
4 out of 4.