Finally, a reboot of Breakin'. We haven't had a break dancing themed film in awhile. Maybe one of the Step-Up films?
I wish I could begin the review like that honestly. I really would enjoy a film about break dancing, even though I know they won't try to make it a good story.
Instead, Breaking is about a bank robbery. Or at least, someone who has a bomb in the bank, with a very specific set of demands, and he will not stop until he gets his way. Maybe unless he reaches his…Breaking Point?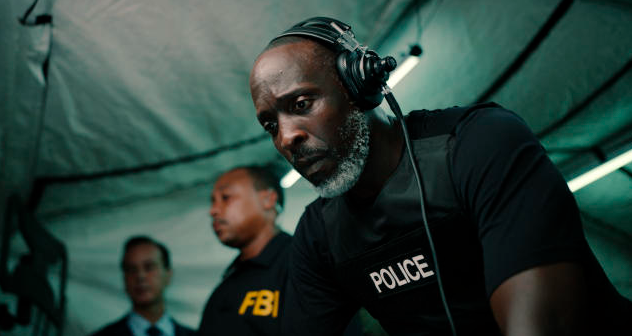 And, it features this handsome fellow in one of his final roles. 
Brian Brown-Easley (John Boyega) has gone through some things. He is a former Marine soldier, but now he is just a regular guy, going through hard times. Including money troubles. We seem looking really beat up at the start of the movie. But over what?
We shall see…
The point of the matter is, that later he goes to the bank to do something really basic. No problems, all good. That is, until he asks for a paper, and writes a note to the teller that he has a bomb.
He allows people to call the cops, and most of them to evacuate. The teller (Selenis Leyvis) and manager (Nicole Beharie) are the only two staying behind. Brian is very apologetic and sorry. He says he won't be hurting him if he has to let the bomb go. He just needs to make some demands.
What kind of demands? Well. He wants $832. That specific amount. And he doesn't want it from the bank. He wants his money from the VA that he says was denied to him recently. It is the principle.
Also starring Connie Britton, Jeffrey Donovan, London Covington, Olivia Washington, and Michael Kenneth Williams.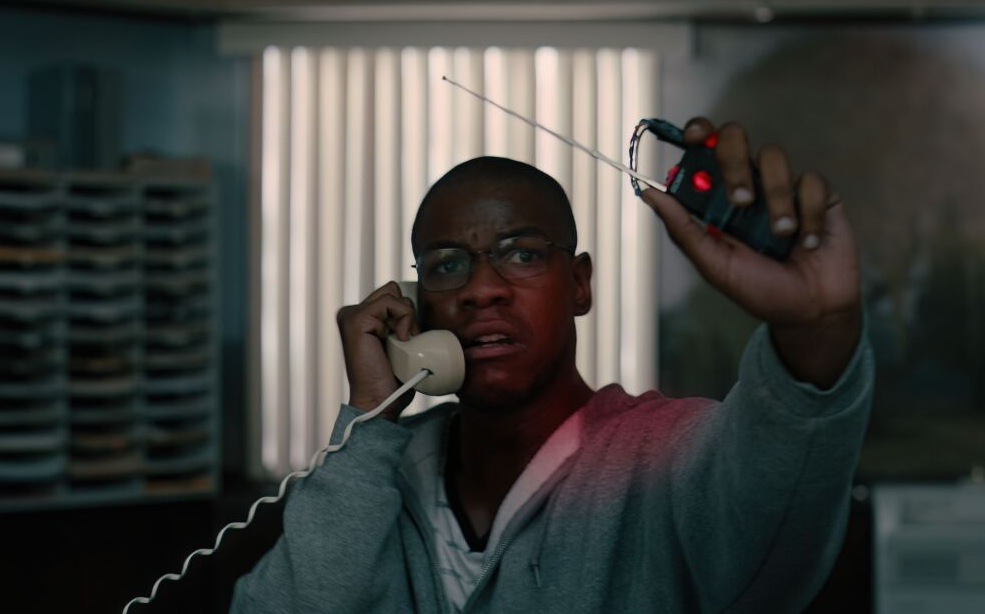 Bringing a bomb to a bank is a good way to be alliterative. 
One thing you might want to know going into this movie is that it is based on a true story. And because of that, it is limited in really what it can tell in this movie, if it wants to be accurate. From the plot of this film, it looks like it was going for accuracy. I would not recommend looking up the actual events before hand, nor the article that became famous talking about the events. Obviously they are spoilers, but even the title of the article is a spoiler.
This film is dealing with a real, and serious issue. It is dealing with PTSD, and of course, police violence against black people, and their difference responses based on the color of ones skin most of the time. It is serious and worth being talked about.
But at the same time, I am a movie reviewer, and reviewing the movie itself. Once we get to the bank scene, which starts relatively early in the film, it feels like Boyega is giving a sort of impression of Denzel Washington in John Q. At least it made me elicit it. A guy holding up people for a good cause potentially. But there isn't a lot that happens in this story. Just some talking, and escalations, until the whole thing ends. The true story is a powerful one sure, but the emotions weren't with me along for the ride. And that was devastating.
Boyega wasn't acting bad, nor the rest of the cast. Jeffrey Donovan's character was a little weird in the grand scheme of things. But it didn't seem to go far about the issues that the movie wanted to talk about. It all felt very surface level. It is really easy to make me cry when a movie has a father doing something "for his daughter" and there are emotional build ups, but this one couldn't get to me in that level.
I think I would rather have a documentary about this subject, and the greater problems reflected in the film. Because this time keeping the story relatively accurate meant it didn't have a lot to work with. And for one more note, I really wish it kept its original title, 892. That would have felt more unique.
1 out of 4.