August 4, 2012
What To Expect When You're Expecting
Babies, babies, so many babies. Well not as many babies (or as intense) as the movie Babies, but there is still quite a few in What To Expect When You're Expecting.
Also, as you'd expect, there is a lot of talk about genitalia, so if you hate the word vagina, or the many different versions of that word possible, you might be uncomfortable in this film. But you don't have to see any. Not like in Babies.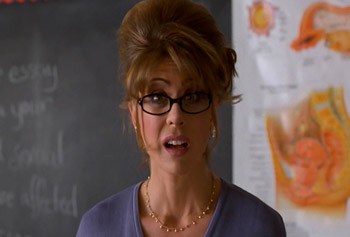 "Now I want y'all to repeat after me: penis, penis, penis; vagina, vagina, vagina!"
Given the large nature of this comedy, and the fact that it is about 5~ different couples/storylines that are loosely connected going through pregnancy related stories, this is another review where I just have to show off the different characters. Yay 'easy' to type plot lines.
Jules (Cameron Diaz) is a fitness instructor for a Biggest Loser like show, and on a Dancing With The Stars like show, with professional dancer Evan (Matthew Morrison). They have a few month fling, and whoops pregnant. So they have to try their hand at a relationship, that is scrutinized in the tabloids/media, while they fight over every baby thing, but mostly just circumcision.
Holly (Jennifer Lopez) can't actually have a baby and wants to adopt. But her husband Alex (Rodrigo Santoro) seems to be having a problem getting into the adoption process fully. They also have to deal with monetary issues, and looking for a new house, while Alex is forced to join a Dad Squad. A group of new~ dad's (Chris Rock, Rob Huebel, Amir Talai, Thomas Lennon) who go on long walks with their kids, talk about problems, support each other, don't judge, and also weirdly idolize a local athlete (Joe Manganiello).
Rosie (Anna Kendrick) runs a cheese based food truck with her friends, competing with the other local food trucks, including a pork based food truck ran by Marco (Chase Crawford). They almost had a fling in high school, but bad things happened and they never hit it off. But once the heat of the competition happens, they find themselves in a one night sexy time, which of course, leads to pregnancy. Now they have to try to figure out what to do, when they aren't even in a real relationship.
Wendy (Elizabeth Banks) runs a strange mother shop, full of pregnancy items and books and accessories, and has been trying for two years to get pregnant with her husband Gary (Ben Falcone). Once it finally occurs, she is so happy, yet she seems to get none of the benefits of pregnancy, only the negative side effects. Where is her glow damn it? She also has an assistant to help run her shop, Janice (Rebel Wilson) who has no idea about anything.
But unfortunately for them, Gary's dad is a big hot shot race car driver. Or else he used to be. Now Ramsey (Dennis Quaid) lives in a mansion, and has everything going right for him (minus his relationship with his son). He even has a younger (than his son) wife, Skyler (Brooklyn Decker). And after one try, boom pregnant as well. And twins! She also has the perfect pregnancy, no problems at all, keeps her amazing looks, and no worries.
So pretty much everything that could deal with pregnancy at all, involving adoption, fertilization, marriage problems, weight gain, miscarriages, c-sections, drugs, PRETTY MUCH EVERYTHING EVER, that could deal with the babies. You know, so you can expect it all.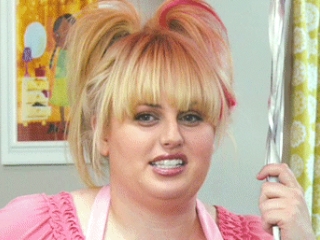 The female Jonah Hill was in this movie. Almost everything said is quotable.
So yeah, pregnancy, am I right?
True story, I laughed in this film, and maybe even cried. Some stuff was touching, and I almost was going to be pissed at the ending (but thankfully the event in question didn't happen).
Really this movie is like four movies in one, all with the topic of starting a family. Some of these movies would be great on their own too, such as the Kendrick/Chase plot line. Loved it. I think the Banks/Falcone + Quaid storyline would make on its own a decent movie as well, but it is kind of the main plot line in this movie so not as necessary. Diaz/Morrison? That one was pretty weak. Lopez/Santoro would have probably just been a lame comedy, in the vein of Grown Ups or Daddy Day Care.
But man, was Rebel Wilson pretty funny. Most of the time. Good for her. Anna Kendrick also kicked ass, and not just because of my mini-crush on her. Glad she is out of the Twilight films now, so she can do more roles, instead of 5s of footage in those films.
2 out of 4.