July 20, 2020
Well Groomed
How many people here have dogs? Are you a fancy enough dog owner to get them groomed to looking their best? I know I am not fancy enough for that. I have a hard enough time cleaning up my dog's sleeping area to worry about how pretty she feels. But that is why I cheated and got a dog with short fur that handles her own business.
Assuming you actually get your dog groomed, you might already be aware that there are dog grooming competitions out there! To see who can style their dogs to look the neatest, with the most precise cuts, and best brushed hair, I guess. Well, if you are interested in that, then this is not the documentary for you.
No, Well Groomed goes that step further. Because there is dog grooming, then there is creative dog grooming. Where you take your precious fluffy, and you add color, bling, art style, pizzazz, the whole nine yards. You make them into a real life pinata, or statue, and you show off your "doggy sculpture."
No really, this is a real thing with competitions and judges, and trust me, people love it.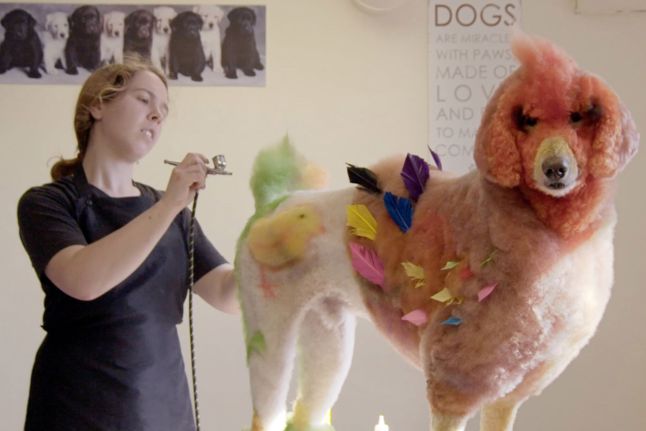 The dog is now multiple chickens.
The creative dog groomers end up doing a whole lot to make their pets stand out. They dye their hair, they add other accessories, and they still get all the normal grooming aspects, like nails cut and everything in its perfect place.
But is it cruel? Well, it could be. But if you talk to the dog owners, they go out of their way to make sure anything they use is safe for their pets, especially the dyes. They make sure their pet is loved, and only do it to pets that show a willingness for the act. They aren't forcing a dog to accept it, the dogs look happy to be receiving so much attention, even if they don't get it themselves.
I will admit, I expected to hate this documentary. It has been available on HBO for awhile, and I never got around to it, but the version I watched is a longer version, with 20ish more minutes of footage, and it was a delightful evening.
The documentary follows four contestants through a normal circuit of competitions, so we get to see them hone their craft and designs, take their ideas and turn it from concept to actual doggo. The women that are seen are very different, at various stages of their careers as competitors, have businesses related to dog grooming and really explain their drive and why they are passionate about this competitive scene. After all, that is what really matters, having passion (and fine, pet safety, get out of here PETA).
Without Well Groomed, I likely wouldn't have known about the creative side of dog owning. I would have just continued happily with my Westminster Kennel Club Dog Show knowledge (which is close to zero) and been content. But it is fascinating to watch what people can still learn to do as a new form of pet owning, and that we still have somewhere to go creatively as a species. Even if it means dressing up other species.
3 out of 4.
And you can see a video interview with the director of Well Groomed, Rebecca Stern, here!