Wanderlust is a movie I really didn't know much about. But Paul Rudd, I am sure it is good.
Something about hippies, and lots of sex. Not expecting much, but potential for a lot, hooray! Too bad its previews began with lies!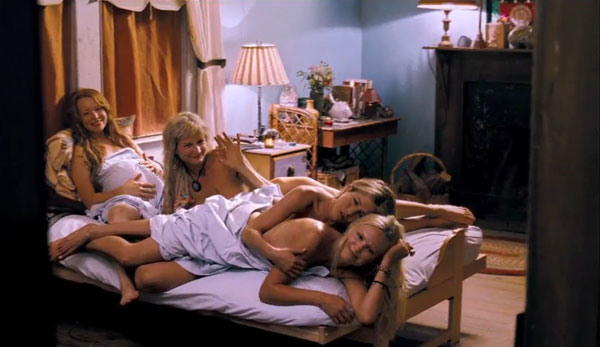 This scene is no where in the movie. This scene is a lie. Yet this scene was heavily publicized.
George (Rudd) and Linda (Jennifer Aniston) are a couple in NYC! Just bought a "micro loft" which kind of sucks, and well, George's company goes under and he loses his job. Yes, right after they bought the place. Linda doesn't really work, but has different projects. Well they are fucked, so they head down to Atlanta on a really long and annoying road trip, to visit George's dick brother, Rick (Ken Marino) and wife. But due to stress, and being tired of the car, they stop at the first place they find, a bed and breakfast.
Where they find a naked guy, Wayne (Joe Lo Truglio) and immediately try to run, messing up their car. So they have to stay, thankfully he is the only nudist. And in the middle of the night they are woken up by strange sounds, a party downstairs. Full of drugs and craziness. Turns out this is a place where a bunch of free spirited people live and just be happy.
Currently lead by Jesus looking Seth (Justin Theroux), the place features everything. Truth circles, sex orgies, whatever. But when a government company is planning on using the land to build a casino, because no one can find the original deeds to the land, what will happen? Lots of shit. Other hippies include Malin Akerman, Lauren Ambrose, Kathryn Hahn, and an elder, Alan Alda.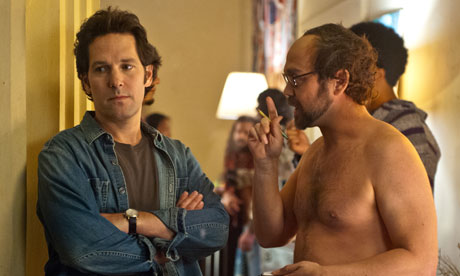 And because you wanted to make sure there was more naked people in this movie.
Wanderlust had all the potential to be an amazing film, but to me fell short when it only relied on dicks and lame sex jokes. That is dicks in the "hey we will keep showing you dicks" sense, and the "hey, a few of these people are super dickish, and thus funny" sense. The sex jokes end up disappointing, probably due to the lack of sex that actually occurs (aka none?).
Although moments did make me chuckle, I found them to few and far in between. It is hard to find a likeable character in this movie, and the ending just doesn't seem fulfilling.
Not much else to say. Paul Rudd, stop doing very similar characters. I want some variety damn it.
1 out of 4.