December 17, 2014
Walking On Sunshine
Another day of Musical Week, another musical!
This is the third day of Musical Week and I am bringing you a British musical that came out this year as well, just no one ever heard of it. When I was first looking up musicals this year, I saw that this one came out in the summer and was pretty apathetic about it. But that was when I thought Jersey Boys was going to be the best musical of the year. Given the weaker field overall, I figured I would give Walking On Sunshine a second chance.
I had watched the trailer, sure. It was cheesy and terrible, exactly what the most famous musicals are supposed to be like, right? It is a jukebox musical, so I was happy I wouldn't have to learn or judge new songs. The vague theme of this jukebox is just popular songs from the 1980s. Kind of boring. I feel like that is too big of a spread to choose from, so perfect songs for each moment should be easy.
But we shall see!
Especially if we are forced to by someone holding our head towards the screen.
This is your typical summer lovin' type of film. Namely, Taylor (Hannah Arterton) and Raf (Giulio Berruti) have what feels like true love. But stuff happens, they cannot stay together.
Now, three years later Taylor is returning to Italy to visit with her best sister Maddie (Annabel Scholey). Surprise! Maddie is actually getting married in Italy, and not to her on again off again ex Doug (Greg Wise). Nope. Some mysterious Italian guy she has only known for five weeks.
I think you see where this is going.
The new fiance is Raf! Ahhhhhhhhhhhhhhhhhhhhhhhhhhhhhhhhhhhhhhhhhhhhhhhhhhhhhh.
What a crazy random happenstance. Either way, she doesn't want her sister to know, despite all her old friends knowing (Leona Lewis, Giulio Corso, Danny Kirrane).
And now she has to keep it a secret until she can understand her feelings. And understand Raf's feelings. And figure out what to do about this wedding mess without ruining her sisters life. Also Katy Brand.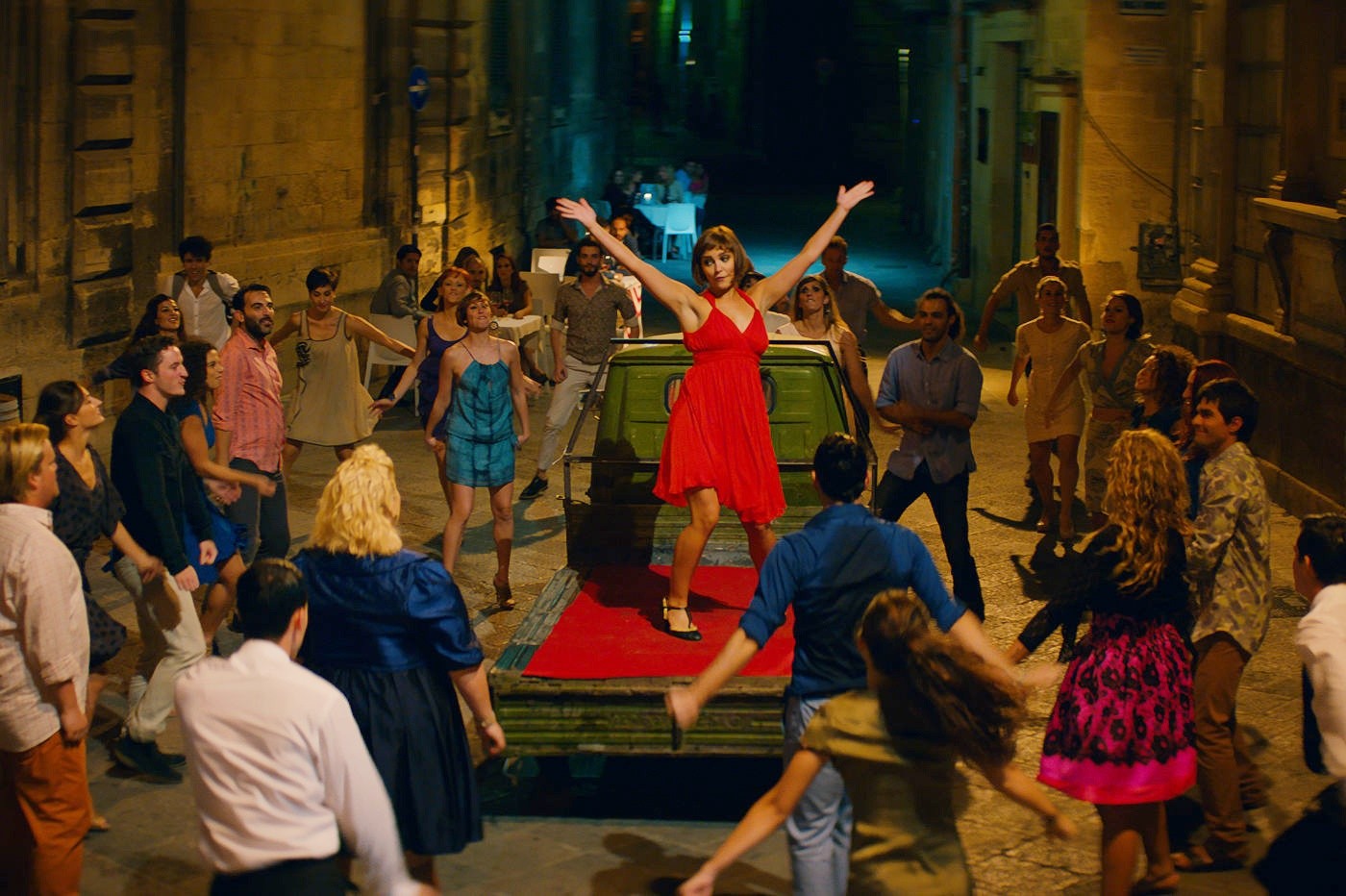 But don't forget about the singing and dancing.
Walking On Sunshine is everything a musical should be. Cheesy. With some love. Featuring non main characters as back ground dancers. But also, and most importantly in this case, the songs they decided to use in the musical sound unique and aren't just carbon copies of the original.
Thank goodness.
For the most part, that is what I care about for jukebox musicals. It is one of my top twenty complaints for Glee, when they "sing a song" and it sounds identical to the radio version on the radio with no unique elements.
The story though is incredibly week in this musical. It is like a lot of romcoms or even other musicals. It felt like Mamma Mia! and Moulin Rouge! with other shitty elements rolled in. Also they have Leona Lewis in this movie, a real singer! And she doesn't have any great singing parts or songs to her self or anything. What the hell is the point of that? I mean, this is a completely original musical, technically, so it is not like the only role she looked like had to be so minor and pointless. What a waste of talent.
It'd be like having Idina Menzel in a musical and not letting her sing. Oh wait.
So, shitty plot, waste of talent, but kept the songs at least somewhat unique and fun. Could have been better, could have been worse.
2 out of 4.