March 20, 2014
Veronica Mars
Alright everyone. Inhale. Exhale. Inhale. Exhale.
This is the moment a lot of you may have been waiting for. Veronica Mars has finally been given a movie.
For those who weren't blessed with experiencing one of the better TV shows of the mid-2000's, Veronica Mars ran for three seasons before getting canceled. It was one of those shows that was critically acclaimed, but suffered with ratings. It also didn't help that the third season was a lot different from the first two (college), with several minor arcs instead of a big one. It also unfortunately ended on an awkward unfinished cliff hanger. Not as awkward as the series finale of My Name Is Earl, but awkward nonetheless.
But that isn't the only crazy thing about this movie! No, it was funded by Kickstarter. Warner Bros. wouldn't green light the film, so the cast raised money. They wanted $2 million to make the movie. In ten hours, the $2 million was raised, a record for the website. In the month time frame over $5 million ended up being donated. Needless to say, there was a lot of hype around it. Because of the Kickstarter, not only was the film released theatrically, it was also released same day Video on Demand, and the movie being sent out to all who backed it at the same time. Wow.
I will admit some bias. As a fanboy of the TV show (and as a Season 3 apologist), there is a good chance I like this no matter what.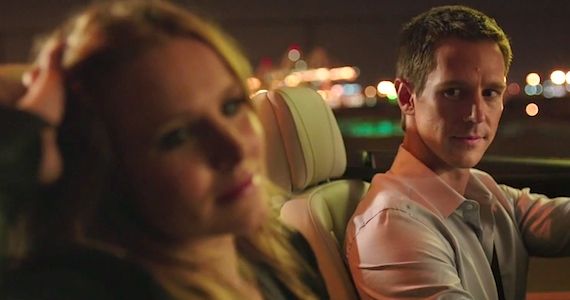 Total nostalgia overload aAAAAGGHHH11!!~
Guess what! It is time for Neptune, California's favorite high school class to have their ten year reunion. Turns out after the third season of the show, Veronica (Kristen Bell) switched out of town to Stanford. Yeah. She got real far away. She went to law school and now she is about to get a high paying fancy lawyer job at NYC. But just when she thought she was out, they pulled her back in.
That's right, Logan Echolls (Jason Dohring) is being charged with murder. He was dating another former Nuptunian, don't worry about her, she had two episodes in the series. She eventually became a pretty famous pop star, and now she was found electrocuted in her own bath tub. Logan says he is innocent and for whatever reason, Veronica believes him.
So she is back in town. Her dad (Enrico Colantoni), still a P.I., the police force still inept, and her friends Mac (Tina Majorino) and Wallace (Percy Daggs III) are still by her side. Will this be her final case, something she swore she would never do again?
It also features more returning cast members than you can shake a stick at.
Piz (Chris Lowell), Dick (Ryan Hansen), Gia (Krysten Ritter), Weevil (Francis Capra), Leo D'Amato (Max Greenfield), Deputy Sacks (Brandon Hillock), and Vinnie Van Lowe (Ken Marino).
Also featuring some new faces, played by Martin Starr, Jamie Lee Curtis, Jerry O'Connell and Gaby Hoffmann.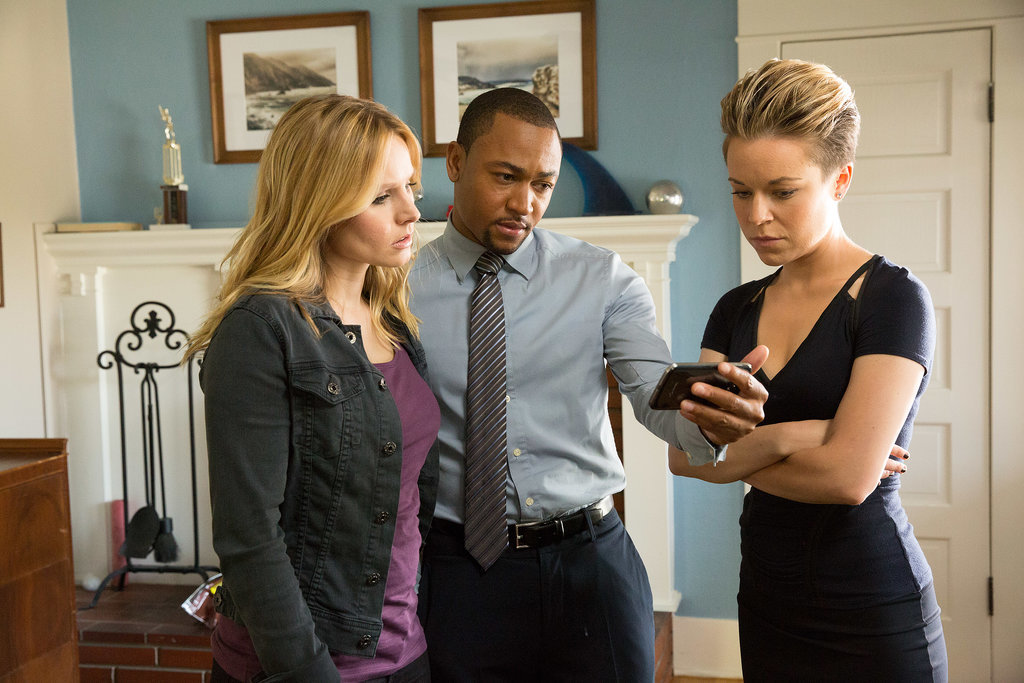 Yay, BFFs, still after 8 years of not really talking. They too must be raging on nostalgia.
Going into this movie (despite my fanboyism) I was still a bit skeptical. I am used to the plot taking 22 episodes to solve, not one in less than two hours. I thought the plot might feel rushed/forced and I wouldn't get enough cool clues along the way.
Well, after seeing it, I think the story really does work. It has twists and turns, there are multiple plots, and they did a few things I definitely would never have seen coming.
At the same time, this film might actually be accessible to those who haven't seen the TV show. I wouldn't suggest seeing the movie first still, because the show is phenomenal (What are you doing? Go watch it now!) but everything you need to know gets explained in the plot. You won't get every character reference or throwback joke, but you can still get by.
Still, this film only seemed to arouse my appetite without bedding it down. What I (and everyone) really wants now is new seasons to continue the story onward. From what I can tell, there is absolutely nothing in the works but a small web series and that is all we are getting.
With just the length of a movie, although the story was good, it just didn't feel like enough for me. Now I might find myself living in denial that it is truly over and done.
Veronica Mars is an excellent film continuation of a TV series, but I would argue it doesn't match the quality given to us from the first two seasons. Alas, perhaps my lofty goals were set too high.
3 out of 4.