Unless you were looking for it, you probably would have easily missed Upgrade in the theaters. I don't think I saw a single trailer for the movie, I certainly don't remember seeing a poster or ads on the internet.
If it wasn't for word of mouth, this might have been something I picked up months from now on Red Box but that is a big if.
I went out of my way to see Upgrade on the final day of a local Alamo Drafthouse which was closing to move to a better location. It seemed like the sort of old school brutal 80s movie to watch in a theater like that.
An indie film, only a few stars, and a robot. Let's do this.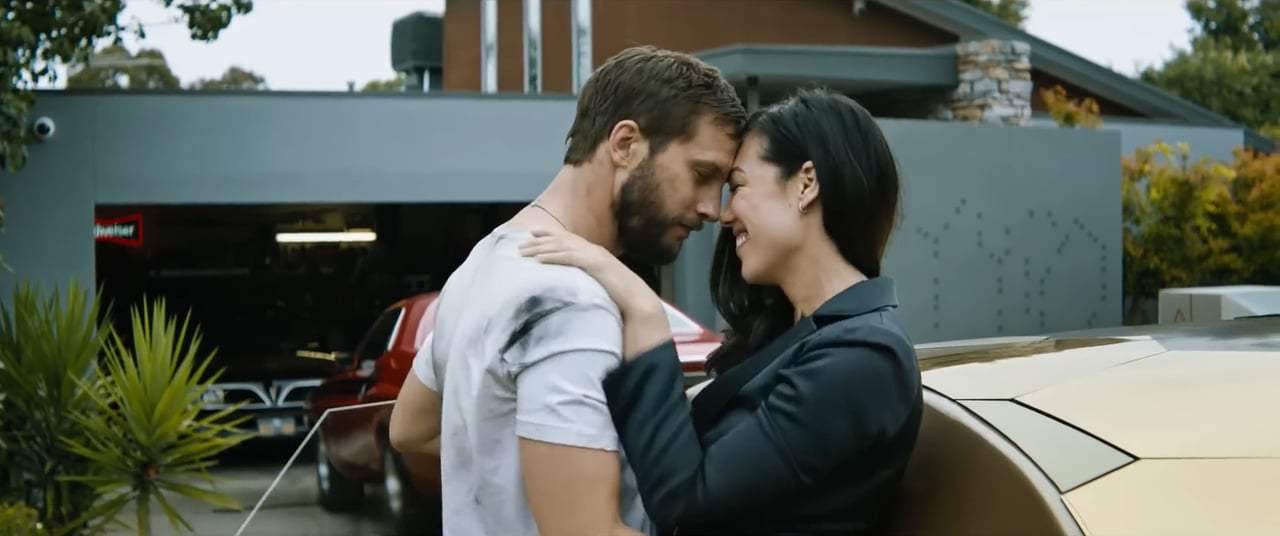 Is that a generic romance from an 80's film as well? Oh they are going all in!
Grey Trace (Logan Marshall-Green) is a simple man, in an overly complicated and modern world. Cars are self driving now almost exclusively. Technology is everywhere. And Grey likes to restore old classic cars to their former glory. He likes to drive them too, his hands behind the wheel, not just a passenger. His wife (Melanie Vallejo) really brings in all of the money to their house.
Grey has just finished up a new car restore and is bringing it to his secret client relatively far away, Eron (Harrison Gilbertson). Eron is a secluded tech brilliant billionaire. People love his work. Grey finds out that Eron is working on a new chip that can basically do anything. It is strong enough to be a second brain.
And on the way home? The self driving car for our couple goes wild, takes them to a weird part of town, and crashes. There, Eron gets shot in the spine, paralyzing himself from the neck down.
Fuck. This ruins his livliehood. This brings him depression. This makes everything shit. Sure, they can afford good technologies for the house to help him still feel like he has control, and technology allows him to go anywhere, but that isn't what he wants. And sure enough, here comes Eron later, offering to put a chip in his body, telling him it will restore his body so that he can move, walk, run, everything.
And then? Then he can get revenge.
Also starring Betty Gabriel and Benedict Hardie.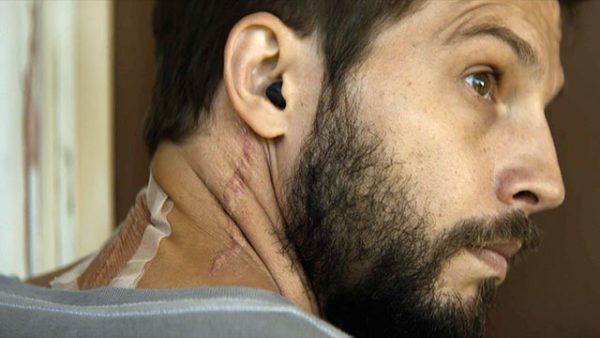 No cool robot arms. Just a single chip in the neck! See it?
Early on in Upgrade, after we get to have the accident and the plot start to unfold, like most people, you will probably assume where the story is going to go and guess some of the conclusions. And to be honest, you won't be entirely wrong.
Initially it turned me off in the movie, because I figured I understood where it was going, how it would end, and all of that. But the obvious is thankfully only part of the whole story and a whole lot more takes place than I expected. The ending really helps drive this film home.
Sure, before that, we basically have an action movie where a character gets to be much stronger and faster than expected, so we get to see those shocked faces, awkward movement, very choreographed (intentionally) looking fight scenes where one guy just demolishes his opposition. And it works and it is entertaining.
The film itself looks very dark, as it was going for a future techno underworld feel, while still maintaining aspects of an 80 movie. It is gritty, before gritty became a recent trend type thing.
Overall Upgrade isn't going to change cinema, science fiction, or action movies. It is very entertaining and relatively short to recent movies, so it will be a quick way to spend less than two hours without being disappointed.
3 out of 4.