With Tusk, we have the first "crazy idea" from Kevin Smith's SModcast to be made into a movie.
Maybe inspired by The Human Centipede, maybe their own twisted version of a film, who is to say. Personally, if I was to make a Walrus inspired movie, I'd make it off of this very famous Betty Boop episode. But this is just the start for the Smith planned Canadian Horror trilogy. The next film to be Yoga Hosers, and then Moose Jaws, all set in the same universe. Not to be confused with Anti-Claus or Clerks III, very different projects.
Basically just saying that he is pretty busy and he put out Tusk remarkably fast despite all of the projects going on.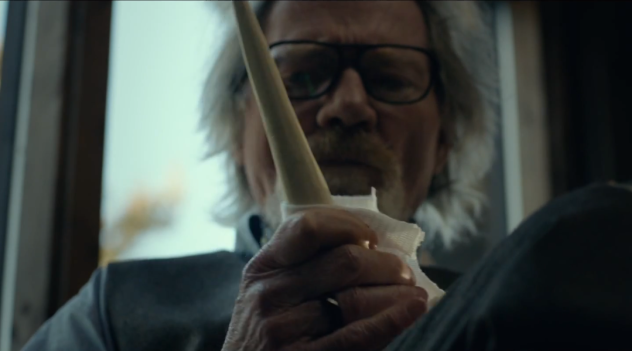 One would say Smith is masturbating his film credits now.
Wallace Bryton (Justin Long) has a Walrus like name and a walrus like mustache. I don't know if that is relevant. He is a podcaster as part of the Not-See Party, where Wallace goes around the US and interviews weird people or internet famous people (aka weirder people) and his co-podcaster Teddy Craft (Haley Joel Osment) doesn't! Apparently they are super famous at this podcasting. No idea where they got this idea for the movie though.
Wallace heads up to Manitoba to interview a kid who cut off his own leg on accident. Sure they made fun of him hardcore, but the kid wanted an interview, so he is going to give them an interview. But when circumstances go wrong up there, he has to find a new guy to interview and stat. Or else he came up to Manitoba for no reason. Yuck. I mean, he left his girlfriend (Genesis Rodriguez) behind too! So he sees an advertisement in a random bathroom, an old man with a lot of interesting stories to tell. He offers a room in his mansion just for someone to listen.
So sure. He could be interesting. He won't stay in a room, just an interview. But surprise! Howard Howe (Michael Parks) drugs him and keeps him prisoner, lying about things that begin to happen to him and as to why he cannot leave. And I don't know why I am making this suspenseful. He is going to try and turn Wallace into a fucking Walrus and turn his mind into an animals. Yeah. He will do it too. Just you watch.
Unless, of course, Guy Lapointe (Johnny Depp), a French Canadian Inspector who has been on Howe's trail for years can help find him first.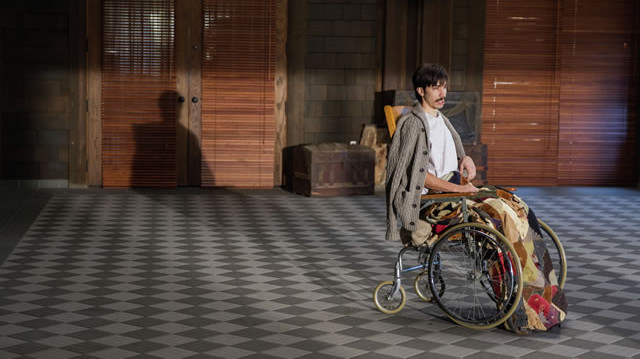 Justin Long actually wanted to make a movie based on his Brandon character from Zack and Miri Make A Porno.
Most people know in a movie, as an actor, you never go full Walrus. Well, Tusk went full Walrus and more.
First off, hats off to Mr. Long. He didn't half ass anything about his character. He gave a 110% and despite the ridiculousness of his role in this movie, he was super hardcore about it. Michael Parks was downright creepy and twisted. Genesis Rodriguez is not someone whose name I really would ever remember, but even she had at least one fantastic scene halfway through, giving her own monologue. JOHNNY FUCKING DEPP IS IN THIS MOVIE. And he was great. You will have a hard ass time recognize him or his voice. It literally may be his most well acted role in years.
And the walrus. Holy shit. The walrus was one of the most disturbing abominations against everything holy that I have ever laid my eyes on. And at the same time, it felt a bit believable. "Believable" being a strange word. It was both horrifying and comedic at the same time, but I think I just had to laugh not knowing what else to do with all of my emotions.
Tusk could have been a train wreck. It could have just been a long joke by a couple of potheads that no one would actually want to watch or see. But it was surprisingly unique and not a low budget shit fest. I am surprised. I really am.
3 out of 4.