June 23, 2019
Toy Story 4
Controversially, I did not love Toy Story 3. I thought it was average. I did like it more than Toy Story 2 though, but the first Toy Story was still my favorite.
Oh sure, it made me cry like a sane person, but I didn't like its main arc with Lotso Bear and it put a damper on the whole thing. But also like everyone else, it felt like a natural end to the series and was happy to see their ending.
Now, then they announced a Toy Story 4. This was terrible news. Not just because of the ending of three, but because Pixar has been splurting out sequels to everything the last few years, very few OC, and they have been average to poor. Toy Story 4 meant the end to their sequels for awhile, but it also felt like it shouldn't even exist.
The plot had to overcome quite a few hurdles, and couldn't just be a regular good movie, in order to justify its existence.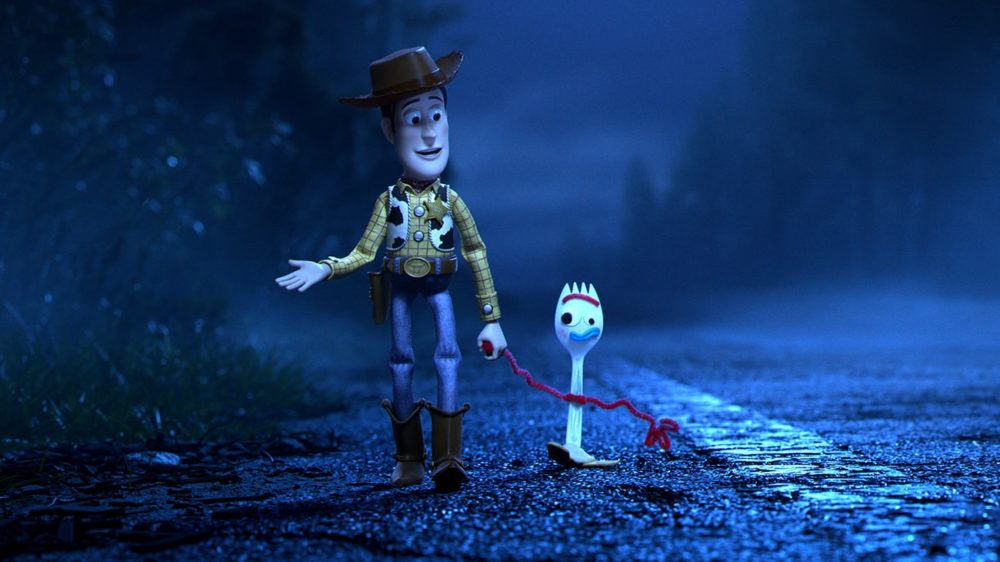 Telling a spork about the birds and the bees can take awhile.
The first thing TS4 did was give us a flashback as to what happened to Bo Peep (Annie Potts). Now, in real life, between TS2 and TS3, they just decided to drop Bo Peep because Barbie was on board to lend its brand and that is more powerful. They wanted Barbie for the first movie, and they said no, because why would they give their stuff to an first movie studio?
Anyways, that becomes a very relevant plot to the movie now. Because of course, Woody (Tom Hanks), Buzz Lightyear (Tim Allen), and gang are with Bonnie, a young girl, who might have different interests than a cowboy. In fact, in her first day of Kindergarten orientation, she makes a new friend out of trash named Forky (Tony Hale). Surprisingly, this trash creation is somehow able to come alive, but he doesn't identify as a toy, and this causes a lot of conflict.
Woody takes it on his own to make sure that Forky doesn't try to kill himself, for the betterment of Bonnie. Because damn it, Woody just wants to make his child happy, even if he isn't actively played with.
This leads them on an adventure, leads us surprisingly back to Bo Peep, and through a lot of weirder places.
Also featuring the returnees of Wallace Shawn, John Ratzenberger, Blake Clark, Don Rickles (but barely because he died), Joan Cusack, and Kristen Schaal. But it also features the voices of new toys and people played by Jordan Peele, Keegan-Michael Kay, Christina Hendricks, Keanu Reeves, Ally Maki, Bonnie Hunt, Carl Weathers, and Madeleine McGraw.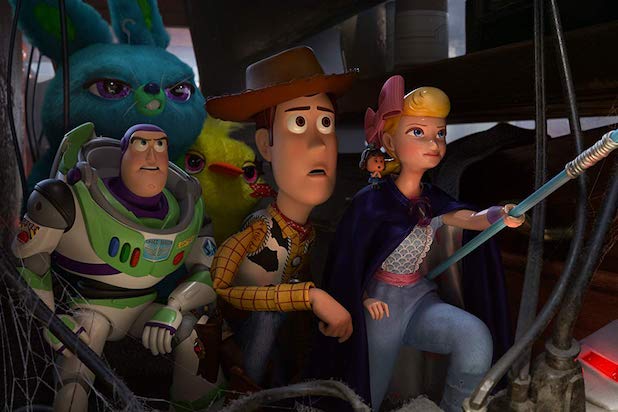 Porcelain dolls have really gained their mobility.
Did Toy Story 4 make me cry? Of course it did. Twice! And that surprised me, because reports from friends had them not crying, but I've always been an emotional wreck. But remember, just because I cried does not make it a good movie.
Thankfully, Toy Story 4 is a good movie. It "fixed" the issue that I had with the last installment, in that good and bad characters are able to experience growth and change based on their circumstances. Relatively early in the movie you can sort of tell a few things that will happen by the end, and that is totally okay. You can accept the foregone conclusions early enough about a few of them and go on the ride and brace yourself before the end. Knowing where you will end up is fine, if you don't know how you will get there. And on the journey to the end, it went plenty of unexpected places with surprises along the way.
And honestly, it feels like a great ending. Most people said after 3 that it was the perfect ending and not to mess with it. And a lot of people are saying that after 4. But I disagree, really it feels like the start of a lot of potential adventures on multiple fronts. Because lets face it, in this franchise with a large ensemble cast (that just gets more and more ensemble-y), many many characters were reduced to just a few lines. In fact, some arguably main tier characters had a few moments, but clearly the focus was on Woody and Bo Peep only. Buzz was humorous side character and Jessie had maybe only a few more lines than Slinky Dog.
I will put that there will be money on a Toy Story 5 in the future. Not just side short films for TV like the Toy Story of Terror event. And this time I will look forward to that. Just give me more original movies first Pixar.
3 out of 4.