February 19, 2016
Touched With Fire
Just like you, I didn't know a lot about Touched With Fire before watching it. (Okay, I guess for most of you, you probably haven't seen it either). Virtually no advertising, a super limited release, and well, that is all that I need to say.
It is of course based on a book, and some people thought the book was good enough to be a movie. [Editor's note: The movie isn't the book, they just use the real research book with this title. Check it out!]
According to some article on the internet, this whole movie might be a big fuck you to Scientology from Katie Holmes, some how. So let's go in with that excitement!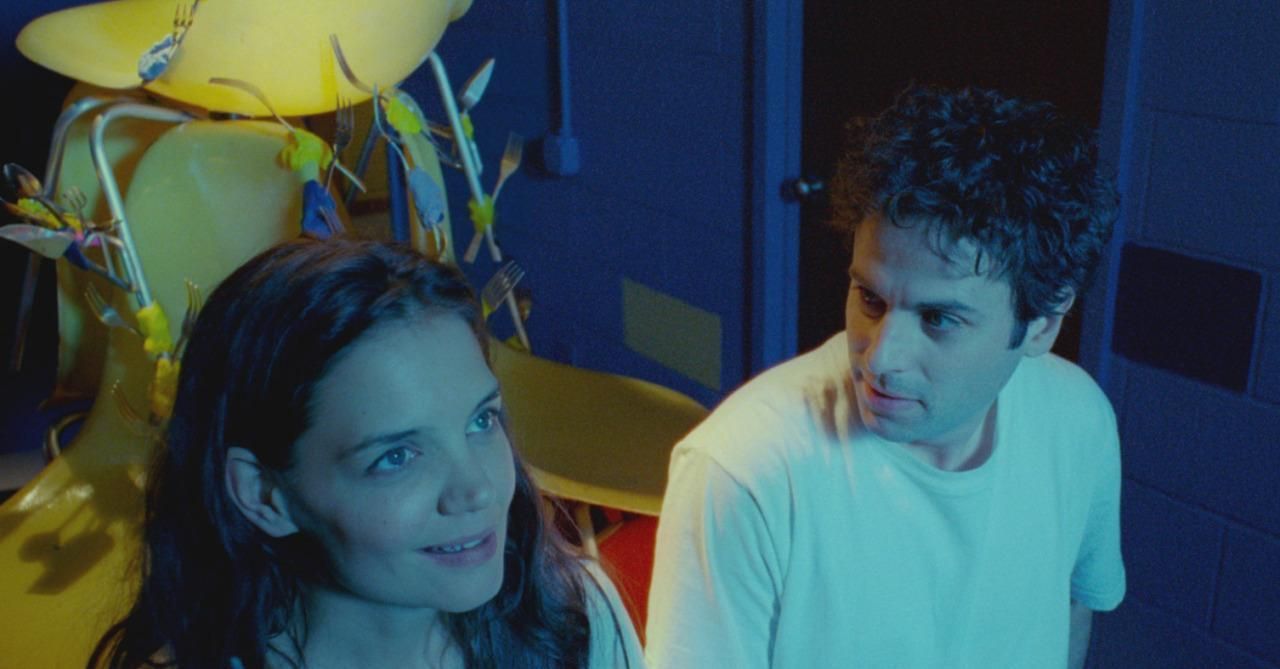 I didn't read the article. I don't know how to read.
Carla (Katie Holmes) once ran out into the desert with some friends in college, and forced herself to stare at the sun. This is technically not relevant, but it is a good starting off point. She is a poet, and she is manic depressive. She has been living on her own, but she went off of her meds again and accidentally checked herself into a psychiatric hospital.
But at the hospital, she met Marco/Luna (Luke Kirby), who also finds himself checked in on the same day. Not to make light of his situation, but he is obsessed with the moon and believes he comes from another planet. He is also a poet, but more of a rapper, and he understands that most of the great artists and poets of the last hundred years have been manic.
Needless to say, they fall in love. Kind of. They escalate each others conditions to a point of extreme mania, so they then find themselves separated, depressed, and longing to find each other again.
Carla's parents are played by Christine Lahti and Bruce Altman, and Marco's dad is Griffin Dunne. Also Maryann Urbano plays their doctor.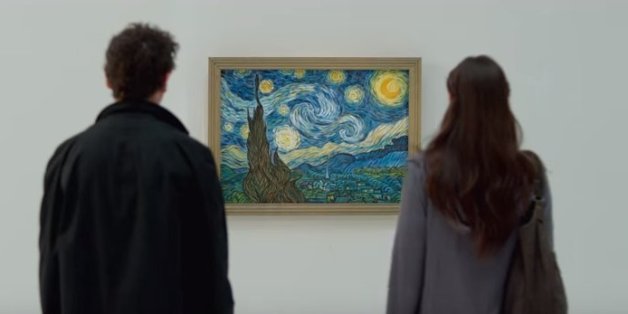 Stars. Moons. And this painting. Alien theory checks out!
When they first introduced Luna, I hated him immediately. I thought the movie was trying too hard. The camera kept moving like someone had just run up a flight of stairs and couldn't keep it straight. I assume to show his current state of mind, but it just pissed me off and I was hoping he wouldn't have a big role.
But as the film continued, he grew on me. Carla grew on me. The two embracing their condition, not seeing it as an illness or a crutch, but living their lives without drugs or help. I was right there with them. I was thinking "Man, fuck these doctors. Fuck their parents for trying to 'help!' Just let them love each other, damn it!" And thus, the movie had me right where it wanted.
I got caught up in the emotions and was cheering for ill people to not get help. It was a weird position in retrospect to be in, but damn, the acting from Kirby and Holmes came out strong and I was left unprepared. Hell, Kirby reminded me of a young Mark Ruffalo, but I don't know if that is just his general look or because he was recently bipolar in Infinitely Polar Bear. It was a roller coaster. Because they were manics, they were constantly going to extremes and it perfectly captured everything for the viewer.
And yes, there are some disturbing scenes as well. This is a drama, not a happy comedy.
It is well acted from the leads, a good job from everyone overall.
3 out of 4.