August 27, 2020
Through Greenland (Gennem Grønland)
Greenland. Green. Land. Greeeeenland.
A country with a lot of mystery, because honestly, they don't have an army and don't affect the world in any other way that makes us look at them. That isn't a bad thing. Just somewhat of a truth. People hear about Greenland mostly when we hear about melting ice sheets and similar topics and that is bad.
Enter Nikolaj Coster-Waldau. You may know him as Jaime Lannister from Game of Thrones. You may know him from Black Hawk Down, you may even know him from Wimbledon!
He has a history with this country, but also knows little about it. His dad worked here in the 1980's away from their home in Denmark, and his wife (Nukâka) is a Greenlander, also an actress and a former Miss Greenland. So he has been to the country, he has met with her family and friends, but he hasn't really experienced all of what the country has to offer.
So in this five part mini-series, that is what Nikolaj is going to do. Experience the shit out of Greenland. He wants to go Through Greenland, which yes, is the name of the thing.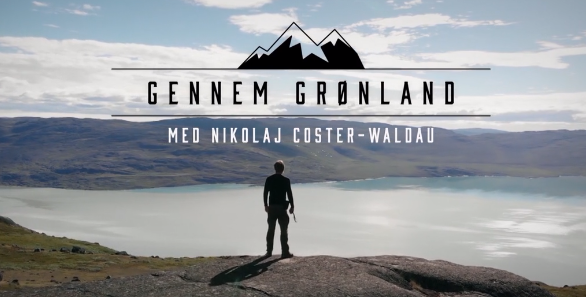 Regardless of content, it is a bitchin' graphic to open the show.
At five episodes with around 45 minutes an episode, there is a lot of Nikolaj to go around. It is spread over a longer period of time of course, with various people he knows acting as camera men and guides along the way. He is visiting towns and communities, both small and really small. A military base! Schools! And places far from the communities as well. The ice sheets to spend the night, to go on a long arduous hunting trip and more.
Nikolaj has always cared about climate change and so it is clear another reason for this series is to focus on the changes that are affecting Greenland that are notable to the residents, who can attest to the melts.
And if you want your content to be in Danish, then I have good news for you. This is a lot more Danish than I expected. It started out misleading, since the first thing he did was go to an American military base, but after that it goes a lot out of the window. I can't tell you if it is mostly in Danish or Greenlandic, but maybe our host knows the latter and thus naturally can communicate anywhere on the island.
This small docu-series is not going to change the world. But it does offer some insight to a country that is often ignored for its human population. When we speak of Greenland, we speak of ice and emptiness, and ignore that it has its own communities, customs, and ways of life. So it is good that something is putting a stamp on it.
It features Nikolaj going the whole Greenland experience, I don't recall him saying no to anything really. And it really shows those details which might be a curse or a blessing. I feel at times we spend a lot longer on a scene than necessary, or conversation. As a viewer, you may wonder if they didn't want to do too much editing? That becomes the problem. If they edited it down, then we wouldn't see the real country. But then they'd also need more content to fill five episodes. I hope the goal was to showcase the country and then give it the episodes they felt represented their footage, and make it a goal specifically to just pad it to five episodes.
Oh well. Two-Handed Jamie Lannister does manly and impressive things in nature with friends. That is what most people might take away from this.
2 out of 4.