June 23, 2014
Think Like A Man Too
I had multiple chances to see Think Like A Man Too early, but things kept coming up. Heck, one showtime had both Kevin Hart and Drake in attendance. I didn't go to that one because I knew there would be a long line and require at least 7 hours of my life to see it.
But hey, at least I was able to see Think Like A Man before hand which was my biggest worry. Given the way the first film ended, and that this one has nothing to do with Steve Harvey's book, I imagine the biggest worry from Kevin Hart was to make a lot of money.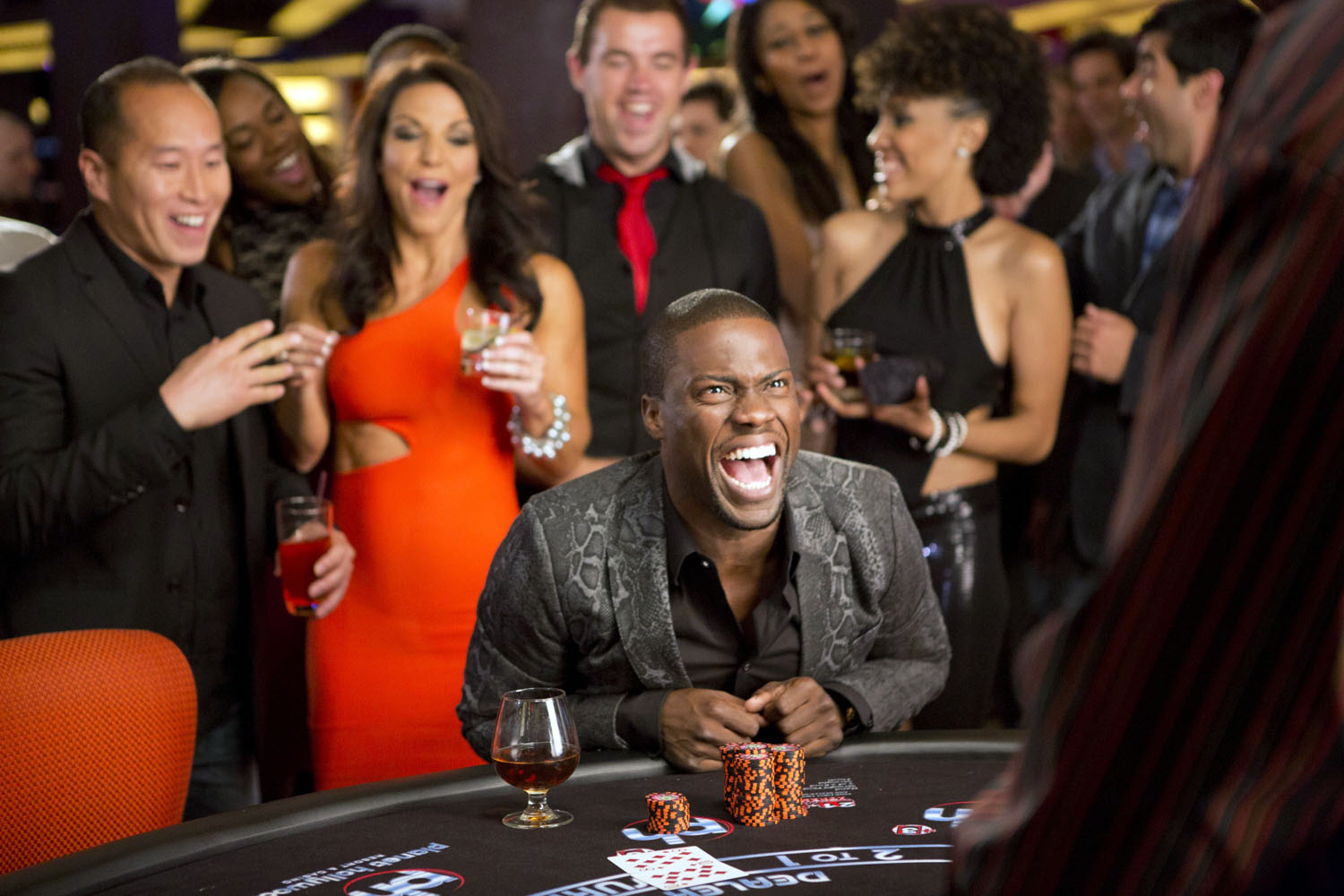 That's his wild eyed, stuffing his pockets with cash, face.
The couples established from the film are all still together. Their relationships are just facing new issues all around the same time! Very convenient.
But they are now in Las Vegas. Why? For an extravagant wedding, because getting married in LV at not a quickie chapel is apparently a thing too.
Our Mama's Boy (Terrence Jenkins) and Single Mother (Regina Hall) are getting hitched, the main reason they were picked was of course to include the nagging mother (Jenifer Lewis) in this movie as well. Their plot line, outside of getting married, is yes the mom still doesn't like the girl and stuff will ruin their wedding.
The Non-Commiter (Jerry Ferrara) and The Girl Who Wanted A Ring (Gabrielle Union) obviously already got married, but now they are talking about having a kid, and it is scary for one of them.
The Dreamer (Michael Ealy) and the Woman Who Is Her Own Man (Taraji P. Henson) are both still in love, but their careers are taking them to different parts of the country.
And finally, the Player (Romany Malco) and the 90 Day Rule Gil (Meagan Good) are having commitment issues. And by that, the girl is afraid of his commitment, due to the number of women from his past that apparently live in Vegas.
Finally? Just kidding. Cedric (Hart) is still our narrator and freaking out over Best Man duties. We still have our happily married white guy (Gary Owen) but his wife is in this movie too (Wendi McLendon-Covey), and they don't have many issues.
Also featuring Dennis Haysbert as smooth talking Uncle Harris to get the mom off their backs, and Adam Brody and David Walton as our Mama Boy's old frat friends who join in the shenanigans.
Just like real life, they all wear generic colored outfits.
Overall, Think Like A Man Too is a movie that shouldn't have been made.
For bad reasons, this movie is being compared to The Best Man Holiday. You know, both sequels in the last year, with large black ensemble casts. Although Holiday was given to use 14 years later where they had time to find a good story, and Too we had only a two year break if that.
But yeah, a lot just didn't feel natural in this movie. Too much (all?) of the aggravation involved people not willing to speak truthfully to their loved ones. What? This is years later and they still have the same issues? I doubt these couples should be together.
Whenever it looked like something actually funny and interesting would happen (like the strip club), they ruined it and put the characters in a very unfunny place instead.
Actually, by the end, when stories were resolving, I thought some of them were cute. I thought the mama trouble plot line ended teribly, along with the job couple. The other two were fine endings, just the player past shouldn't have been an issue at all.
Occasionally a funny moment, but overall, can easily ignore it. Here's hoping there is no Think Like A Man Thrieve or whatever.
1 out of 4.