June 5, 2014
Think Like A Man
I am already starting to get overwhelmed with these movie screenings that are available to me. Too many a week, with too much of a time commitment. Why the review of Think Like A Man? Why, because it's sequel, Think Like A Man Too is coming out shortly, of course! I missed the first one from 2012 some how, probably because I lived in the farming midwest and it never came to a local theater.
But then I move down South and I got the tickets to see this movie early. I would have, too, but first I had to watch the previous movie, damn it. Also, I didn't want to drive 75 minutes, to wait two hours in line, to watch a two hour movie, and drive 75 minutes back home. No, that sounded dreadful.
But it gave me time to relax and watch Think Like A Man, without staying up super late at night to get it done!

I also had sports to watch watch.
This movie, based on the book, is about four relationships, and a few other people around them. All of the guys are part of a group of friends who play basketball together, which include Bennett (Gary Owen), "the Happily Married Guy" and Cedric (Kevin Hart), "the Happier Divorced Guy". Thankfully, the four couples that exist are all presented in a nice way to split this review up into parts.
"The Mama's Boy" vs. "The Single Mom"
Michael (Terrence Jenkins) is a man who listen's to his mother (Jenifer Lewis) and helps her out with everything. He is about to start seeing Candace (Regina Hall), who has a son, the father is out of their life for good, and really wants someone that won't just leave at the first sign of trouble.
"The Non-Committer" vs. "The Girl Who Wants the Ring"
Jeremy (Jerry Ferrara) and Kristen (Gabrielle Union) have been living together for awhile now and everything is just cool. Hell, Kristen likes everything Jeremy likes and doesn't care that their relationship doesn't seem to be going anywhere. Psyche!
"The Dreamer" vs. "The Woman Who Is Her Own Man"
Dominic (Michael Ealy) has problems keeping jobs and relationships, because he has goals, but he never sets out to accomplish them all the way. He is about to meet Laruen (Taraji P. Henson), a young black woman CEO of a large company, successful, rich, and someone who doesn't need anything from a man, but still would like one in her life.
"The Player" vs. "The 90 Day Rule Girl"
Finally, we have Zeke (Romany Malco), a guy who hits the clubs and sleeps around, who runs into Mya (Meagan Good), who is tired of "giving up her power" and sleeping with men just for them to forget her name and not return phone calls. So she decides to resist the temptation, and make this new guy wait.
What do they all have in common besides basketball? The women have all found and read Steve Harvey's Book, Act Like a Lady, Think Like A Man, which is a real book in which Steve "sell's out his gender" and gives women advice on how to secretly control their men and get what they want out of the relationship. However, two can play that game, as the men also find the books, to play on defensive.
BATTLE OF THE SEXES, GO!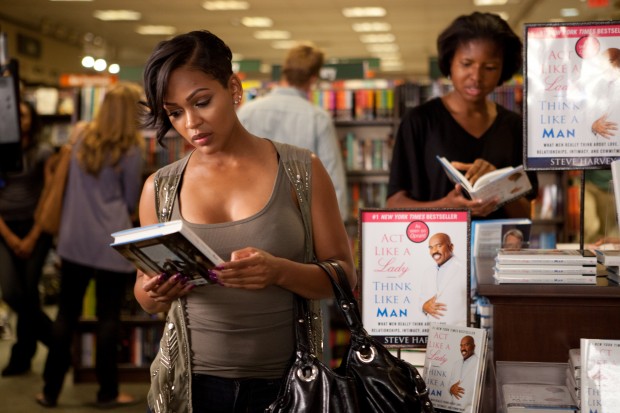 Steve Harvey is Public Enemy #1. How could you Steve?! How. Could. You?!
Well, I will just say that I think there were far too many characters involved with this film. Four couples, means eight people. Some have additional characters like friends, parents, children. Then we have Kevin Hart, Steve Harvey, and Gary Owen too. I guess Gary was mostly ignored, but Kevin Hart was butting into most of the friend's lives, so there was just so much going on.
I am not going to say it would have been better without Hart, because he was decently amusing, mostly serving as a good narrator. Just. There was so much going on, in two hours, to make it not confusing, they had to make the narrative structure very simple to follow in order to not get lost.
So, it is good that it was super simple to prevent us from getting lost, but at the same time, it was still super simple and didn't break too much new ground in the making of this movie. It is like four different romance/comedy plotlines, only two of them which could probably stand on their own legs as their own film (dreamer/OwnMan, and noncommiter/wantaring), but then, they have been done before too.
The film had some amusing moments in it, and it also had some lame moments in it. Overall, it was adequately average.
2 out of 4.