January 21, 2013
The Pirates! Band Of Misfits
Sometimes the UK scares me. But usually that is just when it comes to TV shows. It isn't a normal like or hate relationship, it is more a like or "I don't understand what the hell is going on, so I am just going to doodle while it happens until it is done, then never watch it again, because I am confused and I don't understand what the hell is going on, so I am just going to doodle while it happens until it is done."
It is really a 50/50 type of situation. Thus my initial fear of watching The Pirates! Band Of Misfits.
"Bitches don't know about my swaaaaaaaaaaaaaag. And I mean swag in its real definition. I have a pile of gold in the hull."
Set somewhere in the 1800s, Great Britain has taken over much of the world. But Queen Victoria (Imelda Staunton) doesn't control the West Indies! Fucking Pirates are there!
This includes The Pirate Captain (Hugh Grant) the piratiest pirate that ever pirated. So much that he is going to inter Pirate of the Year, and win it for once! The only problem is, I lied. There are much better pirates out there. Including Black Bellamy (Jeremy Piven). Heck, The Pirate Captain hasn't even gained any loot this last year. Just some ham. What is a pirate without loot?
So he starts a raidin' and a plunderin' but nothing seems to work. None of the rich boats are coming out to his area. When he goes for just one last boat, he is disappointed to find out that it is just Charles Darwin (David Tennant). According to him and his man-ape servant, the Pirate Captain's parrot is actually a Do-do bird, long thought to have been extinct!
But apparently with these science shenanigans, there is a potential for real money. But they have to go to London first, a scary anti-pirate place. Hmm, I am sure it wont be a big issue, and no one will have to put their morals in check. Lets not forget his trusty crew, including The Pirate with a Scarf (Martin Freeman), The Pirate with Gout (Brendan Gleeson), The Pirate Who Likes Sunsets and Kittens (Ben Whitehead), The Albino Pirate (Russell Tovey) and The Surprisingly Curvaceous Pirate (Ashley Jensen).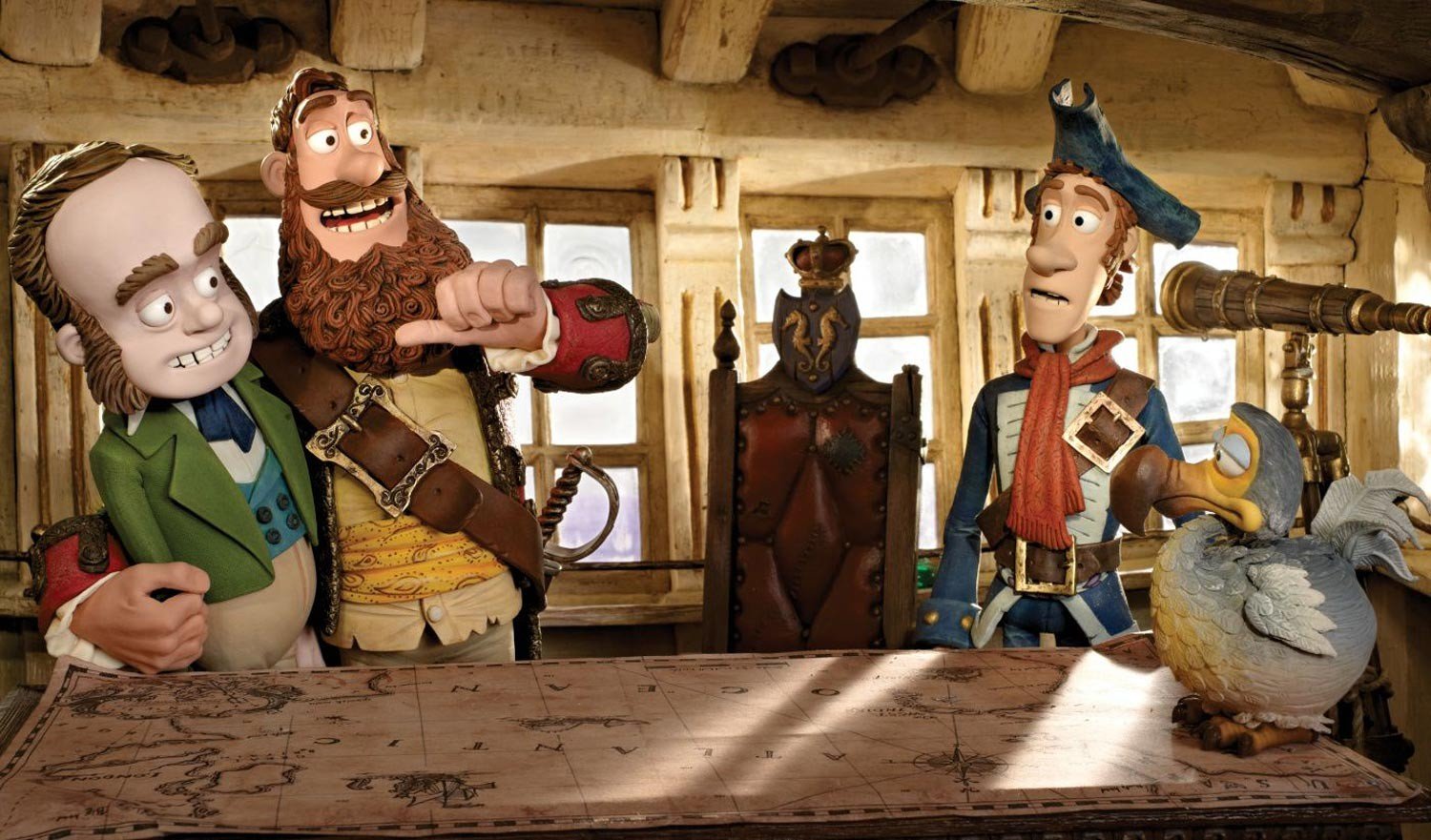 Going back to my earlier fears, I have never seen a Wallace and Gromit movie. Wallace just looks way too British. So the only reason I went this way was because of scurvy jokes, boy did it deliver.
The writing for Pirates was beyond clever, full of jokes and other smaller pop culture references. Heck, it even had a soundtrack full of real modern songs, including most of Flight of the Conchords "I'm Not Crying". Damn, son.
I also didn't completely hate the form of stop motion like I thought I would, another definite plus. Not sure if this is going to win best Animated Picture, but it certainly was a damn good one for 2012. I mean, Ham Night. Ham Night guys.
3 out of 4.