November 1, 2018
The Nutcracker and the Four Realms
I saw a trailer for The Nutcracker and the Four Realms, I was astounded by the screen in front of me.
I honestly didn't know this was a movie coming out, and my first impression was, "…is this another goddamn Alice in Wonderland movie sneaking its way out?"
I have an easily hate relationship with those two movies. Alice in Wonderland was telling a story so awkward, because it decided to be a secret sequel, and Through the Looking Glass is just legit one of the worst films I have ever seen.
This film just seemed to be equally CGI heavy, with a British slant, and some sort of fantasy uncomfortable world.
But why a CGI fantasy movie about the nutcracker? Was there clammoring for a nutcracker based movie? I mean, it seems to only be loosely based on the play/ballet as well. It certainly is not going to be a ballet showcase. So, a serious non dancing version of a famous dance? Like…Why.
That would be like taking a Tony award winning musical and turning it into a not really musical movie. A very poor decision.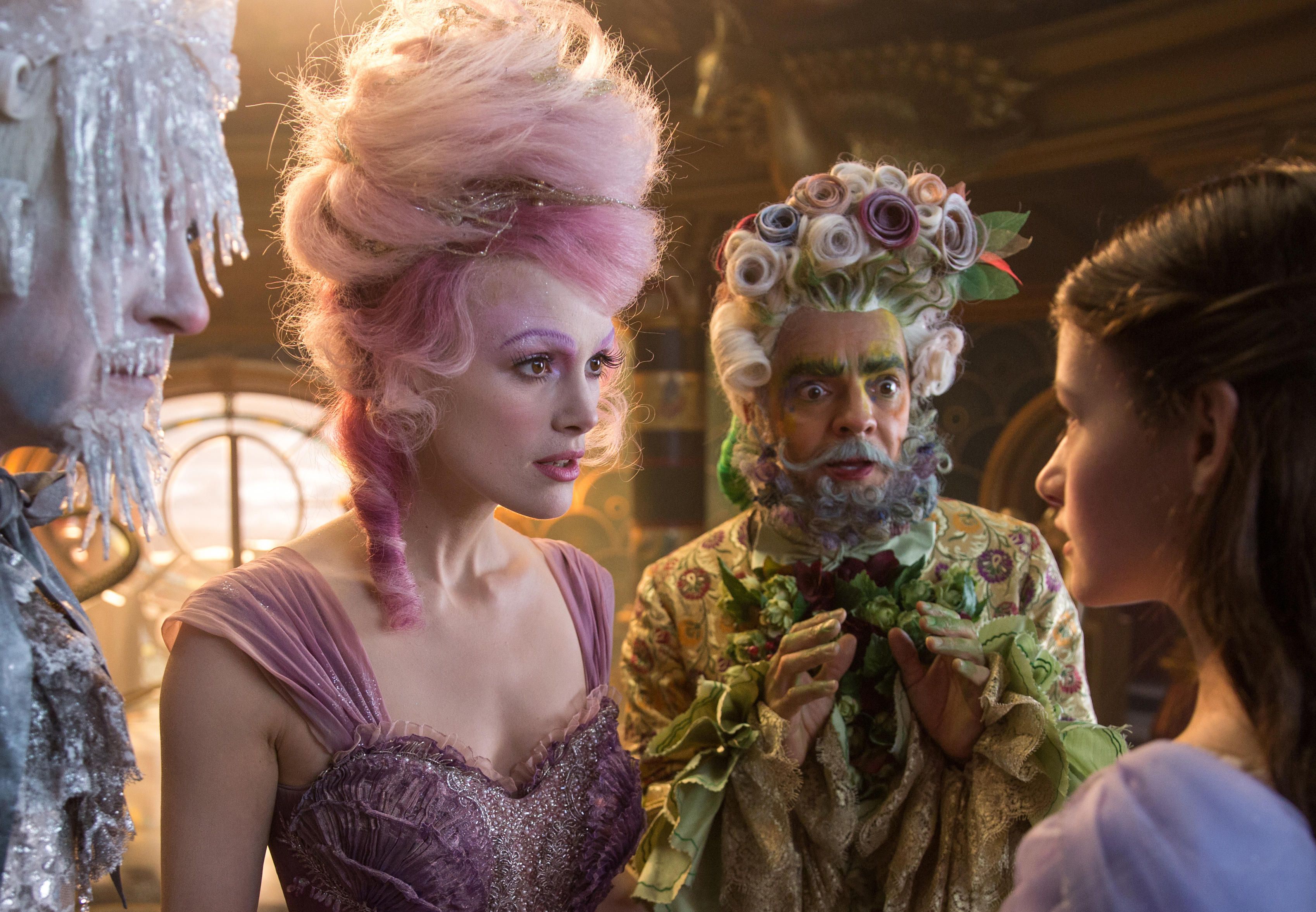 Speaking of poor decisions…the agents of these famous people!
This yarn is about a girl named Clara (Mackenzie Foy) who is really smart and charming in her own way. The kind of girl that boys will chase later in life when she is successful, not when boys are stupid and in school. Her mom died in the last year, and that made things really sad. She has an older sister (Ellie Bamber), a younger brother (Tom Sweet), and a dad (Matthew Macfadyen) who is trying to keep things normal by avoiding the issue almost completely.
So they are taken to a big Christmas Eve ball party for their British aristocratic friends and neighbors. Clara had received an early present before the ball of an egg with a lock, but no key. Her mom had left it for her before she died. Clara is more focused on the key than silly dances.
And sure enough, thanks to the plot, at some point Clara wanders into a different wintry world. No, this is not a world with lions and witches and wardrobes. This one has nutcrackers, mice that seem extremely intelligent, toy soldiers, and sugar plum fairies (Keira Knightley). A world of four lands that have come together to be swell together, or something. A land that her mom used to be the queen of and now it is her time to lead! Once she gets the key and fixes a few issues of course.
Also starring Eugenio Derbez, Richard E. Grant, Morgan Freeman, Helen Mirren, and also Jayden Fowora-Knight as a major role, his second role after Boy Playing Tennis in Ready Player One.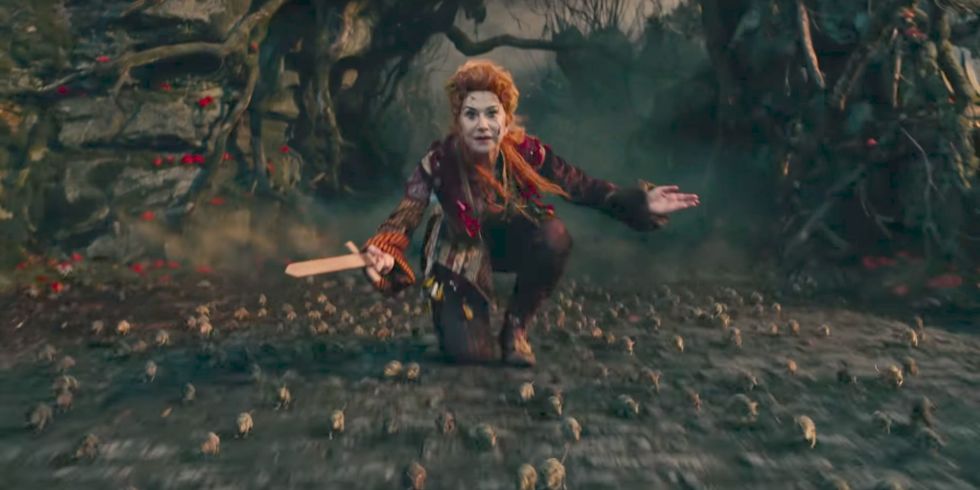 "Go my rat minions! Go and steal the cheese!"
The Nutcracker and the Four Realms…first, the title is terrible. Honestly, why did they not just call it The Nutcracker? That is good, iconic enough, and can get those ballet people in. This title is too hard. THE nutcracker and THE four realms. The first THE could be cut out and it works better. But they wanted the play title too badly. And the second half? The four realms? That does nothing for anyone.
Alright, this is a movie about the nutcracker and four kingdoms. Will we have very location specific places? Different worlds? One of candy, one flowers, one of ice? Yeah, probably. But guess what. Most of the film that takes place in our magical land, takes place just at a castle and one of the realms that is now forsaken.
I have no clue if the "castle" is actually one of the realms or not. Because we don't do a damn thing with the other 2-3 realms. Why the fuck is the title and advertising focusing on four realms, when we don't even get to play in four realms? What are they setting up? What is the point?
And the point is nothing. There seems to be very little point in this movie. I guess it is about a young girl who has to use her daring and smarts to save the day. Save the day of a fantasy kingdom that has relatively low stakes. And that effects her regular life about zero. Where no one is close to dying, and everything just feels…flighty.
Speaking of flighty, the only strong connection to the Nutcracker ballet (besides aspects of the story) is the soundtrack, which features music from the nutracker. Some of it is obvious, a lot you may not notice, but they did not fit the story that great. If the music takes out of the story, then it might not be doing its job.
Near the end, a scene with a giant robot fighting toy soldiers (sigh, yes) spliced with other action shenanigans ends up feeling dead. It felt like an unfinished movie. There was no sense of dread or suspense, and it just didn't feel like it matched what was supposed to be an intense scene.
And you know what? To top it all off? There was a small dance scene to music, where the characters involved were dancing a waltz. But the music was not a waltz song. Come on guys. You're not even trying.
This film is forgettable, regrettable, and probably something that Disney is really going to bury in the future. I expect no sequels, no great toy tie ins, and just a lot of disappointment from everyone involved.
0 out of 4.