May 16, 2016
The Nice Guys
Nice guys have gotten a lot of bad press lately. And that is because of the "nice guys" trying to take advantage of women by befriending them and expecting sex and berating them and being not nice people. So calling someone a nice guy is a pretty big insult.
And The Nice Guys movie happens to be coming out the same day as The Angry Bird Movie, what a whirlwind of emotions!
Fun fact, if you look at the last names of the leads of this film, you will realize that they are also, in fact, birds, making this seem like something more than a coincidence.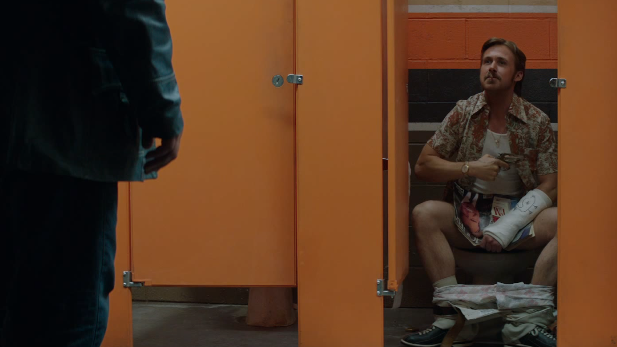 A gosling is a baby goose, for those uninformed shitters out there!
Holland March (Ryan Gosling) is a private eye, raising his daughter, Holly (Angourie Rice), alone. He mostly works sex jobs and things involving the porn industry, and screwing over old ladies into getting paid for working cases. Jackson Healy (Russell Crowe) is a hired muscle, paid to beat up stalkers, people messing with young women or daughters, just creeps in general.
And life is good for them both in the late 1970's. That is until Healy is paid to beat up March, for "stalking" some chick named Amelia (Margaret Qualley). Except March wasn't even looking for Amelia. He was paid to find Misty Mountains (Murielle Telio), a porn star who died a few days earlier, but whose aunt swore she saw her later.
Everything seemed to be going great after the beat down, until Healy headed back home and found two thugs (Beau Knapp, Keith David) trying to kill him. They too are looking for Amelia, whom Healy hasn't seen in quite a few days. Something bigger is going on with this girl, and if he wants to feel safe at his home, he has to find her. So he might as well get some help. And he only knows why investigator who has any sort of luck finding her. You know it.
And then some shit goes down.
Also starring Kim Basinger, Yaya DaCosta, Matt Bomer, Jack Kilmer, Ty Simpkins, and Hannibal Buress as a giant killer bee.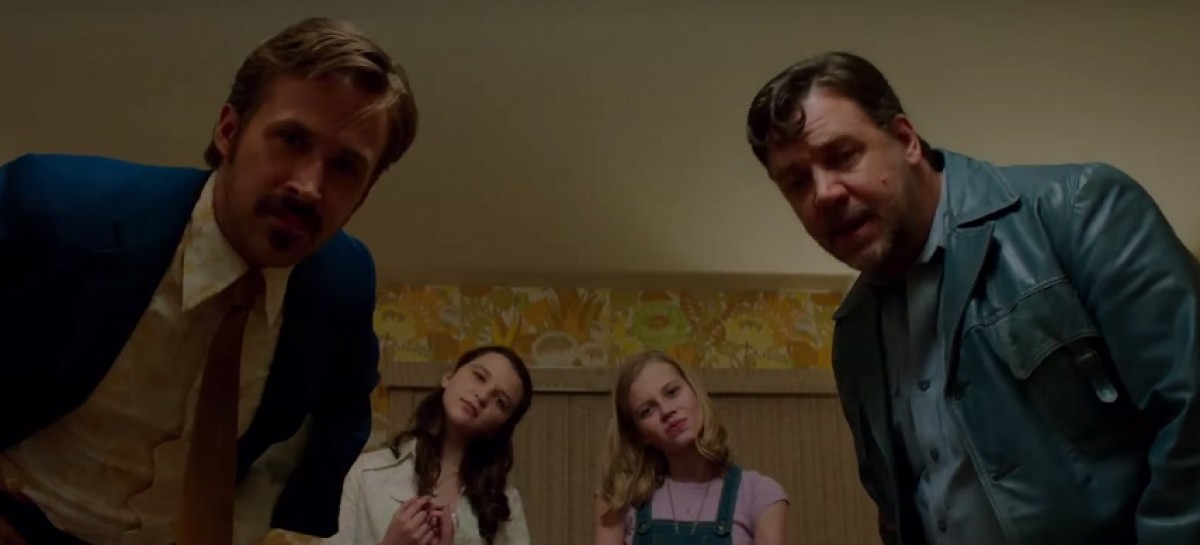 Don't stare. I did just fucking say a giant killer bee.
Ever here of this guy Shane Black? He actually wrote/directed Iron Man 3 and Kiss Kiss Bang Bang, while also writing a bunch of Lethal Weapon movies and more action things. He loves action, and now he has written The Nice Guys, which has been in development hell. Him and his buddy, Joel Silver, a producer, have been just trying to write and rewrite it for years, and eventually they got the actors involved and made it as quick as they could.
And to Mr. Black and Mr. Silver, I would like to say, hey, thanks for keeping up the faith.
The Nice Guys was a hilarious movie. Gosling and Crowe have an incredible chemistry despite their age differences and in general very different film history. The comedy and timing between them as practically perfect. And even better than their characters had big flaws, not just strange stereotypes. After watching them in this film, I practically demanded a sequel, but the theater worker claimed he had no control over that.
The only other person worth noting is Angourie Rice, who plays the daughter, and was in the very terrible Walking With Dinosaurs. She was basically a third member of their group and really tied the film together. That also means that that for the most part, the rest of the cast weren't really notable. And there are some decent names. Bomer felt robotic, Basinger/DaCosta didn't feel natural, and Qualley as Amelia was forgettable.
A great action comedy for the leads and one that I hope spawns a future movie. It is still a film worth watching in theaters, but equally a good idea to watch with a group of friends at 3 am on a Saturday morning.
3 out of 4.