July 7, 2017
The Little Hours
Finally the talk of the summer is here. People have had 7/7/17 circled on their calendar, just waiting for the movie that everyone everywhere has wanted.
No not goddamn Spider-man. I'm talking about The Little Hours?
Oh you haven't heard about The Little Hours? My bad! Surprisingly very little advertising, but it was directed by Jeff Baena who gave us Life After Beth. Which was decent, and also had very little advertising. Guess that is his indie theme.
Either way, the number of people you would recognize in this film is actually quite staggering, so that alone one would have warranted an advertising budget, but what do I know.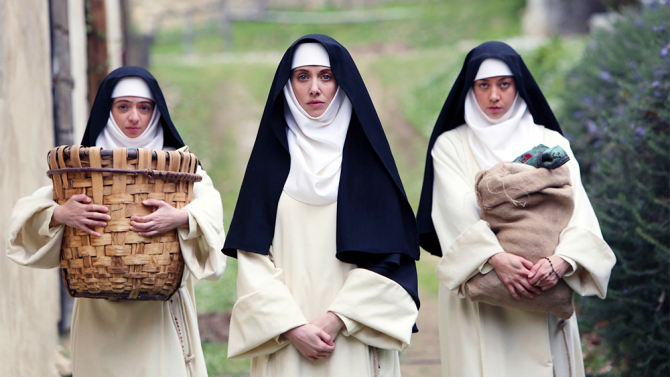 Oh, and I know every single girl in this picture too.
Picture this! A nice quaint nunnery, the medieval ages, pious and chaste women just doing their thing, trying to love Jesus.
This nunnery is run by Father Tommasso (John C. Reilly) and the head nun is Sister Marea (Molly Shannon). At this point, this nunnery might seem a bit more odd already.
Our main nuns that we are looking at are all relatively young and unsure about their lives. Sister Alessandra (Alison Brie) is just there temporarily, waiting for her father to set her up with a husband, and she does cross stitch to help make some cash for the convent. Sister Fernanda (Aubrey Plaza) is quick to temper and often misses events looking for animals that keep breaking out. Sister Genevra (Kate Micucci) wants to be a good nun, but is getting caught up in other nun-anigans and also questioning her sexuality.
And they are all mean to this one poor gardener. So eventually, he is fed up and leaves, putting the convent in a pickle. But no worries, a young chap Massetto (Dave Franco) is on the run from his kingdom, for being a little shithead, and he can take the place. He just has to pretend to be deaf and mute so he doesn't get on the nerves of the nuns.
But he is young and cute and that causes even more issues.
Also starring Lauren Weedman, Nick Offerman, Jemima Kirke, Fred Armisen, and Adam Pally.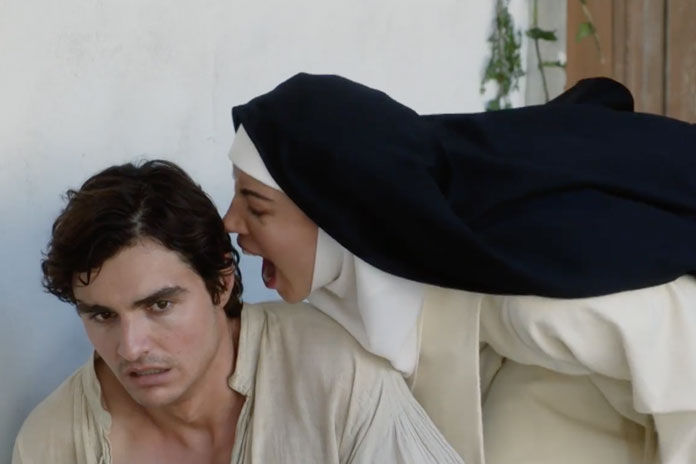 Yelling "Hey Fuckface!" at deaf people is the only way to know if they are really deaf.
I had no idea what to expect of this movie going into it. I wondered if it would be a serious film, with comedic actors, just to be weird. But as soon as Plaza started laying down the f-bombs, it became obvious that this was just going to be a very odd period piece film. I quickly then switched my mind to Your Highness, which was mostly improv and also quite strange.
And then something else happened. It got sexy. Not sexy like Natalie Portman in a medieval thong, but sexy erotic. Because those girls are young and curious, Franco is young and desperate, and there is a lot of sexual activity in the movie. Like, a whole lot. And the scenes aren't super quick jokes, they kind of go on for a bit, and include sexy music.
What I am saying is, this movie sort of turns into a softcore porno. Or at least a skinamax-esque picture. And it came out of nowhere and kept happening. Add on the very naked ending bit, with lots of floppy bits, this is just a surprise from start to finish.
And most of the points come from being a surprise. I laughed a few times, but it was never a film that really captured my interest. It was also intentionally slow (and brooding?), but at least it is original. And for some people out there, this might be the type of film they have been waiting for, for a long time.
2 out of 4.