September 29, 2011
The Kids Are Alright
Interesting story, because, hey lesbians! Yay lesbians! I am not saying Lesbians make a film automatically good. Heck no. Plenty of bad movies that try to get more money just because people like seeing chicks make out with each other. This is not one of those movies. This is serious! This is The Kids Are Alright! And I doubt many people have fantisized about the possibility of seeing Annette Bening and Julianne Moore kiss.
This couple has been together for a long time, over 20 years. They decided they wanted to have kids and have a sperm donor. They agreed from the profiles of one individual, and decided to both become artificially inseminated a few years apart, so that the kids will have the same dad, but each of the moms will give birth. They have never met the guy, of course, and never thought they would, until the brother made the older sister (now 18) collect the info to meet him. And of course, shit goes down.
He ends up having a relationship with the whole family, almost breaking them all apart. Poor Mark Ruffalo. If people actually started to yell at him, we now know he'd just go all HULK on them, but that may be a different movie.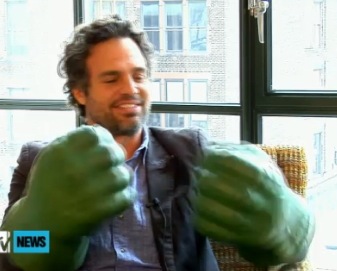 RUFFALO SMASH!!!
I did NOT like the ending. However the acting is great on all accounts, and it was an interesting and newer story. Well made, but too real. If it was more fake I could have a better ending I think.
3 out of 4.