The Hammer is another example of a movie with a lame cover. You will look at it and think, well nothing, because you will ignore it.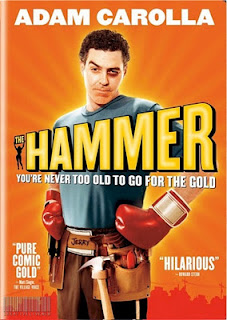 Did you even realize I just posted the picture?
Pegged as a comedy, this movie stars Adam Carolla boxing. That doesn't make sense in the real world, but lets give it a shot.
Adam is just supposed to be a normal guy. A long time ago he boxed, but never put in that much effort so never really got anywhere. Now he is a carpenter, been one for many years, but he just lost his job. Mostly cause his boss was a dick. So yeah, no job 40 year old with a broken down truck. But maybe he can box a little still?
While working out and sparring, he gets accepted to join a training program that is working on recruiting people for US Olympic boxing for 2008. Lot of tournaments and stuff. But why not take the 40 year old, because he is at least smart, and has at least a powerful punch. Tom Quinn tells him that he thinks he can go far and is going to train him, but is really just using him as a sparring partner for his real talent, Harold House Moore. Afterall, every great boxer had someone there with them to constantly fight and strive to be better than. Tom Quinn thinks he can pretend Adam has a chance, and also pay him nothing at the same time.
Adam also meets Heather Juergensen, a lawyer, in a self defense class he is teaching and they have quite an awkward relationship. 'Nuff said.
The coach gives up on him, leaving him in the middle of a fight, figuring he'd lose the first round of his first tournament anyways. Using that fuel and feeling like he has done nothing his whole life, he wins all of his matches putting him in the finals with his sparring partner. But who will win their weight class and get a chance to go to the olympics?
"I got punched out by an unruly client."
"I've always said prostitution should be legalized."
"I'm a lawyer…"
Despite it being a comedy it has a pretty "laid back humor" vibe to it. There are some amusing scenes, but most of it is just a natural story telling movie. Not overly knee slapping humor, but some nice moments. Carolla really feels like the average Joe, more so than Vince Vaughn did. A lot of carpentry jokes I might not have gotten, bu I don't think it is necessary.
The story is also not that cliche'd. It has a nice happy ending to it, and it doesn't follow that specific of a path. Hell, the boxing isn't even the more exciting parts of the movie (until the end of course).
Overall, its okay. But I would have hoped for more humor.
2 out of 4.