The Devil's Carnival
Welcome to the final day of Musical Week! Aww, sad, yes I know. Part of the reason I picked this week for a theme was because of the two musicals coming out, yes. The other reason is because I am on my honeymoon this week, and for the most part, musicals are set in worlds where people are happy and singing and dancing. Dancing is important. If there is no dancing, then you have Les Miserables and that is a sad musical.
But dancing can also be creepy. We learned that with the Thriller music video. Horror Musical isn't a huge category. Stage Fright from this year attempted it, but it was also definitely a comedy for going for the happy musical + slasher movie elements. The only one I can think of that got really close was Repo! The Genetic Opera.
Oh well look at that. The Devil's Carnival is done by the same people who brought us Repo! How quaint. I can't believe how that segue came so naturally~.
In fact, a lot of the actors from Repo! are in this one as well. It is basically an unofficial and not at all related sequel to Repo!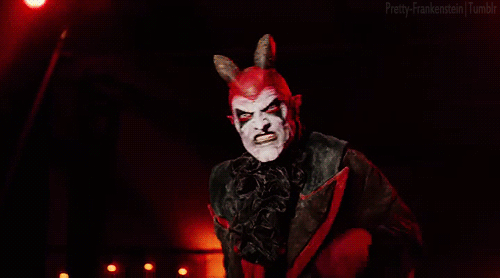 Satan + Dancing = Horror musical.
The stories from The Devil's Carnival are based upon Aesop's fables. That isn't subtle at all, because we have Lucifer (Terrance Zdunich) reading from the book to a kid. But at the start of the film, three people die. Ms. Merrywood (Briana Evigan) dies in a shootout with the police. John (Sean Patrick Flanery) has just lost his son and is about to slit his wrists. Tamara (Jessica Lowndes) was dealing with bad boys and got killed by an angry boyfriend.
And apparently they are all now in Hell!
The Ticket Keeper (Dayton Callie) runs this Hell/Carnival, where it uses demons and devils to teach those new residents their lessons. But you know, with circus themes and shit.
With such carnival employees such as The Painted Doll (Emilie Autumn), Wick (Alexa PenaVega), The Twin (Nivek Ogre), The Scorpion (Marc Senter), Hobo Clown (Ivan L. Moody), The Magician (Bill Moseley), and The Fool (Mighty Mike Murga), who wouldn't have a good time?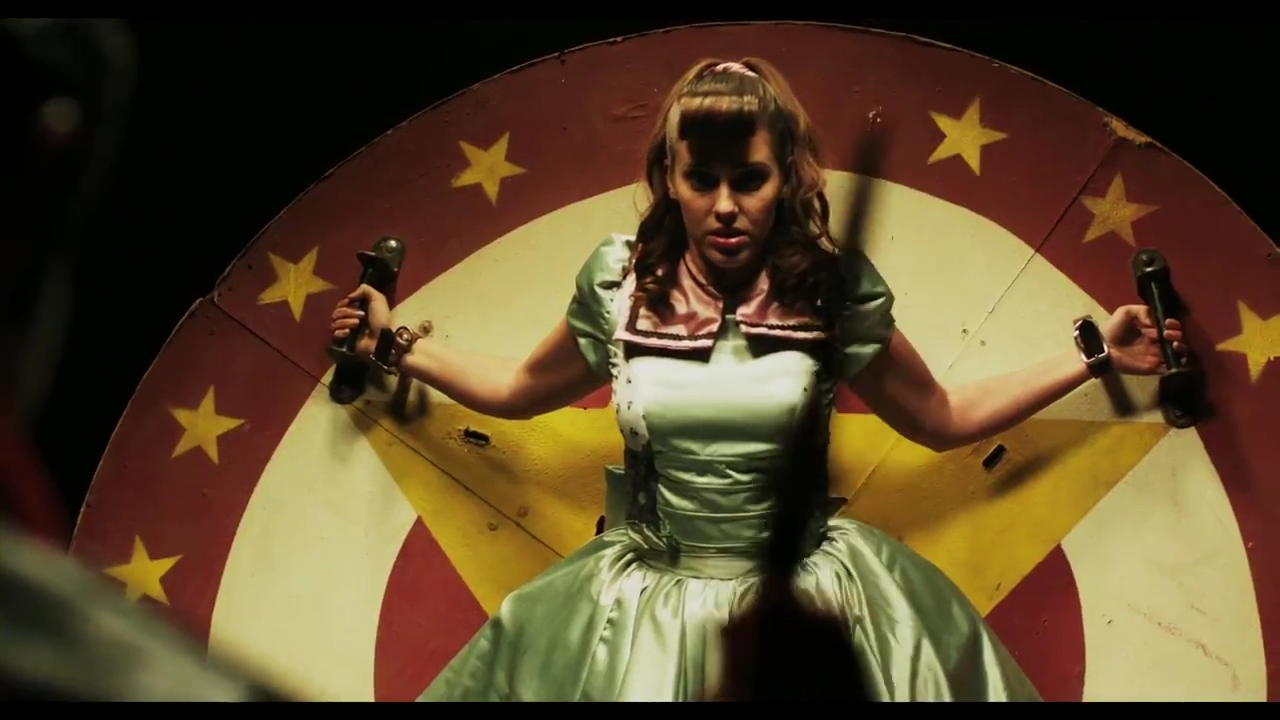 This game is actually my favorite sort of foreplay.
The Devil's Carnival is only an hour long, but it packs a lot of material and a lot of crazy shit into that hour. Anything more would definitely be pointless. The songs were both eerie and beautiful. There wasn't a lot of time for talking either, as the story advanced through songs for the most part.
If I had one major complaint, it is that I thought we had repetitive songs. Not tunes or musical themes, but the songs themselves were basically saying the same thing a few times. I think twice this happened, where the plot/punishment was unfolding for the characters,through a song, then someone told the same story/fable in another song right after. It felt awkward. Like, stop talking about the Scorpion and the Frog. I don't care that much.
Overall it was a really well put together story and the ending implied a lot more is to come. And there is! More importantly, it won't just be a rehash of the first film with new people coming to Hell and new fables. No, they have grander plans in the underworld. The next movie, The Devil's Carnival: Alleluia! It will be a full length production and should be coming out in sometime 2015.
I can wait, totally, a good while. Saying "I Can't Wait" would be dishonest. But a part of me is pretty excited to eventually see where this story goes.
3 out of 4.