April 17, 2012
The Dark Knight
Hooray! Review 450! That in no way is a real significant number, just that it is divisible by 50.
Normally this is where I do a big long review of a bad movie, spoil the shit out of it, and make you laugh. Twilight series and High School Musical stuff so far. But the next bad movie I want to review I am saving for 500. It is kind of a special one for this site.
So instead, I will do a "controversial" review for a widely liked and known movie. And use the fact that there is a lot of pictures to make nerdy/lame jokes.
How could a review of The Dark Knight be controversial? Because I am only giving it a 3/4, and I will try to explain why I didn't love it to the max.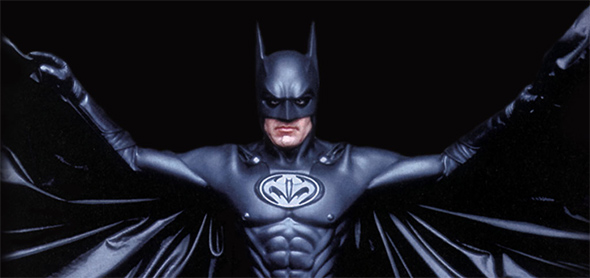 Because this movie featured not enough bat nipples.
Batman is running around batmanning in this movie, but so are fake batmans. He has to save a fake batman from trying to batman the return of Scarecrow, in the movie as just a cameo. Apparently Batman's existence isn't making crime go away, it is elevating it!
Which is why we get some assholes like The Joker.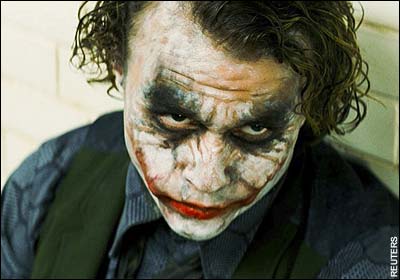 He also looks like a midnight toker.
The Joker's back story is very simple one. He doesn't have one. He has no other known aliases that could be proven, and no one really knows why he acts the way he does. He is chaos incarnated, and follows a very loose definition of logic to acquire his goals. His goals being more or less the destruction/torment of the Batman, an equally crazy character in his eye. It is almost as if he won't stop until the Batman stops.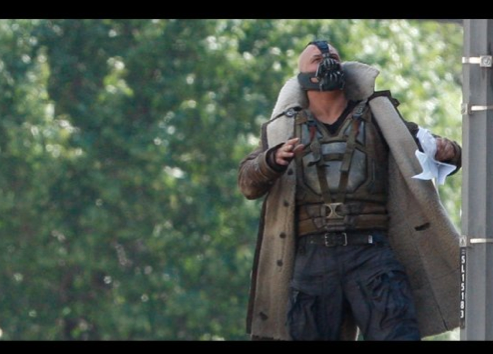 Or if he is stopped? If Ledger didn't die, this could totally be some nice foreshadowing.
But fuck this crime shit. There is a new sheriff in town, Harvey Dent, the white knight gotham needs to legally bring the criminals to Justice. He is also now dating Rachel, Batman's former gal, who apparently changed her look completely when breaking up with Bruce.
But that Joker is causing lots of damn problems. Not to mention huge outcries against the Batman for being a vigilante. Coupled with an attack on some high profile players and not-yet-commissioner Gordon, the Joker demand that Batman give himself up to save the city. Dent realizes that it would be bad if that happens and pretends to be Batman instead as a trap for the Joker.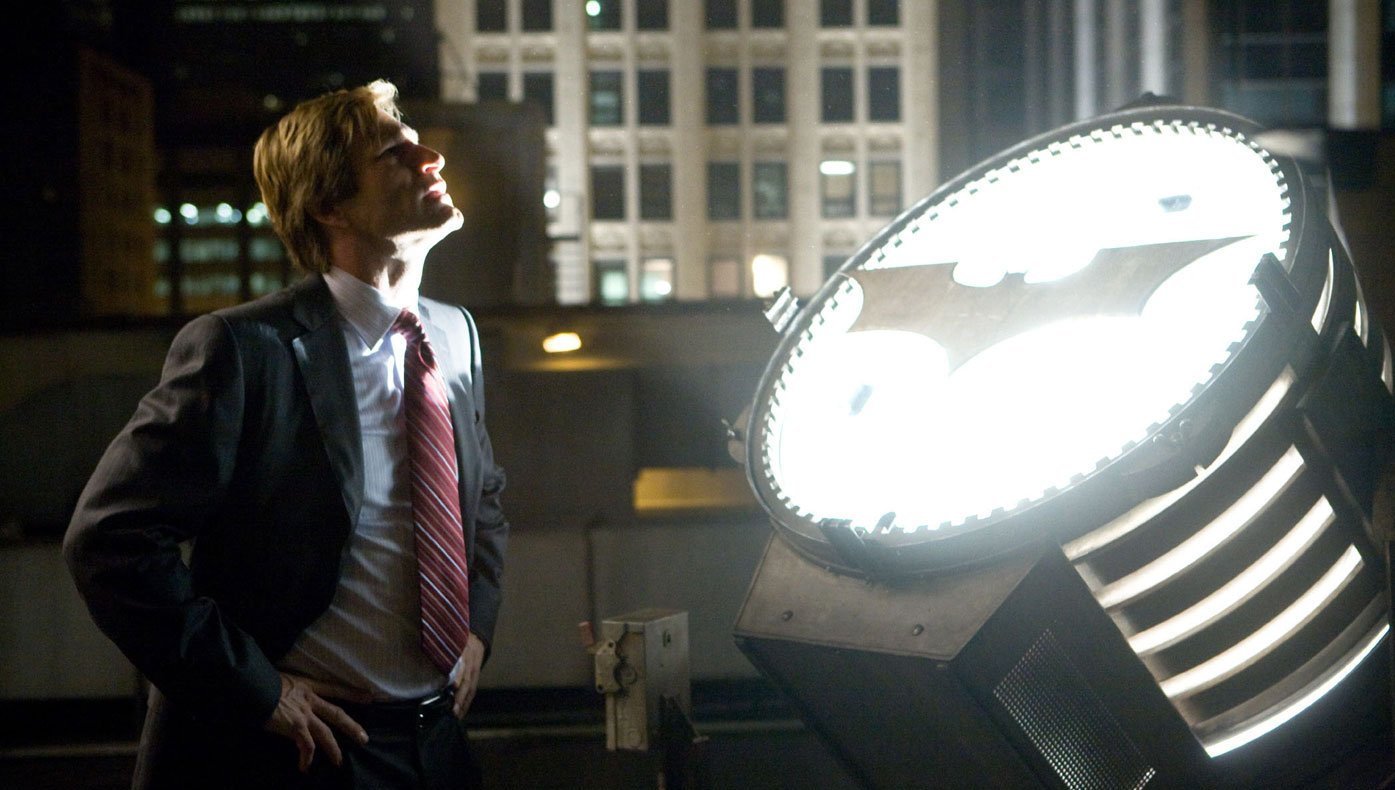 He is such a fucking swell guy. High in morals too.
The trap is set, and the Joker is caught. Or did he allow himself to get caught?
He did. During it he arranged for the kidnapping of Dent and Rachel, and set it up so that only one could be saved by Batman, and the other dying in an explosion. In a very tense and lovely moment as they talk on the phone, we are teased horribly with Dent falling on the side and laying in the oil. But the Batman saves him, fuck! Oh well. Still gets his face all fucked up.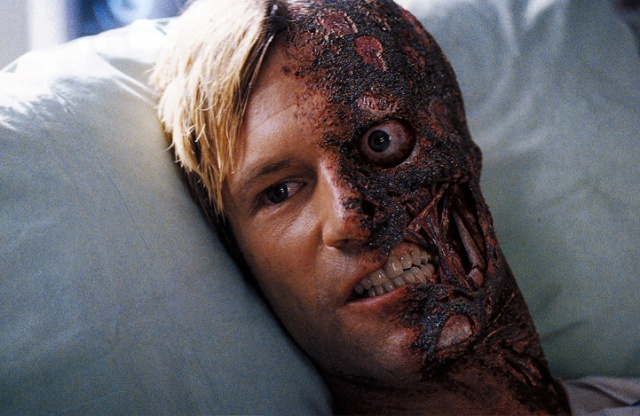 And AMC still wouldn't let him join The Walking Dead.
More ultimatums issues by the joker. Have the town kill an innocent man, or else he will blow up a hospital. More chaos is caused, including people evacuating the city. The police get the bright idea of putting all the prisoners on a boat into the water, because they don't want a repeat of what the Scarecrow did. The rich people also evacuate on a nice cruiser.
Haha! Another plot point expected by the Joker. Both vessels are armed with explosives, and the detonators for them are on each others boat. If one boat doesn't detonate the other boat, they both will explode at midnight. Will the rich kill the prisoners, will the prisoners kill the rich?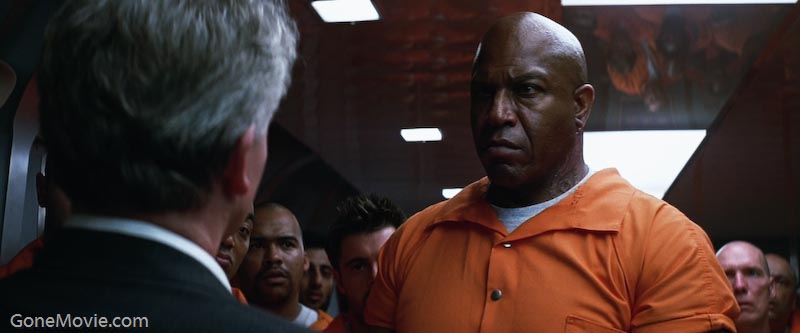 "This is quite a dilemma, we, the prisoners, face." – Big guy.
Through questionable motives, The Batman is able to find the Joker and tie him up once and for all! But too bad he has already convinced Harvey Dent (Two-Face) that life sucks, and he should kill people. Using the power of coin technology to determine life or death, he decides to go after all of those who set up Rachel's death, thinking the Joker could not have been involved.
Through some tossing and turning, Batman stops him too at the cost of Two-Face's life, making it the first time he has killed someone. Batman and Commissioner Gordon agree that Batman take the blame for what Dent did, so that Dent can die a hero and provide hope for Gotham, while Batman will go on the run, and be a "villain" for the city to unite together.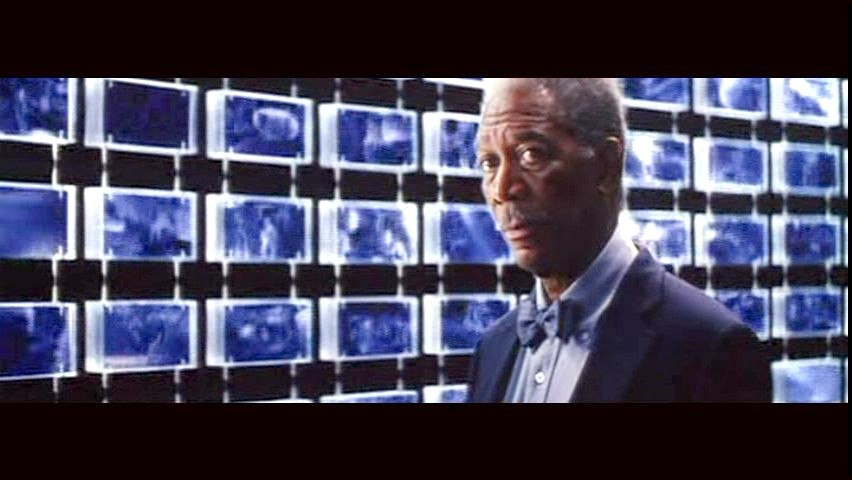 Morgan Freeman is also in here as Lucius Fox again, CEO of Wayne Enterprises, and really really hates unethical ways of stopping crime.
Alfred is still in this movie too, of course, because being a Butler is bananas.
Why the fuck did you not give this a 4/4?
Well part of my giving a movie a 4 out of 4 is the longing to watch it again sometime in the future and to make sure everyone sees it. Hellboy II, which came out to theaters a week before The Dark Knight, I gave a 4 out of 4. Counting the theater watch, I have seen that movie probably 7 times since. That is a lot, I really love that movie. How many times have I seen The Dark Knight?
Just two. Theaters, and last weekend on Blu-Ray. I definitely bought it the week it came out, just never watched it again until now.
But that doesn't explain why I didn't love it.
The film had a lot of hype thanks to the death of Heath Ledger. So much that he was being promised a best supporting actor Oscar before most people even saw the movie. Annoying fanboys is not a reason to hate a movie though. While Ledger was pretty damn awesome, I have never found the Joker character compelling or in general a great story line feature. I find him hard to grok, and that is part of the point. He is supposed to not make any sense and be complete chaos.
One of the most interesting stories throughout history though has always been the tragedy. Starting in Ancient Greece, the Tragedies always featured the same thing. No one cares if some random guy gets down on his luck, the fall isn't great enough. People only care when someone on top of the world and is seemingly powerful loses everything and falls from the good grace. Like a King, or maybe a District Attorney who is living a fabulous life.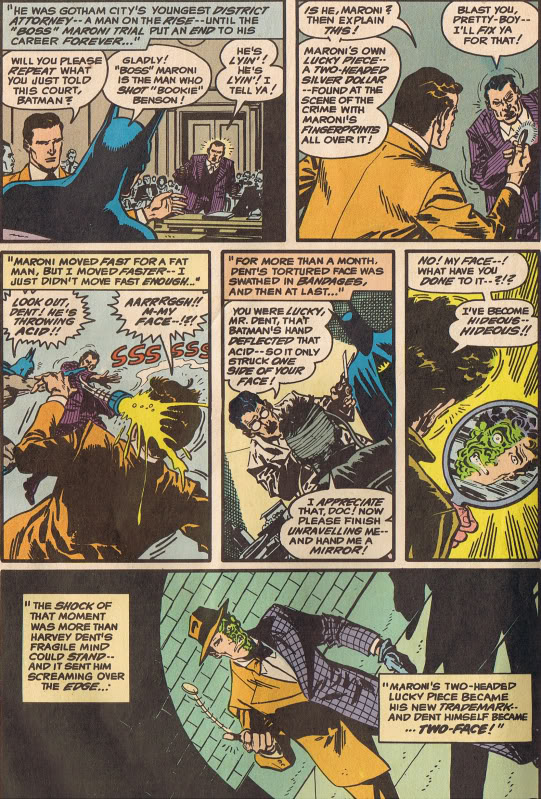 Despite his kind of weak origins, the comic storyline of Two-Face (ahh referencing the books the movie is based on! I am horrible! :/ ) is one of the best out there. A highly moral character who wanted to rid the streets of crime and did it all within the law to persecute criminals. But when the Justice system kept failing him, he began to crack. People need to be punished, and it isn't working out. Then some other unfortunate things happen, like losing his loved ones (possibly at Batman's fault) and the whole face scarring incident.
Dent's fall from the top turns him into Two-Face, a man who believes there is no right or wrong left in the world, that Karma is a farce and everything that ever happens is always a random chance. Why not determine life or death with a simple coin flip? This way he can try to get back at those who has wronged him (other criminals, people in the justice system, and Crime) and do it the only "fair" way that must be left.
But his story was overshadowed by The Joker's and mostly swept under the rug until the end. Having him die, while symbolic, was definitely a weird way to take the Batman franchise in. I really think I would have loved it a bit more if they dug a little bit deeper into Two-Faces actions at the end. It seemed kind of weak how the Joker convinced him to go after the people that he did, but I guess we have to believe it as a man who has given up all hope and purpose for life.
But despite all this, seriously, who isn't excited for some Dark Knight Rises?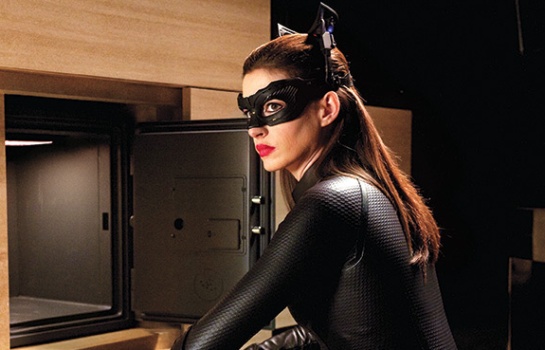 Despite the PG-13 rating, I think there is still a 90% chance of seeing a naked Anne Hathaway.
3 out of 4.