October 24, 2019
The Current War Director's Cut
Here it is, boys. The time has truly come. A film has decided to come out and also be the "Director's Cut" of that same movie.
Technically that isn't all too rare. A lot of movies that come out are Director's Cuts, they just don't always advertise it. Usually if there is a DC available, it is home release, and it implies the studio or a producer had a final cut that was different from the director's vision.
So what is going on with The Current War Director's Cut? Well, Harvey Weinstein happened.
One of the main things Weinstein was known for, besides the sexual assaults and rape, was getting final edit on many movies. He wanted movies to go a certain way, and advertise a certain way, and go for awards with his permissions. He could be great at it, but it also bugged a lot of director's at the time.
This movie was planning on coming out around 2017, hitting the festivals, and getting lukewarm reaction. Then the scandal. Then the selling off of properties. And our director got his movie back, edited his movie his way, and got to release it wide for the first time!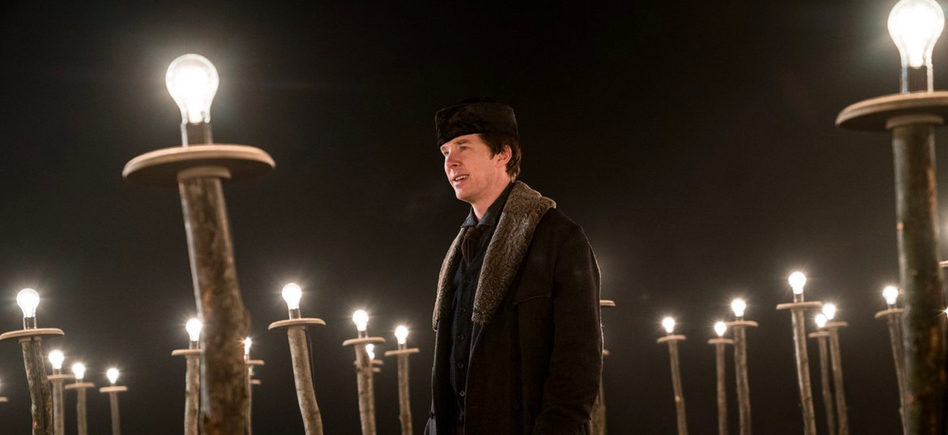 It's basically the American dream, with a lot more sexual assault in the way.
Thomas Edison (Benedict Cumberbatch). An American celebrity if there ever was one in the late 1800's. He was an inventor, an improver of older inventions, and someone who was business savvy. People loved him and he wanted to be loved. But when it came to the battle over how America would be hooked up to the grid for electricity, he was also quite dirty.
George Westinghouse (Michael Shannon), known for being rich and helping develop breaks for trains for safety and efficiency, wanted to work with Edison, but he was shunned by the busy man. So he figured he could get into the game, help develop a new technology, and then Edison would want to merge ideas. Edison is not a merger, he is a take over kind of guy, a guy who doesn't admit if he is wrong.
This began a big battle over the American landscape, accepting bids for their various forms of technology, with the goal to be providing power for the Chicago World's Fair, and putting their product out there for millions. And of course we have a wildcard in Nikola Tesla (Nicholas Hoult), a foreigner, a genius, a man who saw the future, but couldn't always get the funding or time to put all of his ideas to the paper.
Three men of influence, one goal, and a whole lot of shoddy tactics.
Also starring Katherine Waterston, Tuppence Middleton, Tom Holland, and Matthew Macfadyen as J.P. Morgan.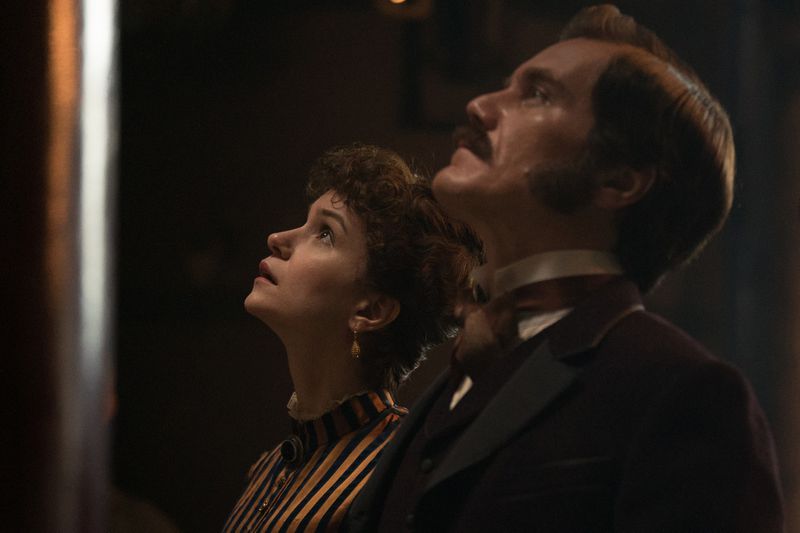 You know that look in your eye when you see an electric candle for the first time last a few hours? That's the look I want to give to my dinner every night.
I honestly went into this movie thinking the worst. The trailer was okay, the cast I enjoy, but the director's cut notion prepared me for the worst. That's weird. The buzz was not good.
But after watching it? I feel frickan' amped. Westinghouse is so cool, and he is only a name I have seen mentioned and had no idea he was in this race. I figured this was a Tesla/Edison movie thanks to memes, but Tesla is way less important overall to this plot. Shannon does a good job of playing this quiet and seemingly noble entrepreneur.
After the film I was electrified to look up more information on these big three, to go beyond the quick facts I see on the internet. The movie felt accurate. It moved at a very quick pace, telling a historical pr battle with enough excitement to keep me on the edge of my seat. It flowed so well from scene to scene.
I have a love of historical films, especially ones that have good acting. Historical films that don't get bogged down in being super serious, but still can tell not only a good story, but a story worth being told. A story with wattage. Alright, that's a stretch.
Anyways, congratulations to Alfonso Gomez-Rejon for getting the movie he wanted to make. Oh, and by the way, he directed Me and Earl and the Dying Girl, which made my top of the year list when it came out.
3 out of 4.