November 3, 2014
The Book Of Life
When I first saw a trailer for The Book Of Life, I was taken aback with the animation styling. And the story line. And everything about it. Well, everything but one thing.
Guillermo del Toro's name was attached to the picture. Really? I like del Toro, so I found that surprising because it didn't seem like something that he heavily influenced. Outside of the Mexican influence, it just didn't seem like his work. But I decided to give it a benefit of the doubt. There is reasoning behind the animation style, there is some cultural significance to the whole picture, and damn it. It might be excellent.
If you didn't know, this movie has something to do with the Day of the Dead, which takes place from Halloween to Nov 2. In particular, they call Nov 2 the Day of the Dead, as that is the day that they celebrate the gravestones of their family members and party in their remembrance, the central theme to the story.
The non central theme hopefully is searching for this mythical Book of Life that gives everyone super powers. I hope.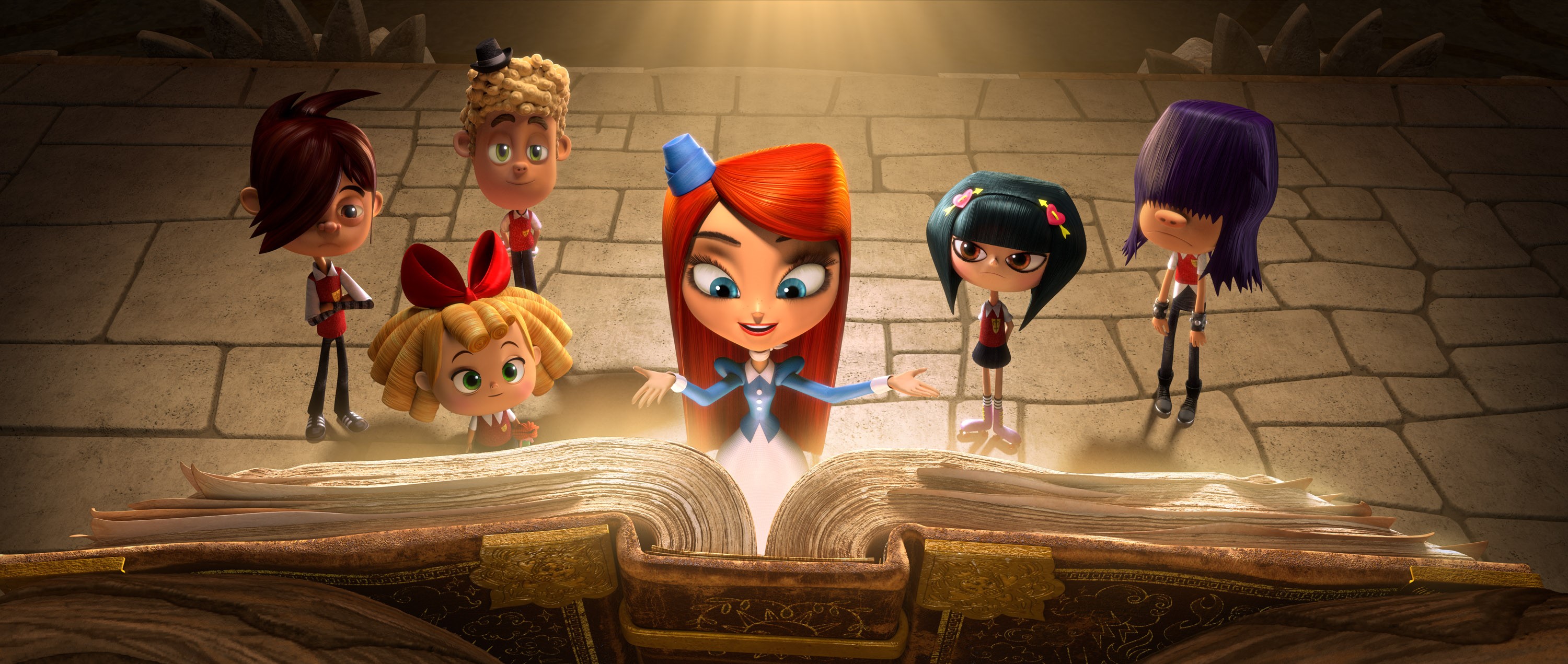 Oh shit, those kids found it! Run! Chaos everywhere! Ahh!
Mexico in this case is the center of the universe, not only that, but the center of Mexico is a place that looks like a guitar surrounded by water, in San Angel. That is where a lot of shenanigans take place, given its central location. I guess I should explain the afterlife. Get ready for some facts. Everyone knows that once people die, their spirits go to a really sexy place where they party all day and all night and live with their families and friends! La Muerte (Kate del Castillo) rules the Land of the Remembered and it is totally fetch. But there is another afterlife place. The Land of the Forgotten, ruled by Xibalba (Ron Perlman). That is not a fun place. You see, if people in the Land of the Forgotten ever forget about someone that has died, the spirit gets moved to the Land of the Forgotten for the rest of eternity. Not a fun time at all. 🙁 🙁 🙁
Xibalba of course doesn't like his job and wants to rule the cool place, so they make bets and wages all the time over the lives of humans to determine who rules what.
So they see these three kids running around. Manolo (Diego Luga) with his guitar and sensitivity, Joaquin (Channing Tatum) who likes to sword fight and wants to be a soldier, and of course, sweet sweet Maria (Zoe Saldana) the object of their affection and daughter of the general.
Bets! They place them. Xibalba picks Joaquin to eventually marry Maria, and La Muerte picks Manolo. If Xibalba wins, he gets to rule the Land of the Remembered, but if La Muete wins, Xibalba has to stop interfering with the lives of humans. Oh golly.
The fate of so much on such a little arrangement. And who is to say the girl will marry either boy? Pfft. Gods.
Also featuring the voice acting talent of Christina Applegate, Ice Cube, Carlos Alazraqui, Danny Trejo, and Hector Elizondo.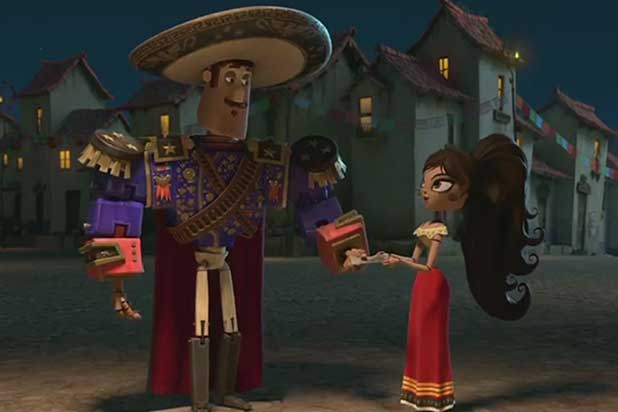 Not to be weird, but that is the sexiest hair I have seen on a CGI wooden puppet ever.
Turns out, del Toro didn't have a lot to do with this movie. Sure, he was involved on some level as a producer, but he wasn't even the executive producer. He probably provided some nice funding and helped design the Land of the Remembered, because it was vibrant and unique, but not sure what else he might have done.
A lot of music in this movie, and about half of it (or more) were actual songs but with a lot more mariachi feel to them. We got Creep and I Will Wait and much more. I think there is also unique music, but I just might not be hip enough on the music scene to get the references.
I think this is a hard movies for kids to follow. A lot is going on, a lot of characters are good and just misunderstood. After all, Xibalba isn't a bad guy, just looks bad. Joaquin isn't a bad guy either. The only bad guy is a bandito who doesn't show up til the end, and I will say, he had very entertaining fight scenes.
The movie has a lot of spirit and energy, but I just found it hard to really relate to anyone. Or the story itself. It just ended up on the "okay" spectrum, which was disappointing, as I figured this one would be one of the best films of the year. Maybe I made a mistake in picking The Book Of Life over The Boxtrolls. I hope not!
2 out of 4.