April 4, 2019
The Best of Enemies
True stories are sometimes fun. Sometimes they are true…ish and give us a topic like Green Book, which is barely about the actual Green Book and pretty damn disappointing.
Other times we get true stories that are like The Favourite, which are probably extremely fictionalized but based on real events and well acted so we let it pass.
And then we get something like The Best of Enemies. Another true story that seems to actually be based on real people and events, without making things offensive or skirting the issues that are important to the subject. Wait, this shows a Klansman in a favorable light? Alright, maybe not completely inoffensive.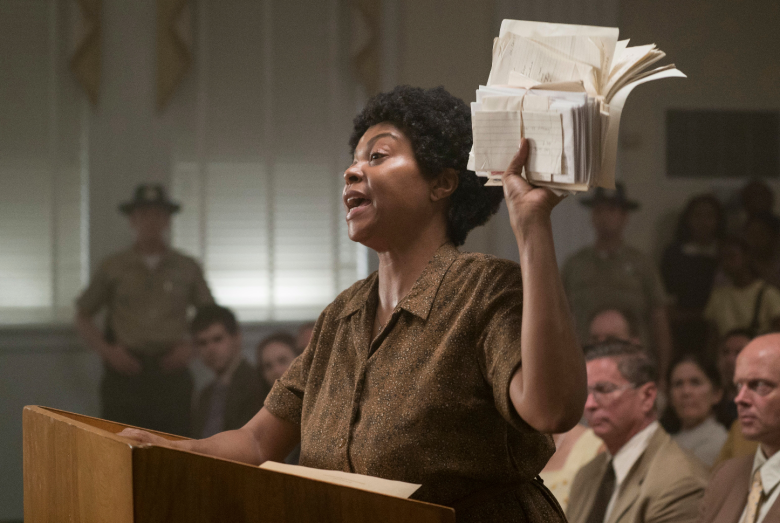 And I got the tweets all ready to prove it.
Ann Atwater (Taraji P. Henson) is a single mother and an activist living in Durham, NC. She runs Operation Breakthrough, which is to help poor black folks not get completely fucked over by the white man. And it is always a battle. Fighting for good homes to live in, fighting for decency, fighting for better schools. It is a full time job and one she will proudly take until it is fixed.
And then we have C.P. Ellis (Sam Rockwell), a poor white man who also happens to be the leader of the Durham chapter of the KKK. I should probably mention that this takes place in 1971, after the Civil Rights Act was passed and desegregation occurred. It had not occurred everywhere. For example, Durham! They still had white schools and black schools. And shockingly to no one, the black schools were older, overcrowded, with old supplies and not enough money compared to the white schools.
Well, one of the main elementary schools gets damaged in a fire, with most of it being unusable except a few classes. Clearly now they need to segregate, it is only fair. Nope. Council says to use those 8 classes and make them go to schools in shifts instead of disrupt another school.
The cowards that be in charge above that, when a lawsuit from the NAACP appears, decide to organize a "charette". A term made by Bill Riddick (Babou Ceesay), where he comes in to organize the community to discuss the issues for a few weeks and have a senate vote on resolutions. Anything they overall decide to do, Durham will do. Even if that means segregation. And Riddick wants to make sure this is real and worthwhile, so he decides that Ann and C.P. should be the co-chairs of this event, overhear everything and give each side equal ground. Surely, this will lead to peace and harmony.
Also starring Wes Bentley, Gilbert Glenn Brown, Anne Heche, Bruce McGill, John Gallagher Jr., and Nicholas Logan.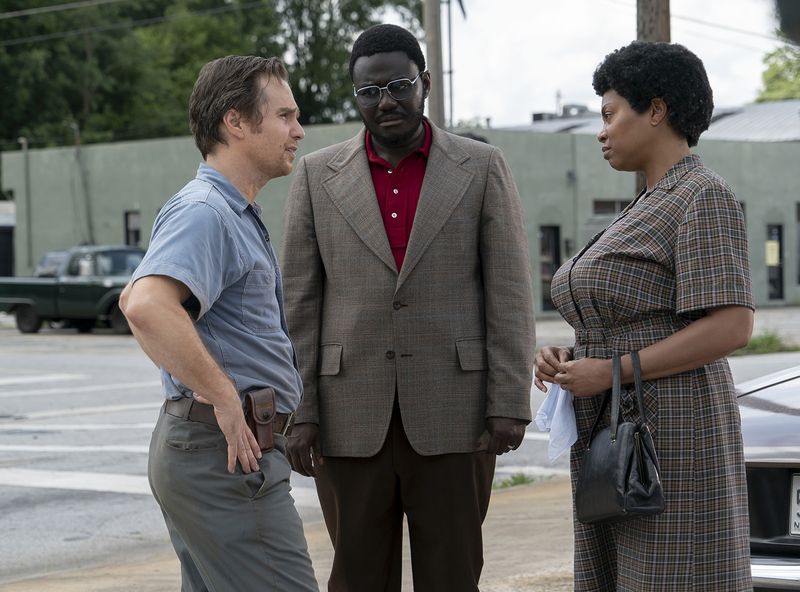 This could get nominated for costume given the body suit Henson had to put on for this look.
Ack. Where to begin.
Well, Rockwell is being typecasted as a racist turned racist we can not hate fully at this point. From Three Billboards, to this, to…Vice (Kanye West says so). That's not something he should continue.
I was worried about this film because from the title and looks of it, it almost made it seem like it is going to imply that people of these people are important and should be heard. And uhh, one of them is a racist KKK leader. The other is fighting for survival. That is the sort of story that puts a bad taste in your mouth before it gets started, so it is a hard thing for people to just accept and want to see. But yes, by the end, [SPOILERS] the guy saw the light in real life and did the right thing and helped schools segregate, turning his back on the KKK. He should be celebrated for that, but most of the film is putting him in a slightly positive light before the moment, as the change occurs and again, it feel uncomfortable.
Technically, this movie has a white savior problem. And that is hard to avoid when given the real story, a white guy did save the situation. It is a hard thing to balance, when it has to fully embrace the white savior as part of the real narrative.
Honestly, trying to accept this film as a story is hard, and only works and can be acceptable because it is real. If this was fiction, it would be a complete shitshow of a plot. This makes it hard to talk about as a reviewer, from purely a movie standpoint.
So let's just finish by comparing it to Green Book. The acting in Green Book is better. The camera work in Green Book is crisper. But the plot is so far from reality and insulting, it does not get a pass for its story and its actual true bits are not worthy of praise. While The Best of Enemies is rougher around the edges, it at least sticks to the facts and is pretty informative of a story on this topic. It is one that likely would have been better done as a documentary though, to really get the feel for these people and not put us in the middle of this awkward narrative.
2 out of 4.