July 12, 2012
The Assassination Of Jesse James By The Coward Robert Ford
I had a mini theme day yesterday. Realized I had a long block of time, very long, and to make the best of it I wanted to watch some long movies.
So I figured I might as well start with a long movie with a long title, hooyah! The Assassination Of Jesse James By The Coward Robert Ford, and that is one of the last times I have to type it all out. Yes. For those curious, I then went The Patriot and The Good, The Bad, and The Ugly (Yes, seeing both for the first time as well, shut up).
Just a normal day in the life of Jesse James. Getting stared at by Robert Ford, obsessively.
You know whats awesome? Kind of spoiling the ending. Jesse James (Brad Pitt) totally dies in this movie. So if you have a collection of movies where Brad Pitt dies in them, this better be in it.
The movie takes place in the last few months of Jesse James life, including his last train robbery. He has the last remnants of his gang, including Frank James (Sam Shepard), Dick Liddil (Paul Schneider), Wood Hite (Jeremy Renner) and Ed Miller (Garret Dillahunt). Eventually they are joined by the likes of the Ford brothers, Charley (Sam Rockwell) and his younger brother Robert (Casey Affleck).
Growing up, Robert was obsessed with the tales of Jesse James and his gang of outlaws. He knew all about them, from the trains taken, to Jesse's shoe size. He was his hero! Which is why he was in a situation where he finally got to join the gang and go on a mission with them, despite the fact that everyone else found his obsession a bit creepy. The robbery doesn't lead to the riches they thought were coming, leaving a very disappointing final heist.
Then in the final months, we have Robert Ford getting to spend time with his FAMILY. He has kids! And a wife (Mary-Louise Parker)! What! But that ends eventually too, and he then lives with a few of the previous mentioned former outlaws.
But over the final months, Jesse finds himself a bit more paranoid with less people he can trust each and every day. So some people die. Some people get arrested. And Robert Ford is left with an ultimatum, kill or arrest Jesse James himself, or find himself in prison.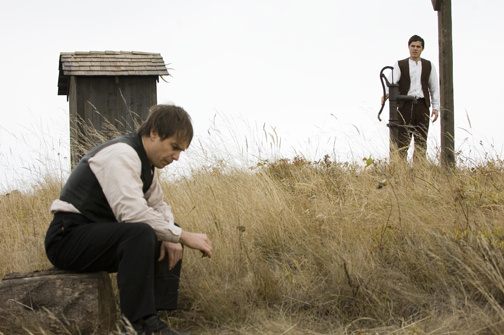 LOOK AT THAT CINEMATOGRAPHY. Look at ittt.
"Wait a minute! That movie is 160 minutes! You barely gave any plot? Does it move slow?"
Well technically, and despite the fact that you already know what it is about (The Death of Jesse James), I didn't feel a real need but to introduce the characters and the first few scenes.
Why is this movie so long? Probably because this director loves him some detail. The camera works was almost orgasmic on Blu-Ray, and all the scenes gorgeous, but not over the top. But even better than that was, surprisingly enough, Casey Affleck. Yes, Ben's younger brother. He made this movie his bitch, and was so damn good at the role. Brad Pitt, also excellent in this film, both surely scene steals, but the level of detail that went in from Casey was just astounding. It all felt so real, which made it all a bit more eerie and awesome.
All of the acting was really well done, and I was very interested in the story line. Of course, one other problem with it could be just that it is…well very damn long. Hard to justify watching this movie a lot, without wanting to just skip around to a few scenes. Also super dramatic. Not a wild wild west shoot em up. Only a few shooting scenes really.
3 out of 4.