Oh hey, Vacation. A comedy series a lot of people look back with fond memories. Because it told the truth. Family vacations are terrible, but we all grin and bear it because that is just what you gotta do.
It is a concept most people can related to, and with nostalgia being the strong bitch that it is, it makes sense for there to eventually be more Vacation movies. Movies that capture the true American spirit: cramped in a car with people you already hang out with too much. At the same time, people assume that if you make a new version of something old, the old one gets tarnished or something.
Those people are dumb.
Which is why I do declare I will not make comparisons to the first Vacation movie. I will judge this on its own merits as a new comedy, that may have references to a previous movie.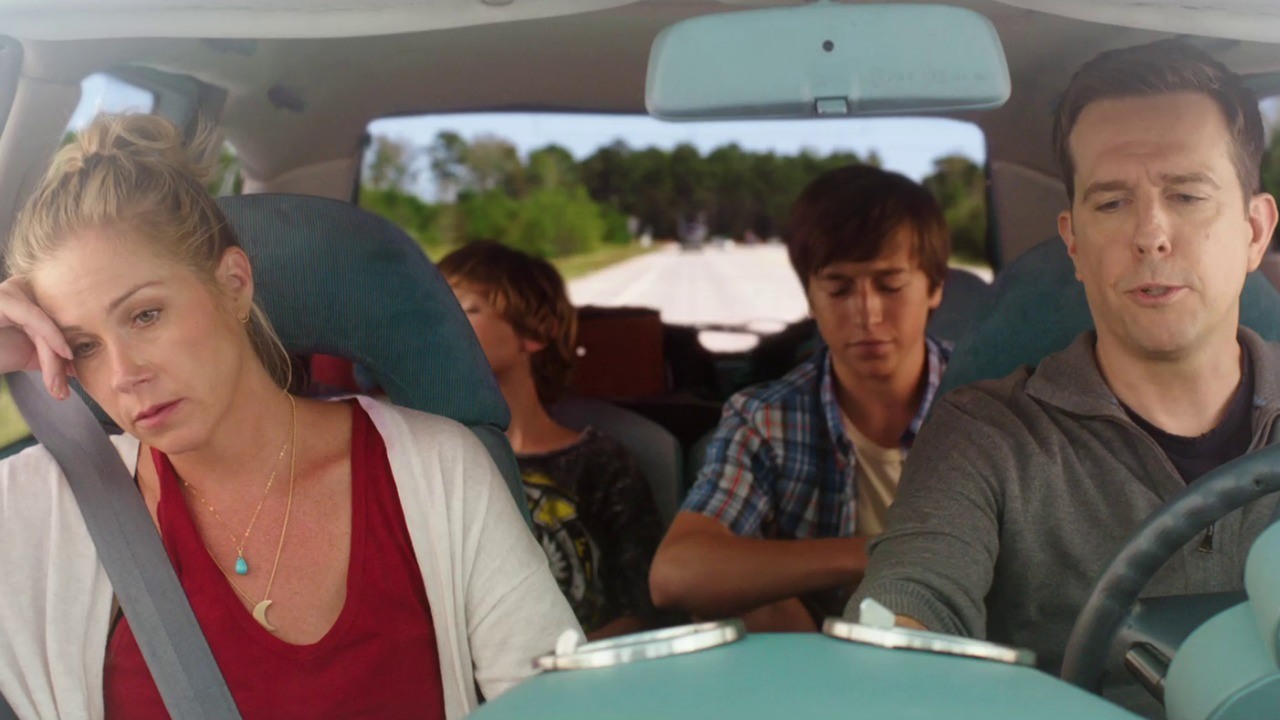 And my noble steed on this ride will be a small car.
Vacation is not a reboot or a remake, it is a sequel.
Rusty Griswald (Ed Helms) is now grown up and has a family of his own! He is a pretty good pilot, but works for a shitty airline that only does short domestic flights, so he can spend time with his family. His wife, Debbie (Christina Applegate) is a stay at home mom, raising the two boys. The older one, James (Skyler Gisondo) is almost done with high school, very sensitive, plays the guitar. He constantly gets picked on by his much smaller younger brother, Kevin (Steele Stebbins), who is a dick and is into wrestling.
Well, they normally go out every year to a cabin in the woods, but Rusty realizes that everyone finds it boring. So he decides to change it up. A cross country road trip from Chicago to California to go to Walley World! Yeah! Rusty had fond memories of the park as a kid, despite that one film where a bunch of bad things happened. This time it is going to go right and they are going to ride the best roller coaster in the country. Damn it.
Of course shit goes bad. Their car is weird and European, white water rafting, bad hot springs, crazy truckers, thieves, and more. They also make a pit stop to visit Rusty's sister, Audrey (Leslie Mann), who finds the idea of a trip ridiculous. She is also super wealthy for marrying Stone Crandall (Chris Hemsworth), who is a super attractive weather man. The only other real plot line is James constantly running into Adena (Catherine Missal), a girl on another road trip.
Vacation also offers a lot of cameos. Of course we have Chevy Chase, but we also have Ron Livingston, Michael Pena, Kaitlin Olson, Nick Kroll, Tim Heidecker, Colin Hanks (Apparently), Norman Reedus, Keegan-Michael Key, and Charlie Day.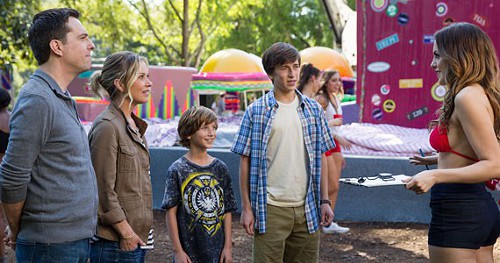 Most of my vacations ended up at a college strip fest as well.
Vacation ends up being different than its predecessor in many ways. For one, it is a modern comedy. So there is an industry regulated volume of a dick jokes that it needs to have in its film to make it to the big screen. This sort of thing isn't always noticeable, because if they have a lot of varied other jokes, you usually don't even notice all the dick jokes that are secretly hiding in the back ground. Unfortunately, if a movie is 95% dick jokes, they stand out like a sore…thumb. (You thought I'd say penis, heh heh heh).
So yes, it feels like Vacation is a one trick pony, where that trick is jumping over a bar that is floating about an inch over the ground. It would have been nice if they decided to raise that bar instead and make longer smarter jokes, but those are hard and require patience I guess.
Ed Helms just wasn't interesting. A typical character in his wheelbarrow and it didn't seem to offer anything new. There was some good interactions between the kids, and Applegate did a fine job.
Honestly, the reason I am giving this a passing rating is for two scenes. One, Four Corners monument scene was surprising and strangely funny. But more importantly, Charlie Fucking Day. This movie is borderline watchable for his scenes alone. Hysterical. High energy. Wet. Fantastic. Technically soon you can probably find the whole scene on Youtube, but I feel like the film should get some credit for featuring something so marvelous in its data innards.
Yep. Without Charlie Day this movie would have just been downright terrible. You don't hear that phrased that often.
2 out of 4.