In trying to watch at least one documentary a week, I get a bit excited when I get to see a newer documentary, freshly released and ready to take on the world.
Mission Blue came out mid August as a Netflix Original Documentary, which of course meant that it was immediately available to watch. Not running around the indie markets and festivals for a year first.
And hey. I like Netflix original stuff sometimes. Or at least I think I would, if I had seen anything outside of Arrested Development or House Of Cards (just season 1, shh).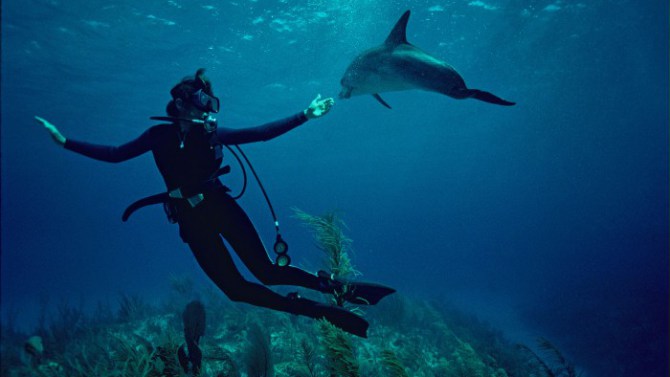 Mission Blue is the new Orange Is The New Black.
Mission Blue is a very very simple documentary. It is about Sylvia Earle, a woman marine biologist from the mid 1900s and on who helped change the science around the world. She was certainly a pioneer in the field, being at one point the first person to go beyond a specific depth in the ocean, and even living in an underwater research facility for a few weeks.
And where is she now? Still doing science job stuff. Yay old people!
More or less, this documentary was made after a TED Talk in 2009 of the same talk, where Sylvia had a very simple idea. She wants to set up protected ecosystems and environments around the world's oceans where no commercial development or farming can occur. No bullshit, just fish and fish accessories.
And hey, it is a good idea. Sure. Why not. Like national parks. As long as I can still eat my fish and power my car, then you know I am definitely fine with that.
Outside of this novel idea, we just get to see a lot about Sylvia's life and accomplishments, what she is doing now, and bad stuff happening to our oceans.
Overall, Mission Blue was interesting, but just felt like a bio piece on a person. I guess documentaries can be used for that purpose, but it makes most of this feel like an hour episode of some show that probably exists on the Biography Channel.
Nothing about this was super elite quality wise or showing me that much that I haven't seen before. But it was exciting seeing James Cameron, because James Cameron raises the bar significantly by being in this documentary.
2 out of 4.