I have definitely owned The Condemned for over two years, and still never sat down to watch it. I blame the side of the case. It's shiny shiny silver makes it blend in.
The world loves violence. Always has, always will. Gladiatorial games, to Hunger based games. And that is why with The Condemned we have a future/modern version of that.
I don't even know how I could resist for so long, with that amazing plot line and winning personality actors?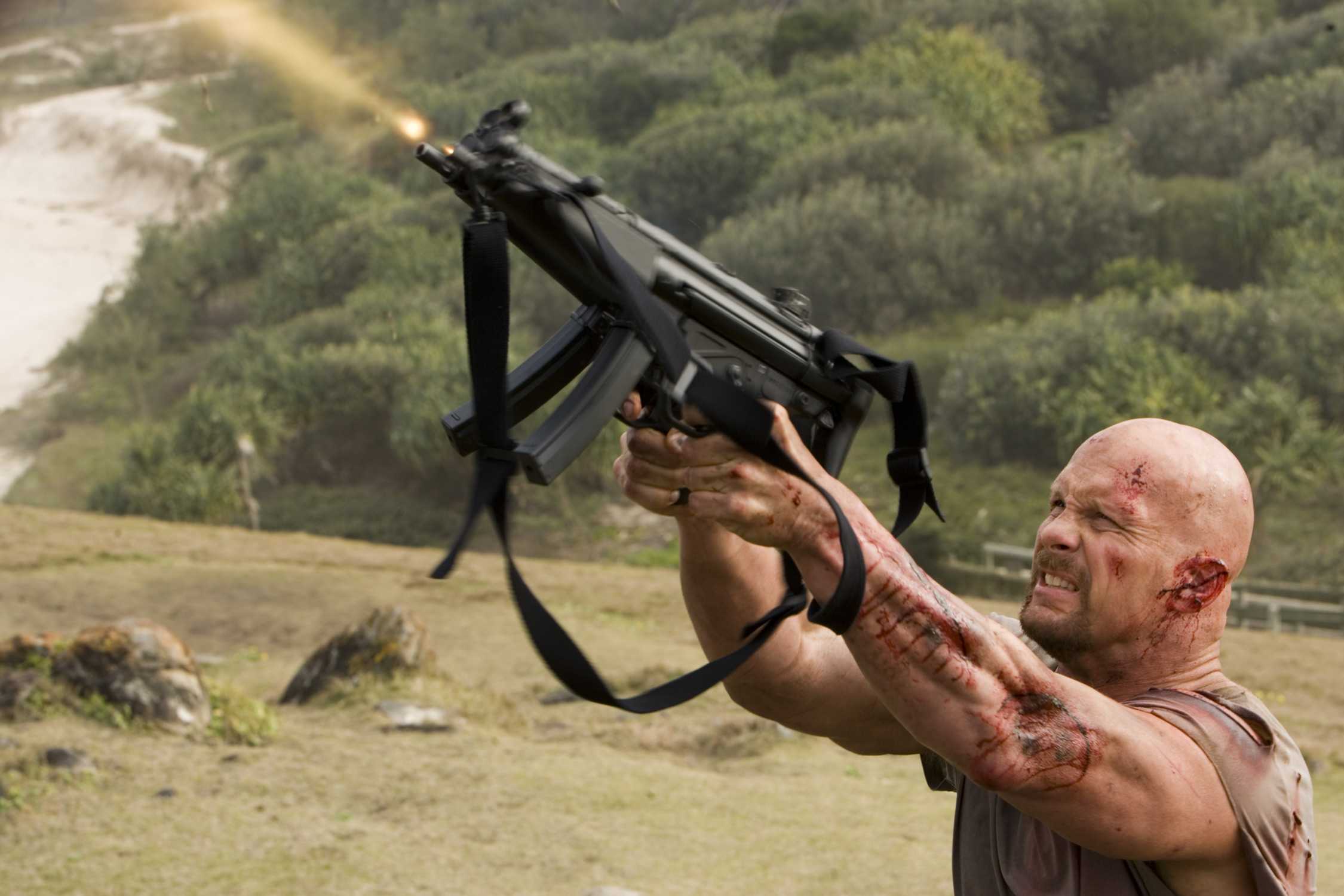 OH FUCK. ALSO THERE ARE GUNS! AHH!
Breckel (Robert Mammone) is a man with a plan. To get SuperBowl levels of viewers, on an internet show. And to do it, he is going to take ten criminals around the world, put them on the island, and whoever survives gets their freedom and some cash. Broadcast it on the internet, get tons of revenue, be awesome for life. Anything goes on the Island, live killing, and rape. But to make sure they stay in line (and make it fairer?) they all have C4 explosive devices taped to their ankles. Cords can be removed, and they blow up in 10s, or 30 hours if more than one person is left.
Well shit. Unfortunately for Conrad (Steve Austin) he isn't actually a bad guy, and was captured by enemy forces for the last year. Doesn't help that the biggest threat McStarley (Vinnie Jones) teamed up with another person (Masa Yamaguchi) to get themselves to the final three.
Conrad just wants to make it off the island alive (and maybe get the police involved), so that is his biggest goal. But I mean, if he kills people, they are bad anyways so it should be fine. Also if the people working on the island start to hate the idea, like Breckel's girlfriend (Tory Mussett) then it might be a bit easier.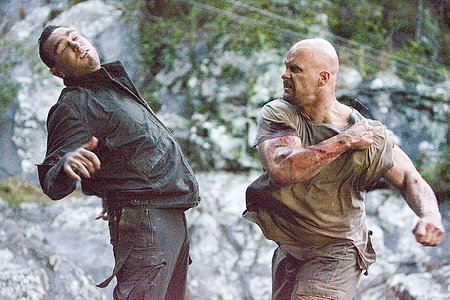 This is one of those great pause moments.
This movie is definitely not Gamer or Arena, movies with similar ideas (and oh boy the ratings). The former has a bigger sci-fi undertone, while the latter goes intense gritty battles that freak me out.
This one is a much lamer Hollywood version of both of those. Plot, not even important really. Just gotta know that the 10 people are all "bad people" and have to kill each other, or else they all die, and only one can survive. Unfortunately, it didn't feel too interesting. And it is a topic I have seen many times before. Acting is whatever, plot is whatever, and action isn't the best.
To me, to make this right, it has to be a lot harsher and violent. They are pretty much only doing fist fights, with some explosions, until the makers cheat some guns (not weapons, just guns) in and people die quicker. Also, I'd say either make it that all the people have personalities and stories, so you have some emotional investment in every battle (and not just assume the winner will be the person higher on the cast order, which is what happens generally) or have it super personal on just one guy.
Just have it on him the whole time, while he is trying to find and kill the others, without knowing what everyone else was doing. How cool would that be? We wouldn't see ten fights, because realistically other people would kill off others off screen, but it would add the intensity. Sure we still know who wins, but man, we can at least share his (what should exist) fear.
1 out of 4.