I know we have had an influx of "sequels a decade or two later" over the last few years, really starting with Dumb and Dumber To, but this one I think has to be the longest gap in the trend?
Coming to America graced our lives with humor and witticism in 1988, before a young Gorgon Reviewer could even be born. And now, 33 years later, its sequel is ready to go (although sure, it meant to come out last year).
Now this one is a much bigger sequel than the others because it had a much bigger original cast that was important to the story, and hell, everyone if they are alive that matters to the story is returning. So it has that going for it. I will say however I hate that they did call it Coming 2 America, because in real life it is impossible to say the difference without hand gestures or extra words, but in text life I guess it is fine.
Can they bring back the previous rains of Africa with this film? Will it matter in today's world?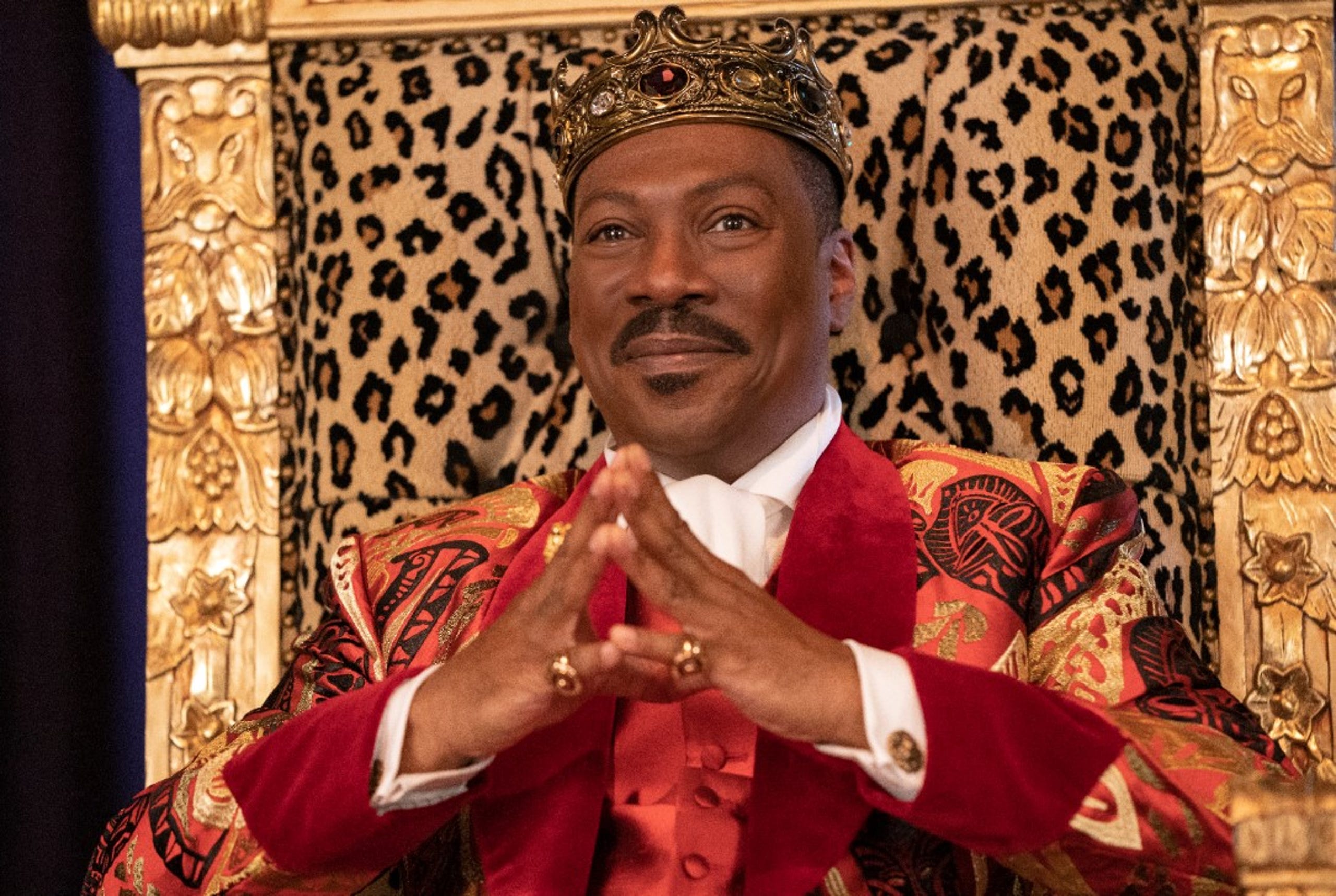 60% of the time it is good to be the king, all the time.
And we are back to Zamunda, where decades ago a young Prince Akeem Joffer (
Eddie Murphy
) returned with his bride (
Shari Headley
) from Queens, New York.  He has since fathered three girls, and his oldest, Meeka (
KiKi Layne
) is a wonderful and powerful woman, but the Zamunda laws require a male heir. Akeem is worried about that, given the imminent death of his father (
James Earl Jones
) and fully taking over the King hood.
The problem is, Nextdoria is now being run by a powerful and charismatic ruler, General Izzi (Wesley Snipes) who wants to marry his son into the royal line. But Akeem believes in true love! And if he says no, Izzi might kill him and take over!
Well, according to his good friend Semmi (Arsenio Hall), one night in Queens long ago, he tried to hook up Akeem with a bride right away! Akeem does not remember this situation due to drugs. Well, sure enough she (Leslie Jones) had a baby, who is an adult male (Jermaine Fowler) and might be the answer to his countries woes! Especially if he will agree to marry Izzi's daughter.
Also starring basically everyone, including many from the original cast, if they were still alive: John Amos, Louie Anderson, Vanessa Bell Calloway, Clint Smith, Paul Bates, Nomzamo Mbatha, Bella Murphy, Akiley Love, Rotimi, Teyana Taylor, and Tracy Morgan.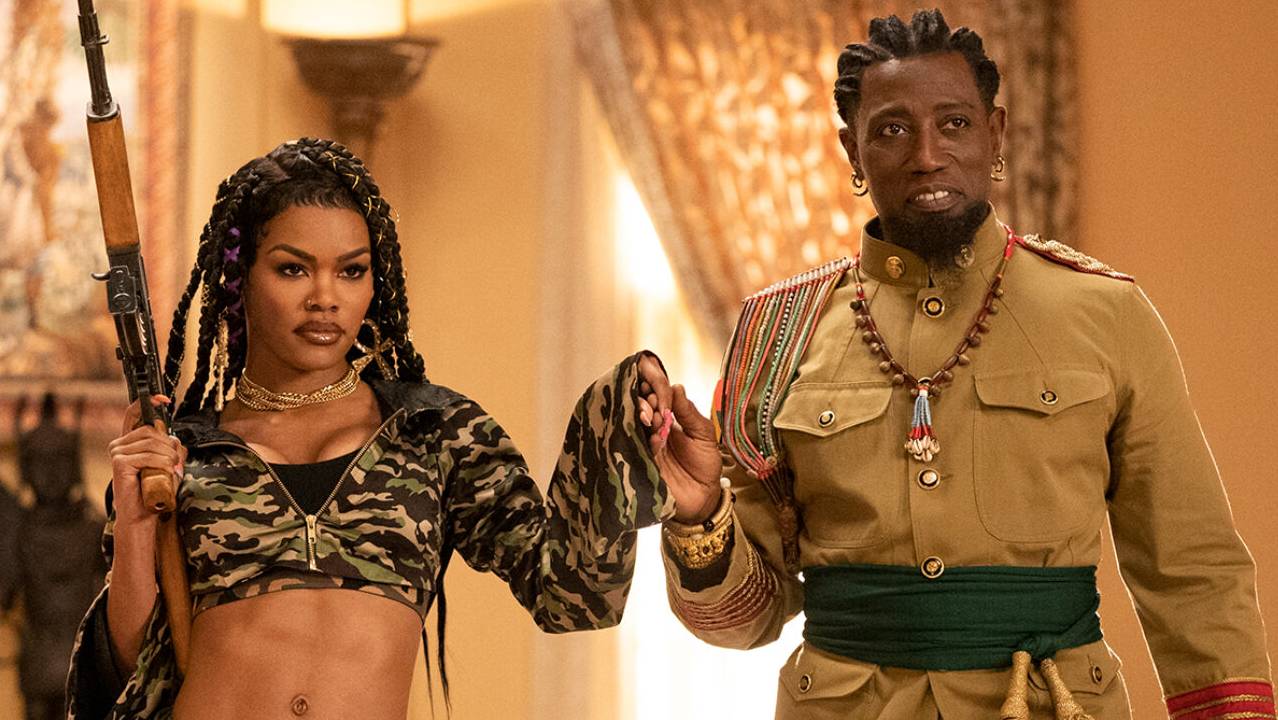 Nextdoria got mighty prosperous and powerful in a few decades.
Out of sequels a few decades later, I think Coming 2 America has to be considered the best to try it, because it really did deliver. Whether it is as funny as the original or will be seen as timeless as the original that is hard to say, but it is still clearly filled with the same heart and soul (glow) that made the first one work. It isn't just references to the last movie (of which there is quite a few) or meta jokes about sequels (in which there is one). It is a continuation of a story and a reflection over the decades, asking our characters to better themselves and fulfill promises they claimed they would give us.
I laughed out loud several times, and I was watching it alone by myself, so that says a few things. My favorite new character was General Izzi. He came in and commanded the screen like a real life, slightly more aggressive Prince Ali. They brought the music in and the dances and it was a sight to behold. It is amusing that just two years ago we were noting how strange it was that Wesley Snipes and Eddie Murphy had never been in a movie together with Dolemite Is My Name, and we all realized that chemistry worked and needed to be expanded.
All of the classic character return and give us growth and familiarity. Big shout out also to Paul Bates as Oha with a surprising vocal range.
It is also full of musical guests to increase the nostalgia factor, each one surprised me and added to the extravagance. The last one had me in stitches though near the end, that is for certain.
Coming 2 America is funny and familiar and fits like an old glove (assuming you didn't gain the Pandemic 50). I was doubtful it would work given all of the ones that failed before it, and damn was I wrong. The bar is now set very high for the next old late sequel, which I think is Sister Act 3. But the first two Sister Acts weren't as good as Coming to America, so it might already be a losing battle.
3 out of 4.