Comedy sequels have gotten a bad rep lately. Like Zoolander 2 and Dumb and Dumber To. Okay, those had many years between sequels, but like…The Hangover Part III and Horrible Bosses 2.
So I went into Neighbors 2: Sorority Rising with a skeptical face. I enjoyed Neighbors and rewatched it the morning of the screening, still holds up decently.
But the problem with comedy sequels is the direction you take it. Do you give them more of the same? If so, then it isn't original any more. If you give them something completely unrelated, then why even make it a sequel and not an original movie?
Neighbors 2 might just be Neighbors with more women.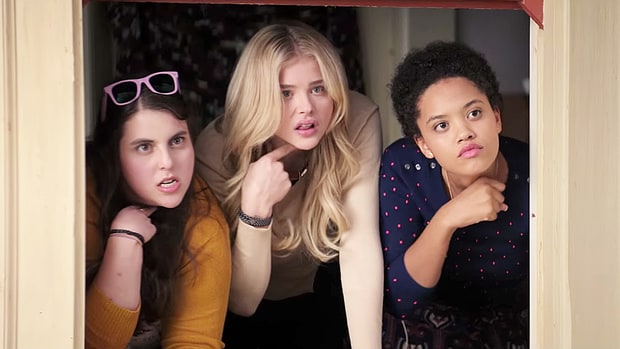 But you know, regular, chill, want to kill you women.
After Neighbors, Mac (Seth Rogen) and Kelly (Rose Byrne) returned quiet to their neighborhood. But now, Kelly is pregnant again, so they want to move to a new house with more rooms and with less neighbors. They put an offer on a house and they were accepted! However, their current home isn't sold yet. It is on escrow. So the buying couple has 30 days to check it out and do tests and can back out at any time.
And at that moment is of course when some new people move in. Shelby (Chloë Grace Moretz), Beth (Kiersey Clemons), and Nora (Beanie Feldstein) want to start their own sorority, that can party and smoke weed and promote their own feminist values of sisterhood. They just have issues getting enough money to rent the place for their dreams to come true.
That is where Teddy (Zac Efron) comes in. He is feeling pretty pathetic, everyone in his life is becoming successful except for him. And Pete (Dave Franco) is now totally gay and about to get married to Darren (John Early), which means Teddy needs a place to stay. He decides to become a sort of sorority consultant to the girls in order to find value, and maybe screw over the people who gave him a criminal record and all.
Woo, prank wars!
Some smaller roles are played by Selena Gomez, Clara Mamet, and someone called Awkwafina. Also returning, albeit briefly include Hannibal Buress, Chistopher Mintz-Plasse, Jerrod Carmichael and the best friends Ike Barinholtz and Carla Gallo.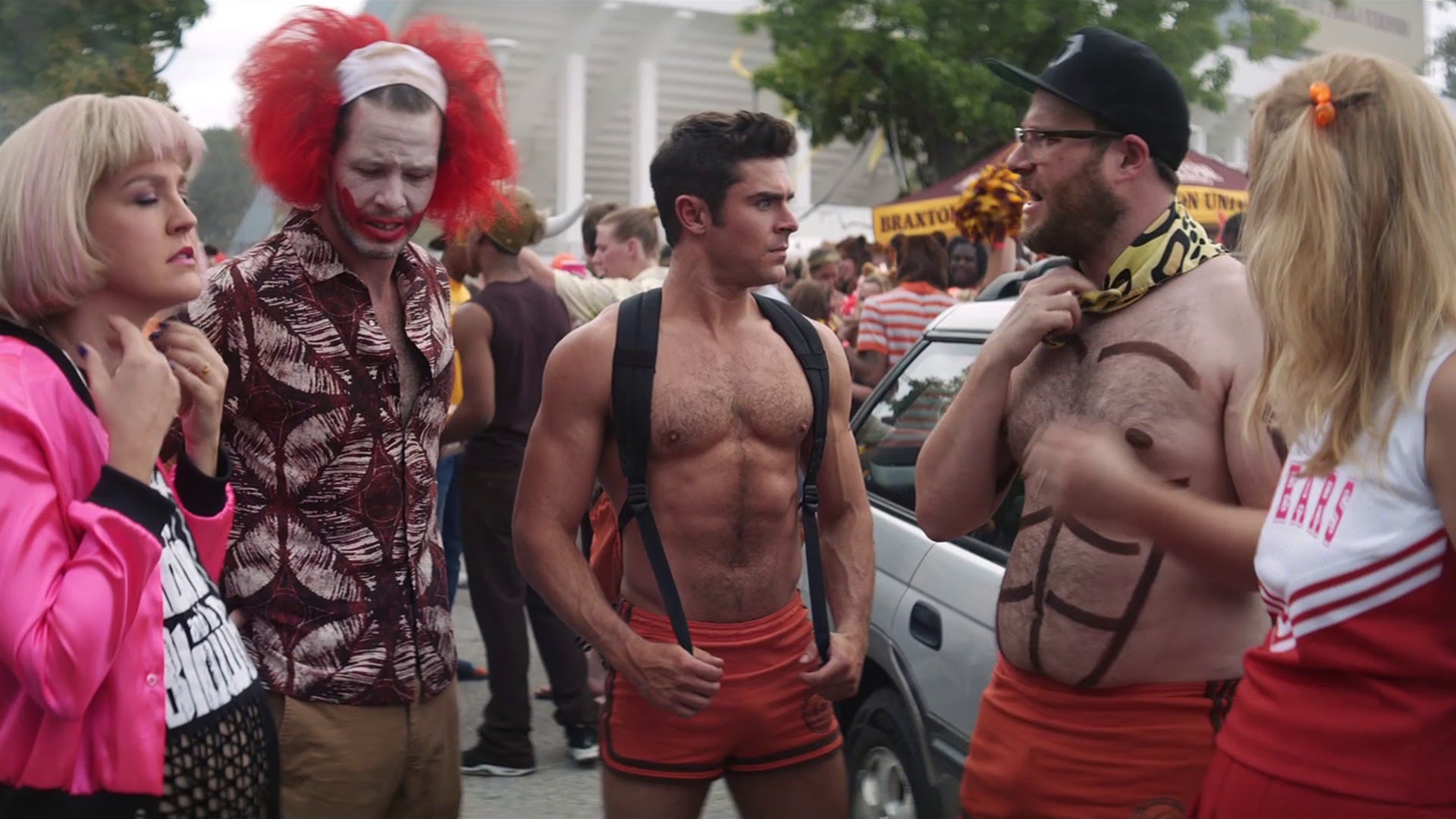 This is how I dress up when I want to look young.
Neighbors 2 actually does a good balance of keeping things original with appropriate call backs. The picture used right above ended up being one of the funniest scenes in the film and was entirely new and fresh material. My second and third favorite moments were both call backs to airbags. There are several great humorous scenes that really carry the film and overall make this film a good time while watching it.
But when comparing it to its predecessor, it doesn't hold up as well. My main faults lie with the chemistry between Moretz, Clemons, and Feldstein, the leaders of the new sorority. It is practically non-existence. Yes, before the events of the film, they didn't know each other, but most of their comedic scenes together never really feel too funny. Their logic and reasoning for wanting to create their own sorority is actually a good one. The film delivers a real message about sorority culture and the need for change. They just failed to make it funny.
Most of our humor is reserved for our old people roles and Efron, while the sorority side remains mostly serious in their own goals. It is a strange dichotomy in this movie.
And honestly, the ending tried to tie everything in a nice bow, but the solutions that were found don't make a lot of sense when you examine it for just a few seconds.
Again, some great funny scenes in this movie, and strangely enough, some character growth, but they are unable to deliver their message while maintaining the funny throughout.
2 out of 4.