I can say for certain that I wasn't looking forward to seeing Blended. It looked like feel good trash. This is like the fifth movie in a row where Adam Sandler is playing a father like figure, and the third time he has had Drew Barrymore as the love interest.
It kind of just felt like a money grab from the start, where the jokes are mostly just Africa jokes with a shitty plot behind it.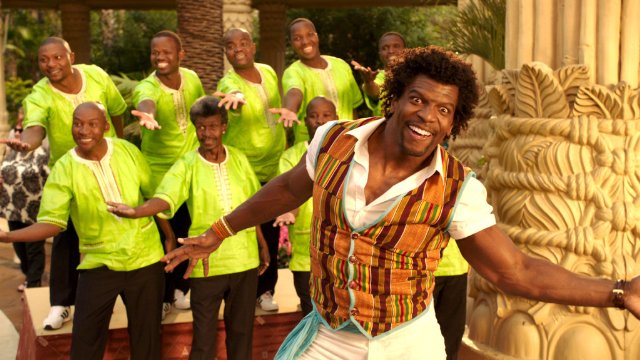 But yet at the same time, something compelled me to watch this movie as soon as I could.
Basic plot time! Jim (Sandler) and Lauren (Barrymore) are on a blind date. Lauren is recently divorced due to her husband cheating on her (Joel McHale). Jim unfortunately is recently widowed. But also, Jim seems to be a dick, taking his date to Hooters and stuff. Both are awkward. It is a bad blind date, they don't want to see each other again.
Until they do. A lot. Mostly on accident. They are very similar. And due to strange circumstances, they are both able to take their families on a vacation to Africa! But they are also sharing a romantic getaway package. One meant for families made up of step-children/parents, half-whatevers. You know. Blended shit.
So now they are on a zany adventure, both in each others lives, with each others kids, and hey, maybe they will learn to love and trust again too?
Jim has three daughters (Belle Thorne, Emma Fuhrmann, Alyvia Alyn Lind) and Lauren has two sons (Braxton Beckham, Kyle Red Silverstein).
Who else do we got? Well, we got Shaquille O'Neal as a best friend and Wendi McLendon-Covey as a different best friend. Kevin Nealon is a guy on the trip, with his son Zak Henri who becomes a love interest to the older girl.
And last but not least, Abdoulaye NGom as the vacation host, and Terry Crews as a lead singer of an African A Capella group to serenade us the whole movie. Also, countless other guest stars, some from most of Adam's movies and some that were only in one before.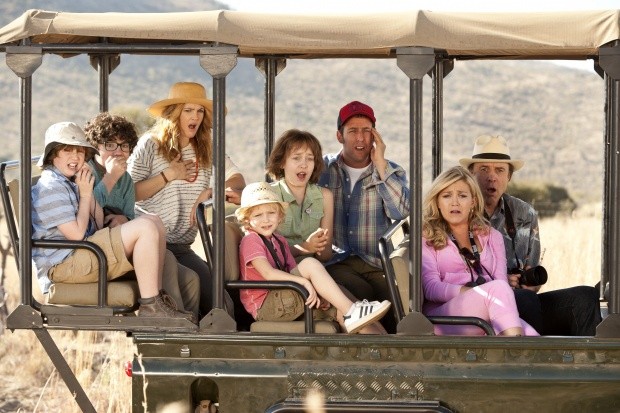 Basically, here is most of the cast outside of a couple kids and best friends.
Sandler is such a jerk. He can do pointless ass movies involving as many cheap celebrity cameos as possible now, or a movie that actually has some heart behind it. I blame the director. The director did Click, The Waterboy, and The Wedding Singer before this. He knows how to make a decent Adam Sandler movie. Although this one didn't have me cry like that sneaky movie Click, it did have a lot of touching moments behind it. All the asshole-ish behavior on both sides seem to get explained away with great excuses and reasons, and you can't help but feel sorry for both sides.
But that is the surprise drama element of the movie! You don't want that, you want the comedy promised to you in the trailers! Well, here are actually a decent number of laughs. I am a bit disappointed in how much of the funnier moments in the movie ended up in the trailers. Mostly since a lot of them were based on a surprise/sudden action. But thankfully the film had a few more surprises up its sleeve.
Funniest movie ever? No. Great drama/comedy? Debatable. Definitely at least decent. Crews was really awesome in his role, dude always gives it the 100%.
I am mostly thrilled this movie actually had a plot and a jokes derived from the plot and characters, and not just 50 sight gags with African related scenery. They have some, but a lot more is available than the "Random jokes" that I was afraid the whole movie would end up being.
Is it better than the last two collaborations between the two? Arguably not, but eh, it was still a pretty good experience on its own.
3 out of 4.