Fuck this movie. Just, get it out of the way. During The Nut Job I predicted Legends of Oz: Dorothy's Return would end up being the second worst animated movie of 2014. I was wrong. At this point, I don't see how there could be anything worst than this trash of a film throughout the rest of the year. No way. No way at all.
It was so many levels of shitty, I don't think I can properly spend time explaining it all, so I made a short play to try and explain it all.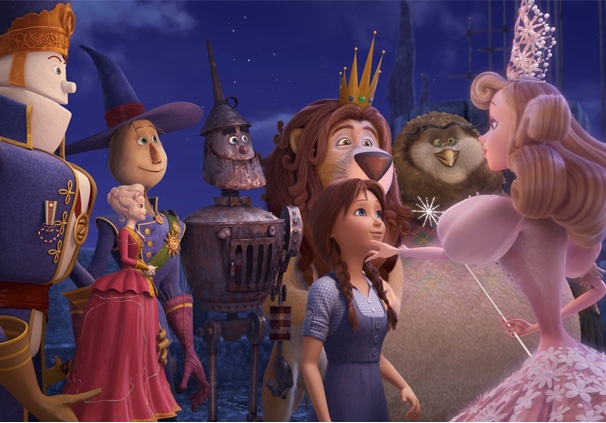 Here are most of the characters. Not of the play, but of the shitstorm movie.
Executive 1: Alright, we need a sure fire hit for the company. We got about $70 million in budget, and we want to cover ALL demographics. We want the nostalgia, we want the kids, we want songs, we want jokes, we want it all.
Executive 2: We gotta get that Glee girl involved. She is relatively free with the dead boyfriend news being almost a year old now.
E1: Yeah, get her to be the lead!
E2: How bout we do another Wizard of Oz movie? That one last year was pretty well received, and they didn't try at all!
E1: Brilliant! Who doesn't love the Scarecrow and Tin Man and Lion! We can make a sequel. Bring everyone back!
E2: But sir! We are out of villains! All the witches are dead!
E1: Shit, we can't just have them having fun and going on an adventure. We need excitement!
E2: Well, we could get Ralph, our idea man…
E1: Ralph? That man is a wild card, shit, just saying his name three times tends to get him involved.
(Just then, Ralph busts in the boardroom door, pen and paper in his hands).
RtWC: FUCK THIS! WILD CARDS DON'T NEED TO WAIT THREE TIMES! HERE IS OUR MOVIE.
BOOM. FIRST OFF, DOROTHY'S HOUSE GOT FUCKED UP BY A TORNADO. LET'S MAKE THE VILLAIN BE AN APPRAISER WHO KICKS HER OUT OF THE HOUSE. ALSO, LET'S CHANGE THE LOOK OF HER AUNT AND UNCLE. HER AUNT HAS TO BE YOUNGER, HER UNCLE NOW BALDER. IT WILL WORK.
E1: Yeah people probably won't remember the look of the outside non Oz characters.
RtWC: ALRIGHT. LET'S GET HER BACK TO OZ. WE NEED TO UP THE NOSTALGIA. FIRST THING WE SEE ARE HER FRIENDS, ALL FREAKY AFTER THEIR NEW BRAIN HEART AND SHIT. ALSO, FLYING MONKEYS. WE NEED MORE OF THEM.
LET'S SAY THE WITCH HAD A BROTHER. BUT HE IS A JESTER, BECAUSE THE WITCH IS A BITCH. HE IS EVIL NOW BECAUSE OF THIS STUFF. WHY NOT. HE IS ALSO OUR COMIC RELIEF. FUCKING JESTERS.
ANYWAYS, SOMETHING WILL GO WRONG, DOROTHY WILL HAVE TO MEET NEW PEOPLE.
LIKE A FAT OWL THAT CAN'T FLY AND IS SMART. AND A MAN MADE OUT OF MARSHMELLOWS. A PORCELAIN DOLL. THEY HAD THOSE LAST MOVIE, LET'S DO MORE OF THEM.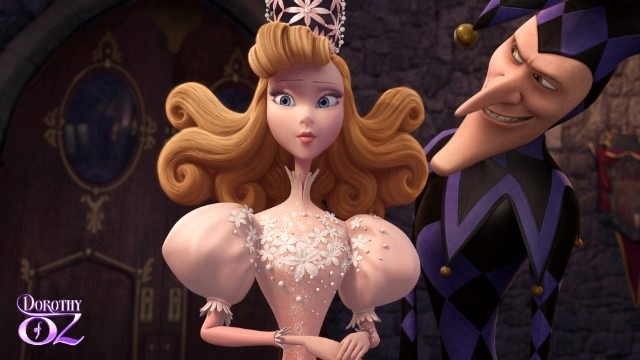 E2: Is the Jester going to have a stupid death like the witch?
RtWC: I DON'T KNOW, LET'S NOT WORRY ABOUT THE END TIL WE START FILMING. HERE ARE SOME PLOT POINTS. ANGRY APPLE TREES? BRING THEM BACK, BUT THIS TIME LET ONE OF THEM KILL HIMSELF FOR DOROTHY.
THEY ARE GONNA TREAT HER LIKE ROYALTY EVERYWHERE SHE GOES. IN FACT, LET THE FACT THAT SHE IS DOROTHY SOLVE 95% OF HER PROBLEMS! THE PORCELAIN DOLL? LET'S HAVE A TIME WHERE SHE BREAKS APART AND EVERYONE THINKS SHE IS DEAD.
E1: Now now, looking into your other notes, I see have written down here that the doll breaks a bunch of porcelain suitors, who then go on talking and living lives, just need to be glued back together to walk again. Why would anyone think she is dead?
RtWC: BECAUSE WE WILL INEXPLICABLY MAKE HER NOT TALK AND JUST LIE THERE POST CRACK, DESPITE HAVING HER WHOLE HEAD GOOD WHICH SHOULD IMMEDIATELY ALLOW HER TO DISPEL ANY OF THOSE THOUGHTS.
E2: Are any of these new friends going to serve a purpose to her journey?
RtWC: ARE YOU KIDDING ME? THAT'S JUST FOR MORE MERCHANDISING! I WANT POINTLESS CHARACTERS AND TIE-INS. I WANT FAKE DRAMATICS. I WANT EVERYTHING TO HAVE AN EASY SOLUTION AND THERE BE NO REAL THREAT TO OUR CHARACTERS.
LISTEN, ALL WE NEED IS AT LEAST ONE REALLY BIG NAME, SAY PATRICK STEWART OR MARTIN SHORT. THEN WE CAN FILL SIDE CHARACTERS WITH OLDER, NOT AS FAMOUS PEOPLE. LIKE DAN AYKROYD, JAMES BELUSHI, KELSEY GRAMMER, OLIVER PLATT AND HUGH DANCY. THEN GET SOME "FRESH FACES," LIKE BERNADETTE PETERS AND MEGAN HILTY. WE MAKE THEM SING AND DANCE, AND CAN DO IT ALL FOR PROBABLY $20 MIL WITH OUR ANIMATION QUALITY.
E1: Hey, we have $70 million on the table! Where would the other $50 million go?
(The three men look at each other, smile, and agree to greenlight the movie).
Anyways, that was probably terrible. But it was still more entertaining than this trash. I didn't even begin to touch what didn't make sense with this movie. Just. Fuck.
0 out of 4.